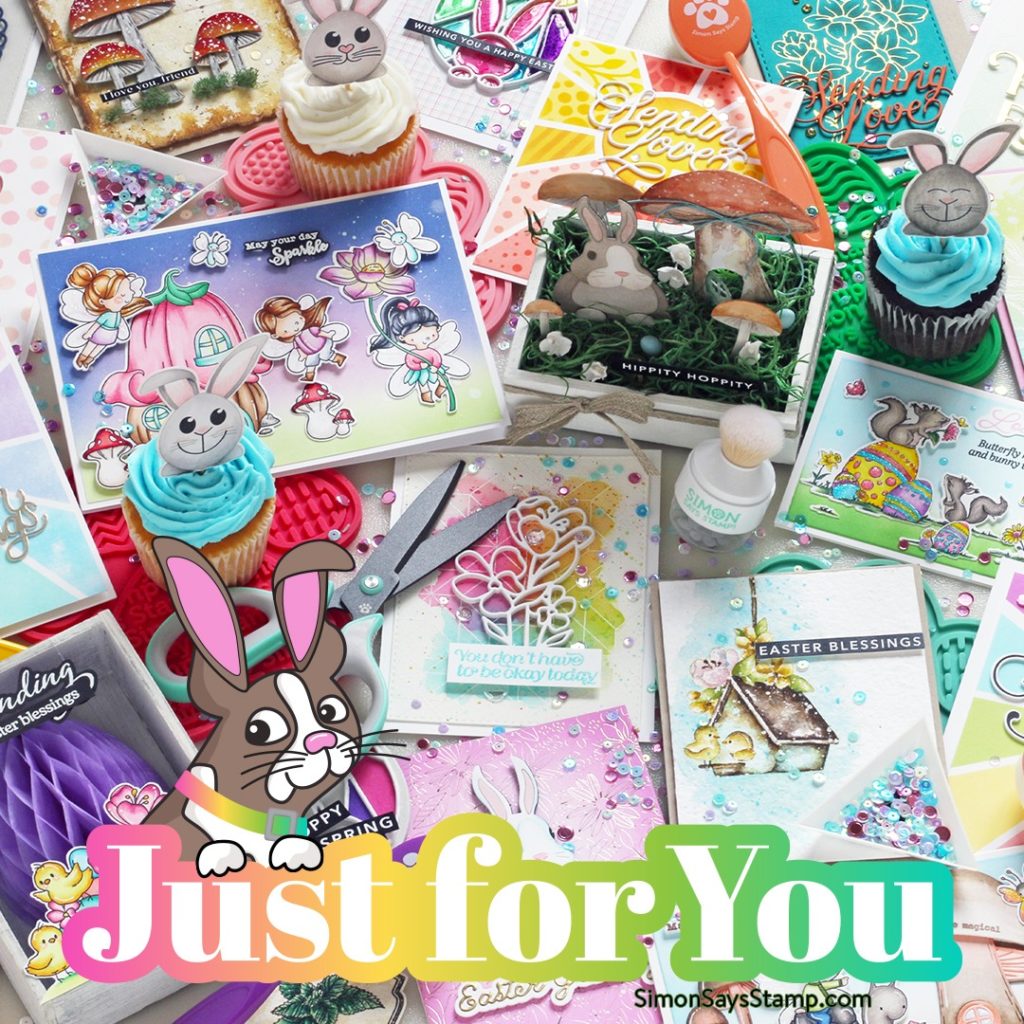 Hello, friends! I am excited to be sharing some new products with you from the new Simon Says Stamp release called "Just For You." This release is packed full of new stamps, dies, hot foil plates, and more. I created three cards for today's release, and I shared the card making process for two of those in my new YouTube video! You can view the video below.
Note: all supplies are linked in the thumbnails at the end of this blog post.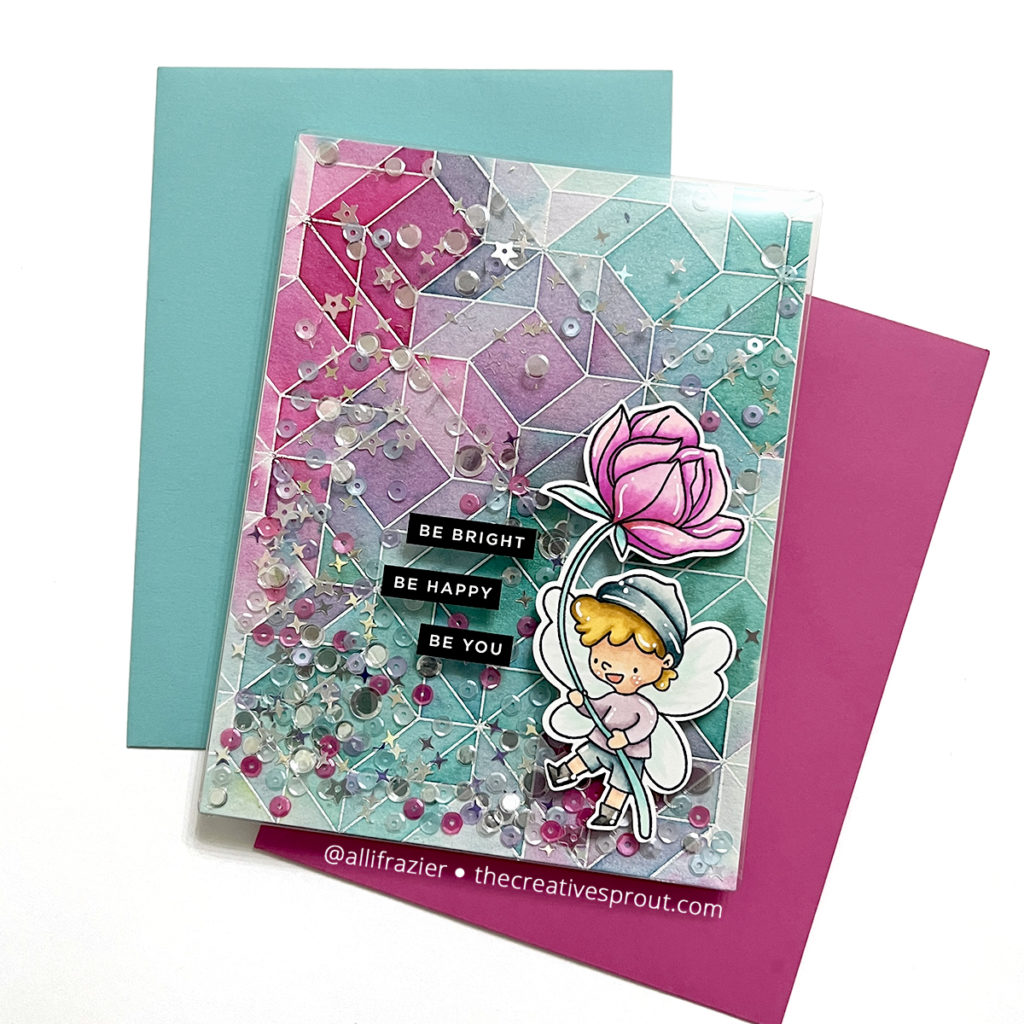 My first two cards have two things in common: shimmer powders and the adorable new Magical Spring Stamp Set. In my video, you'll see how I created my shimmery backgrounds for both cards. I used the new Quilted Cling Stamp for the background on this infinity shaker card. I used a Waffle Flower A2 Shaker Cover to make this shaker card super easy and fast. I colored the fairy with my OLO markers. The sentiments are from the Reverse Happy Sentiment Strips. If you're interested, here are the markers that I used to color the fairy:
Skin: OR1.1, OR2.2, OR3.2
Cheeks/Mouth: R0.2, R0.3
Wings: BG2.1, BG7.0
Shorts/Hat: BG7.0, BG7.2, BG7.3, BG7.6
Shirt: V4.1, V4.3
Shoes: W-G3, W-G5, W-G7
Stem/Leaves: BG2.1, BG2.3, BG2.4
Hair: YO2.2, YO2.3, YO2.5, YO2.7
Flower: V0.3, V0.4, RV0.1
I used the new Mushroom Stems Die Set for the second card. Again, I colored my fairy with my OLO markers. I used black glossy card stock for the magical word die. I love how both of these cards turned out. Any day that I can play with my shimmer powders is a good day! Here are the OLO colors that I used for the fairy on this card:
Skin: OR2.0, OR3.2, OR3.4
Wings: BG2.1
Pants: BG2.1, BG2.3, BG2.4
Shirt: Y2.0, Y2.2, Y2.3
Shoes: C-G1, C-G3, C-G5
Hair: RV0.1, RV0.2, RV0.4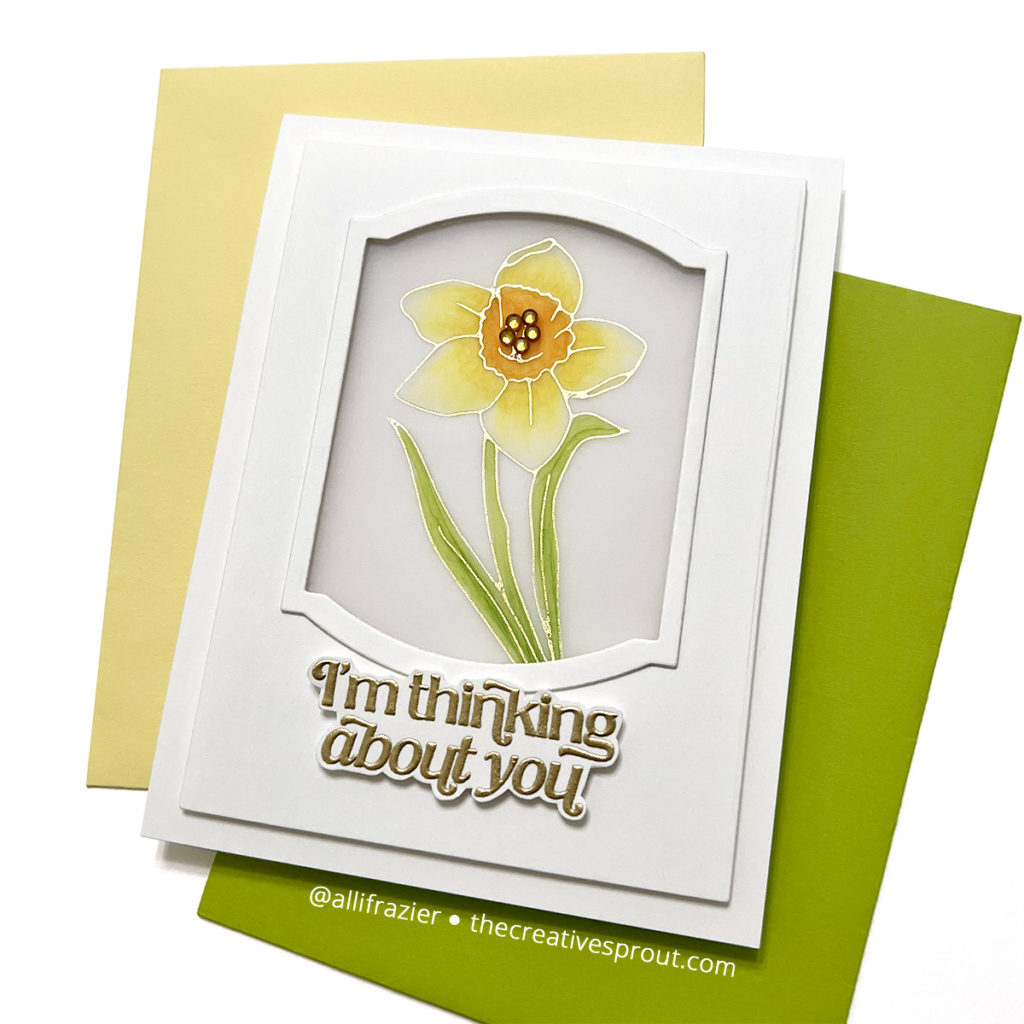 My third card is a clean and simple design featuring the new Daffodil Stem Hot Foil Plate. I foiled it onto vellum with matte gold foil. I then colored the back side of the vellum with my OLO markers. To highlight this technique, I added some dimension so that the vellum is raised off of the card panel.
I first cut a panel of white card stock with my A2 Layers die set. I cut it small enough to leave a nice margin on my white A2 card base, but big enough to accommodate the opening that I cut with the Elegant Rectangle die set. I first picked the Elegant Rectangle that would fit on the panel, and then I actually cut the opening with the die that was one size smaller. Once I had that opening, I adhered the hot foiled vellum image to the back side with Scor-tape. I then adhered that whole panel to my card base using foam tape. Finally, I created the frame using both sizes of the Elegant Rectangles. I cut that twice from white card stock and adhered that around the edge of the opening.
My sentiment comes from the new "So Sorry" Stamp Set. I heat embossed it with gold embossing powder, and then I fussy cut it out. I don't often do that with sentiments, but I love the way this looks! I finished the card with a few gold jewels in the middle of the daffodil.
I hope these cards put a smile on your face today. Be sure to check out all of the other goodies and inspiration from the new Just For You Release! And if you have time and want to watch my YouTube video, leave me a comment over there. Or here. Or both! I love hearing from you, and I appreciate you visiting today.
Wishing you all a crafty day,
Allison
SUPPLY LIST
Note: External links on my blog may contain affiliate links. This gives me the opportunity to earn a small commission when you click on the links and place an order. This comes at no additional cost to you. Thank you so much for your support! You can see more information on my Affiliate Disclosure page.