Hello, friends! I hope that you have all been doing well and that you enjoyed your weekend. I have a fun set of cards to share with you today, including a really simple easel card. I will share a lot of pictures below, but for details on how I made both cards, you can view my new video! Yay! You can watch it below, or you can watch in on YouTube.
Note: all supplies are linked in the thumbnails at the end of this blog post.
For both of my cards, I used the Concord & 9th Whimsical Wings Stencil Pack, Stamp Set, and Die Set. These are sold separately, or they are sold as a bundle (at a small discount) on the Concord & 9th website. Note that popular bundles can often be sold out. This bundle came out towards the end of 2022, but this is my first time using the products. And definitely not my last! I also used the same ink colors on both cards. All inks are from Pinkfresh Studio – colors are noted below:
Soft Lilac
Clementine
Meadow
Sapphire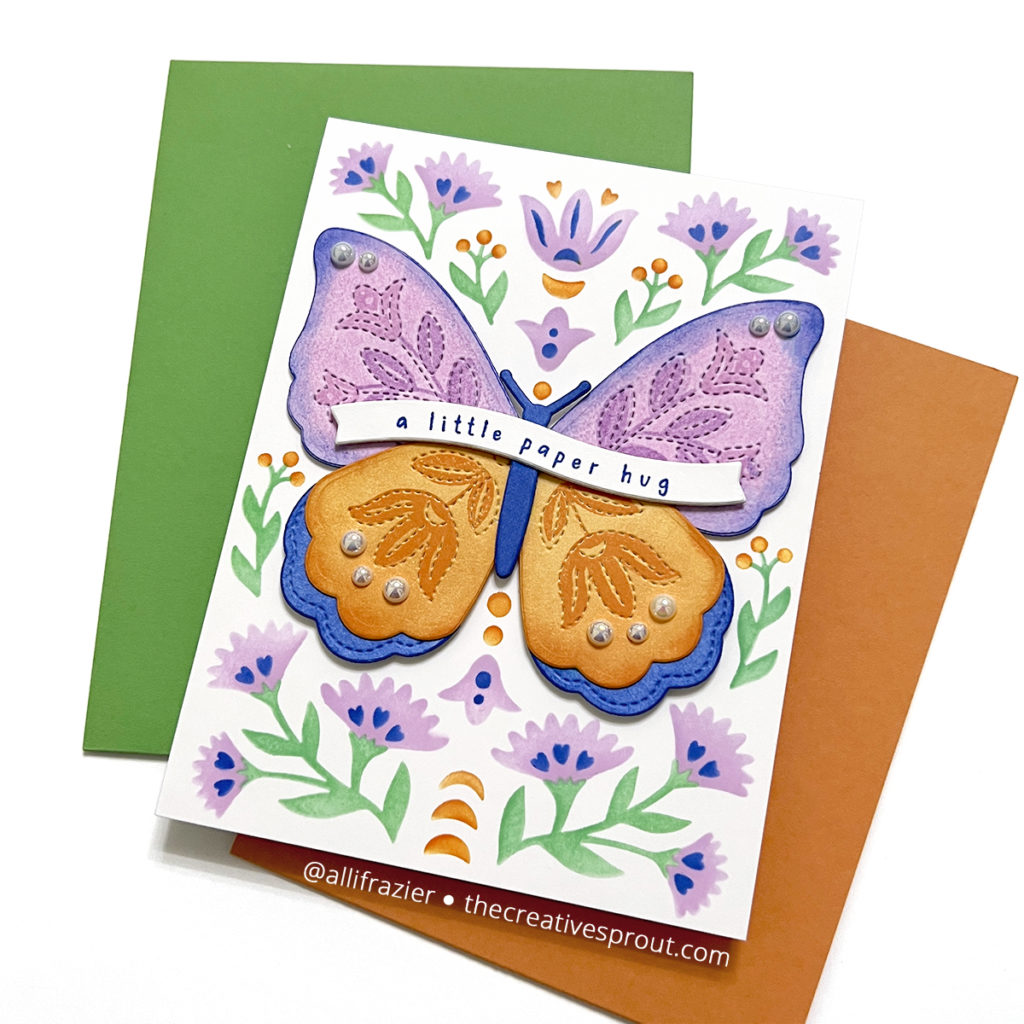 This first card features all three products, although the use of the stamp set is pretty subtle. I used it to stamp some of the detail on the die cut wings. The butterfly itself is made up of white die cuts, which I colored by ink blending the same inks I used for the stenciled design. I used my Waffle Flower Stencil Mat for all of my stenciling and ink blending today. The banner sentiment is from the bundle as well – the sentiment itself comes from the stamp set, and the banner die that I used to cut it out is from the die set.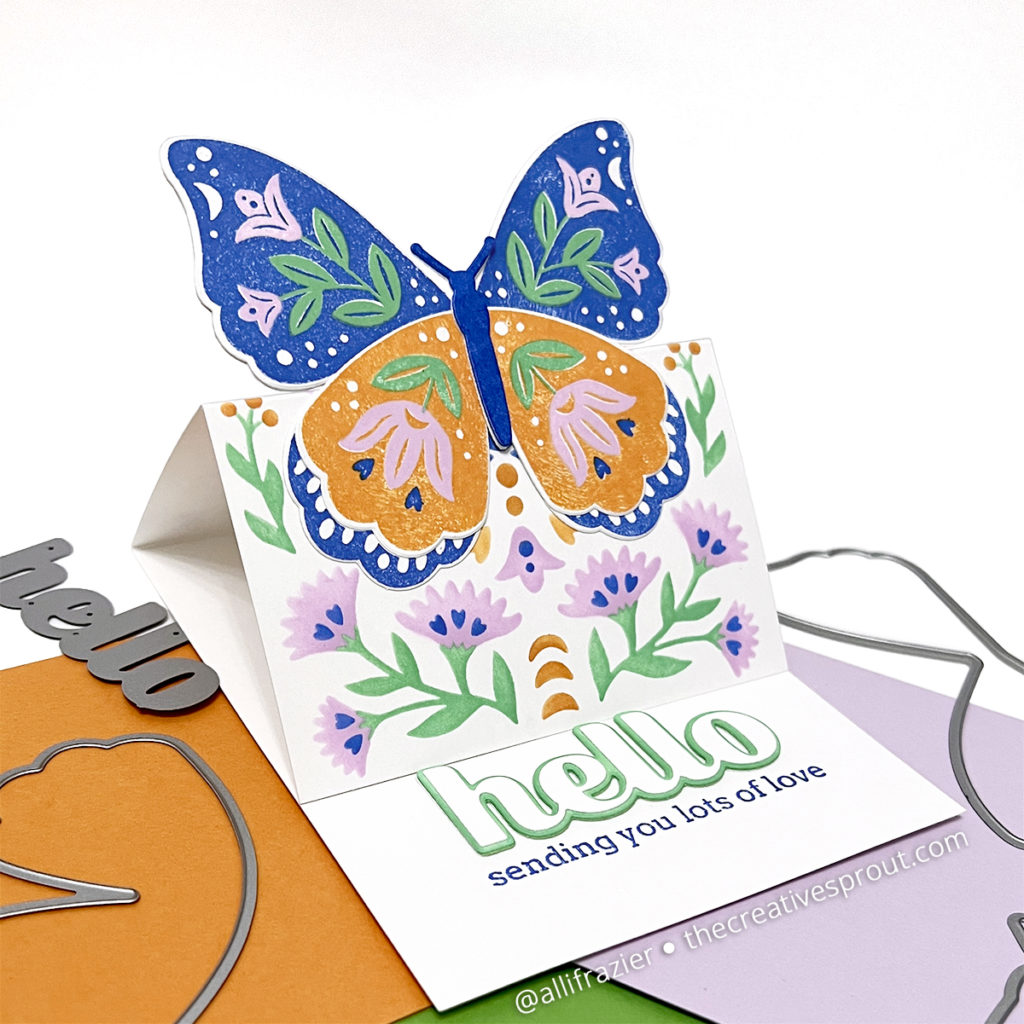 If this is not the easiest easel card, then I don't know what is! I just stenciled the design onto the front of my top-folding A2 card base, scored the front of the base at 2.75″, and then glued the bottom half of the butterfly in place. The easel stands up thanks to the "hello" die from Birch Press Design. The sub-sentiment is from the Simply Sentiments Hello stamp set from Pinkfresh Studio.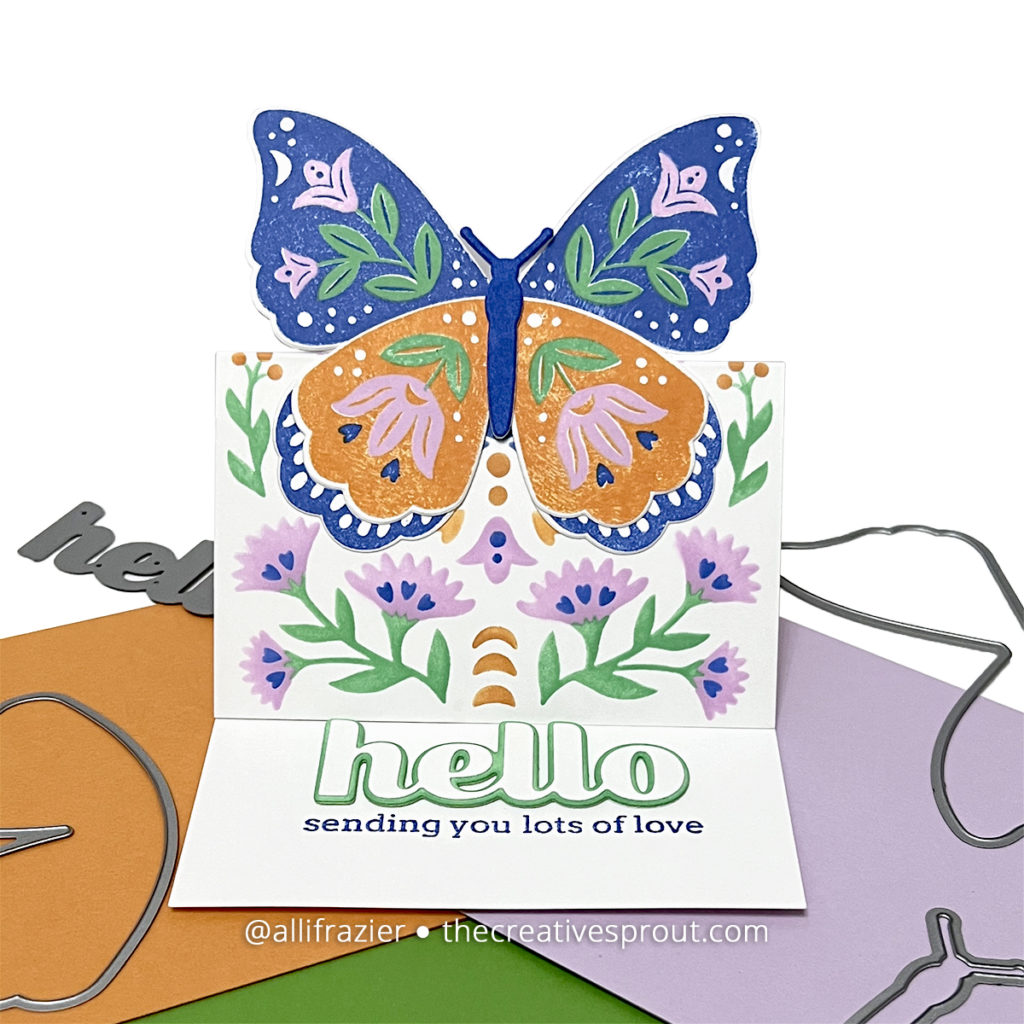 I hope these cards put a smile on your face today. If you don't have time to watch my video, it's always there for you when you do! I would love it if you "like" and "subscribe" over at YouTube. And I always appreciate getting comments on my blog posts. Let me know what you think about the new videos. I know they take away from the detailed blog posts that I used to do, but don't worry – those will still be around. I can't make a video for everything – ha ha. As always, I really appreciate you visiting today.
Wishing you all a crafty day,
Allison
SUPPLY LIST
Note: External links on my blog may contain affiliate links. This gives me the opportunity to earn a small commission when you click on the links and place an order. This comes at no additional cost to you. Thank you so much for your support! You can see more information on my Affiliate Disclosure page.