Hello, Everyone! I took a bit of a break from my craft room over the past several days, but I tried to make up for it with a quick and easy set of cards. As usual, I used a big mix of company products on these cards. The main focus of each card is the Buffalo Plaid Background stamp from Taylored Expressions and the Iconic Christmas Turnabout™ set from Concord & 9th.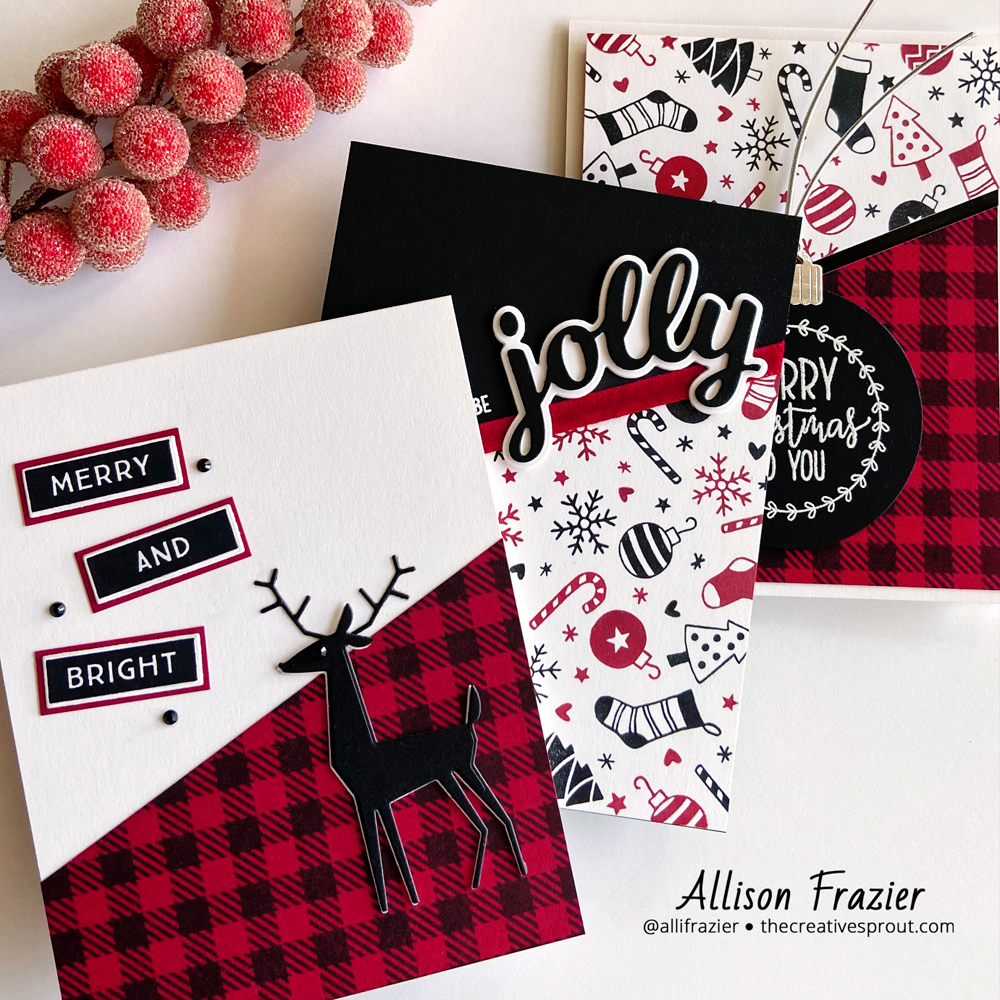 For my first background, I started with an A2 sized piece of red card stock and stamped it with the Buffalo Plaid stamp in VersaFine ink. For the second background, I got my Iconic Christmas Turnabout™ set ready by lining it up with the template that's included in the set. I then lined the template up with my Turnabout™ Jig inside my MISTI and taped an A2 sized piece of white card stock to the Jig with removable adhesive. For my 1st and 3rd rotations, I stamped with VersaFine ink. For the 2nd and 4th rotations, I stamped with Gina K Cherry Red ink. Once the two backgrounds were done, I cut them both together at an angle in my paper trimmer. Let's make some cards now!
Card One
I took a black A2 card base and glued the larger of my Turnabout™ background pieces to the bottom. I glued some red velvet ribbon above it. I stamped the sentiment with VersaMark ink and heat embossed it with white embossing powder. The sentiment comes from the Naughty Christmas Stamp Set from Kat Scrappiness. I then created the die cut sentiment with black and white card stock using the Jolly Honey Script die from Birch Press Design.
Card Two
I took a white A2 card base and glued the smaller of my Buffalo Plaid background pieces to the bottom. I cut the deer out of black card stock using the Delightful Deer Die-namics set from My Favorite Things. This die set is retired, but you can still find it at some online retailers. And, like many beloved MFT products, these dies may be brought back in a future vault release. I offset the black deer on top of a white deer and adhered it towards the bottom of my card. After looking at the picture, I probably should have offset the deer a little bit more, although it is more obvious in person. The sentiments come from MFT's Merry & Bright stamp set. I stamped the sentiments with VersaFine ink on white card stock, used the matching Phrase Builders Die to cut them apart, and then mounted them on red card stock. I scattered a few small black jewels around the sentiments and also used one for the deer's eye.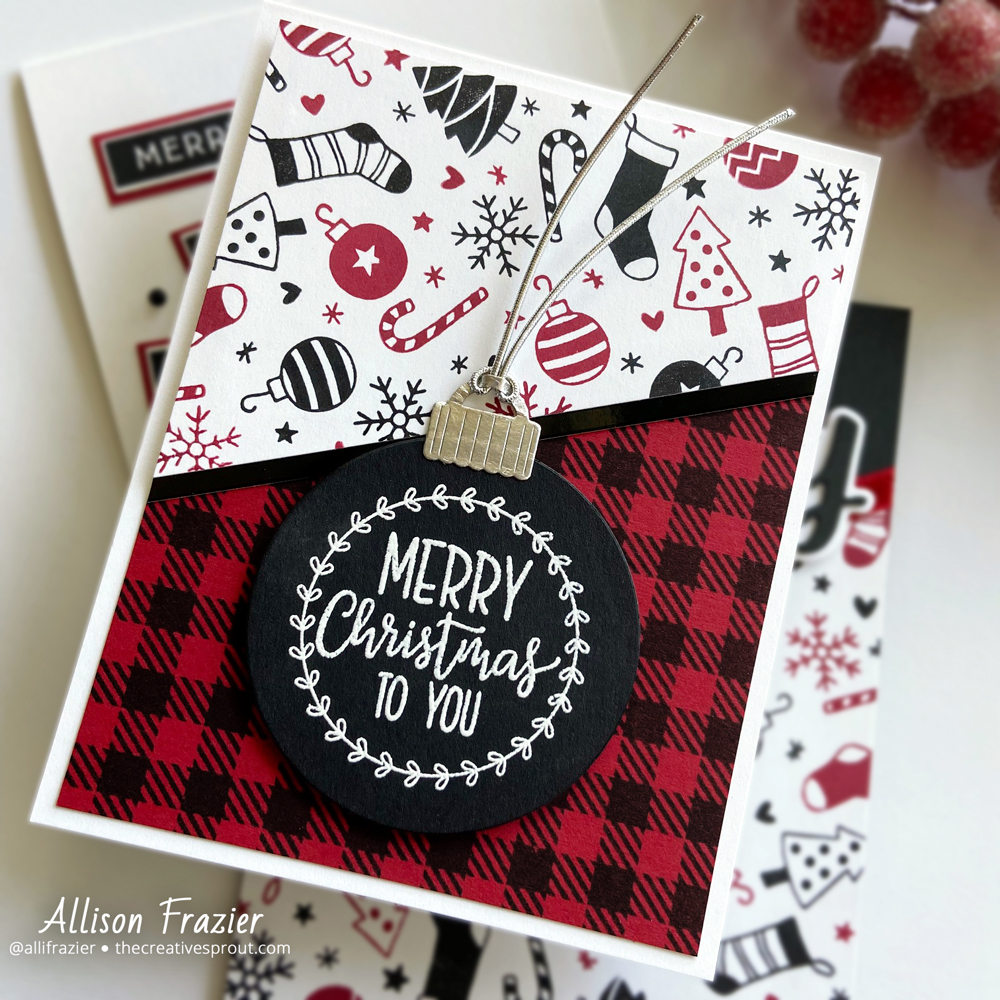 Card Three
I took the remaining two background pieces and trimmed them down so that, together, they would cover 4″x5.25″. I glued the Buffalo Plaid piece to the bottom of a white A2 card base, leaving an even margin around it. I added a thin border of black Mirror Card stock to the top of the plaid. I mounted the Turnabout™ piece onto some craft foam and then glued that to the top of the card, making sure it was in line with the plaid piece. I stamped the sentiment and wreath detail onto black card stock with VersaMark ink and heat embossed it with white embossing powder. These images come from the Gina K. Designs' Holiday Wreath Builder stamp set. I used a circle die to cut out the sentiment and then added a silver ornament topper to make it look like an ornament. The topper die comes from Birch Press Design's Radiant Ornament Layer set. I tied some thick silver string to the ornament and then adhered it to the card panel.
That's it for me today. I really love how these cards turned out and will definitely be doing something similar again, since it's such a great way to knock out some holiday cards. Thanks for stopping by – leave a comment telling me which card is your favorite!
Wishing you all a crafty day!
Allison
Note: External links on my blog may contain affiliate links. This gives me the opportunity to earn a small commission when you click on the links and place an order. This comes at no additional cost to you. Thank you so much for your support, as this helps me bring you more content.