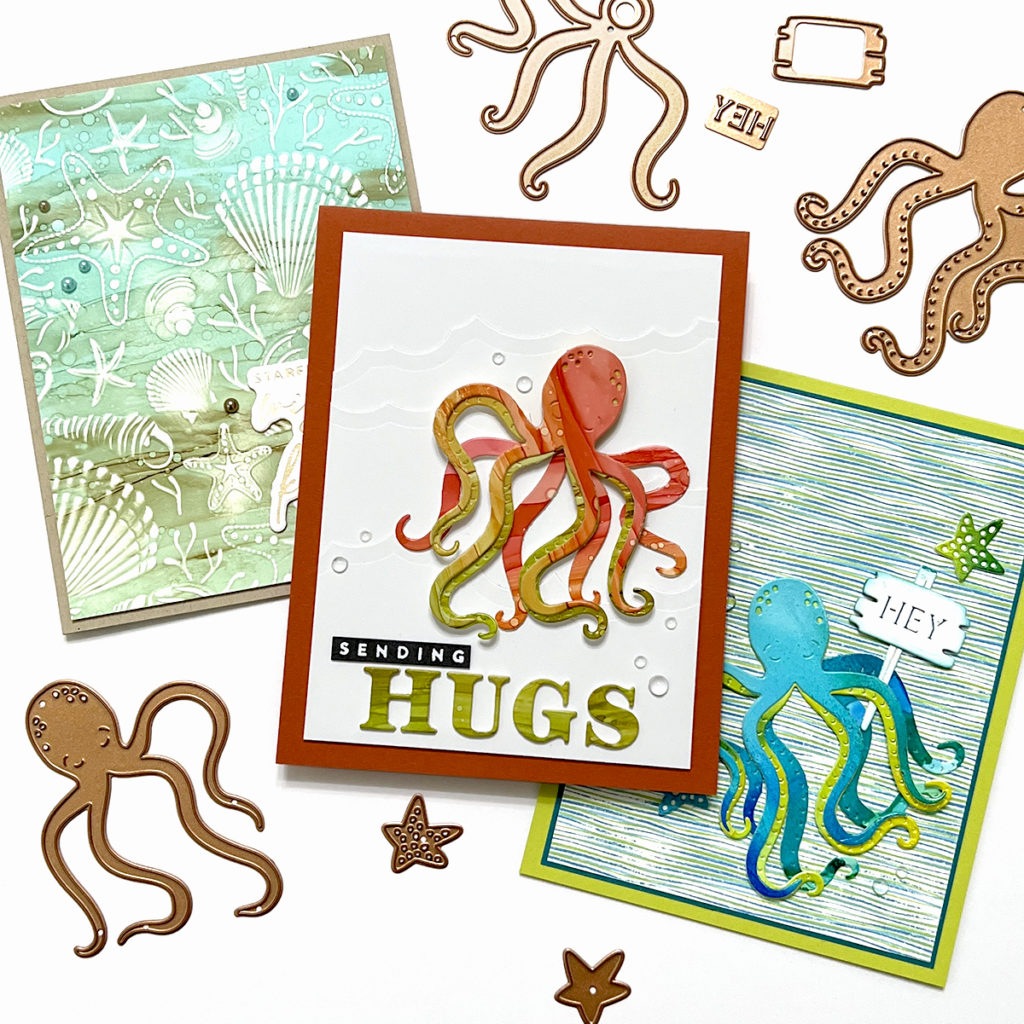 Hello, friends! It's the 6th of June, and you know what that means! Spellbinders Monthly Clubs are officially opened up to new members. If you like the ocean and marine life, then you will love this month's clubs! If you love a club this month, don't hesitate to sign up. Remember that one of the major benefits of the Spellbinders clubs is that you can cancel at any time and rejoin if/when you want (assuming there is enough inventory when you want to rejoin).
NOTE: If you are in the UK, you can order monthly clubs through the UK website – CLICK HERE.
I have a new video up today on YouTube with the cards that I made using the Small Die of the Month and the 3D Embossing Folder of the Month. I made all of the cards with alcohol ink backgrounds that you'll also see me make in the video. You can CLICK HERE to view on YouTube or just watch it below.
The Small Die of the Month for June is called "Dancin' Octopus & Friends," and it is really adorable! There are 12 dies which create an octopus that can "dance," a jelly fish that can also dance, a sign with two options for greetings, a starfish, and finally, some coral or seaweed. I pulled out my alcohol inks for these cards, since I knew I could get some really unique backgrounds with a lot of movement. Of course, I didn't know at the time how unique they would end up being! Watch the video to see my crazy "technique." If anything, I hope you learn that you should never give up on an alcohol inked background. YUPO paper is very forgiving – trust me!
Note: all supplies are linked to multiple sources in the thumbnails at the end of this blog post.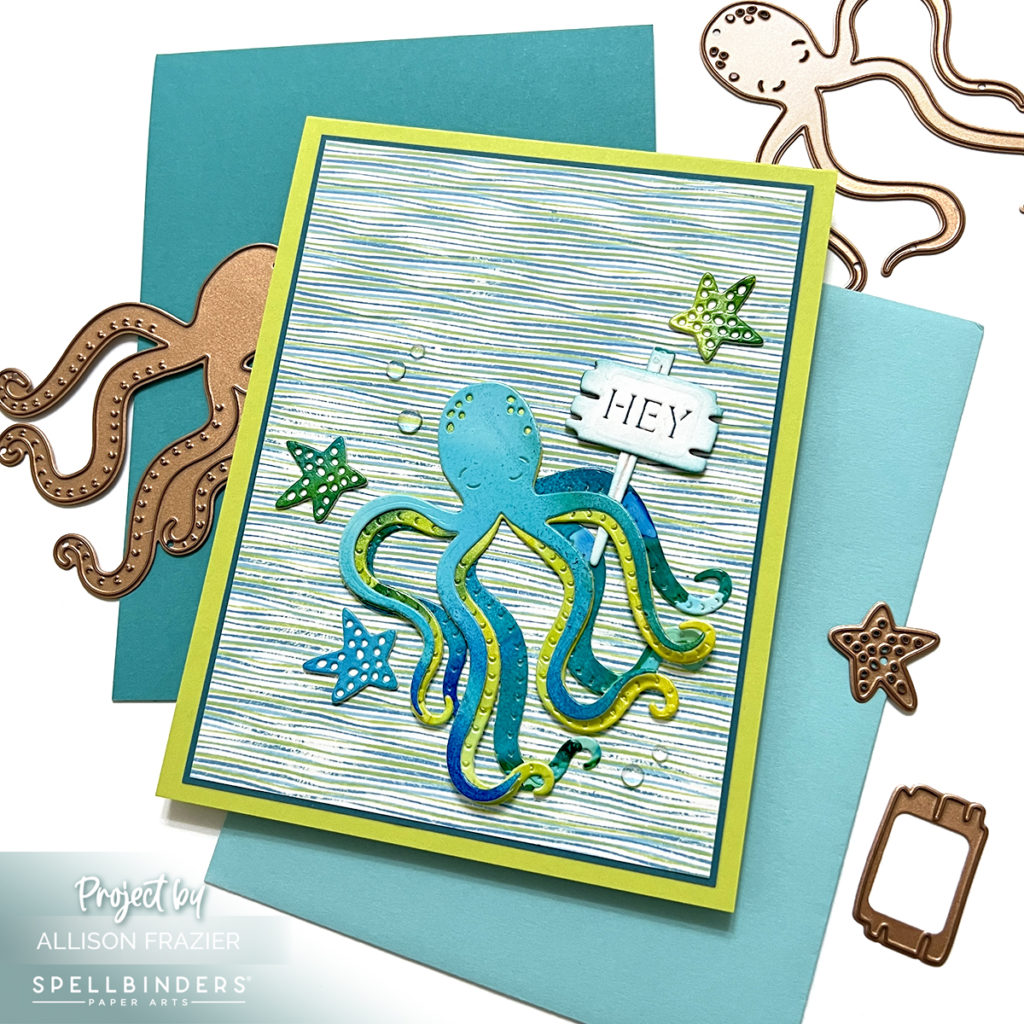 My first card features the adorable octopus surrounded by some starfish. I used one of my alcohol ink backgrounds to die cut all of the pieces on the card, except for the sign. I found a background in my stash that I had created a year or so ago with a retired stamp set from My Favorite Things called Thick and Thin Background. It was the perfect match for my green and blue friend! If you happen to have that stamp, what I did was to first stamp it with blue ink and then, after shifting it down ever so slightly, I inked it again with green ink. Even if you don't have that stamp, try that technique with another stamp from your stash to create a different look! The alcohol ink colors that I used for this card are Turquoise, Alchemy (Pearl), and Mojito. It's possible that I threw in some Sailboat Blue at some point, too.
Note – this octopus does not dance. He's more of a wallflower, or whatever the ocean equivalent of that would be.
.
My second card features another octopus, and you can tell from the crazy color scheme that this one likes to dance! I really wanted it to pop against the background, so I left it white but added some subtle texture with the Color Block Cloudscape Die Set. You can make waves from cloud dies – just turn them upside down! The alcohol ink colors that I used for this card are Flamingo, Limeade and Sunshine Yellow.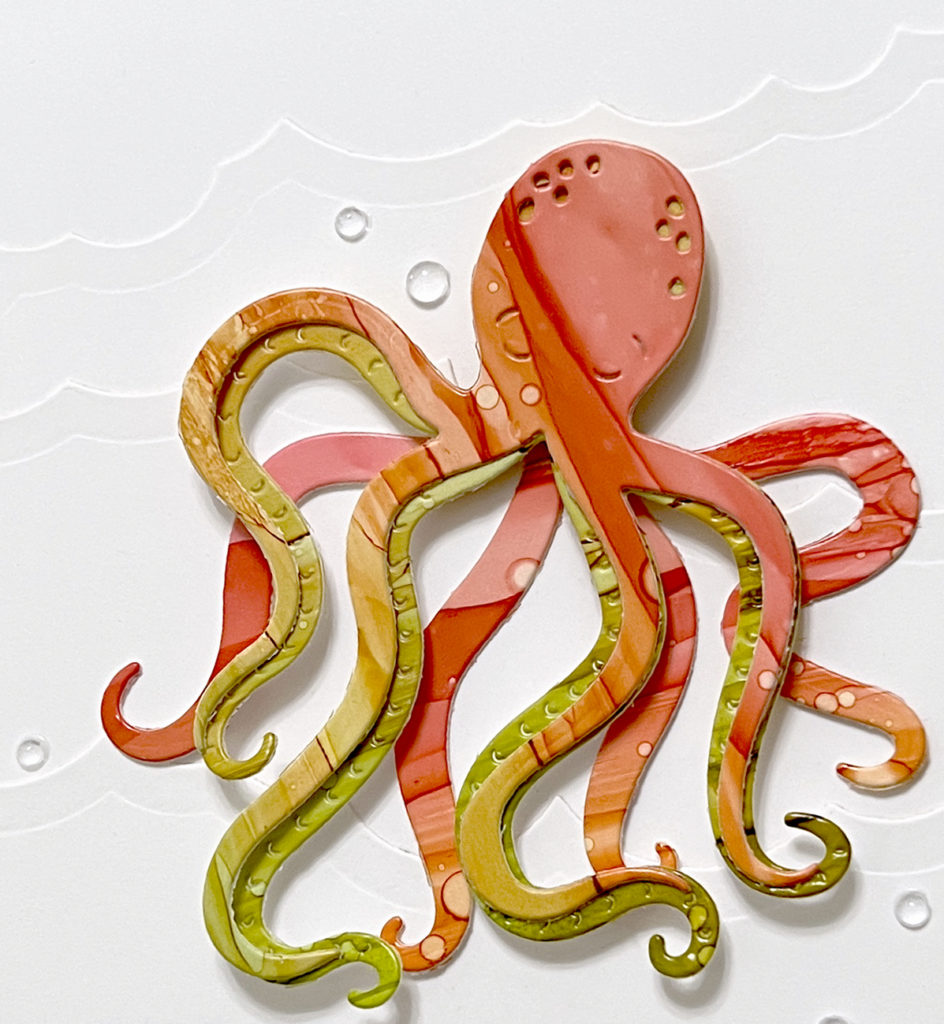 My last card features the June 3D Embossing Folder of the Month, which is called Scattered Shells. Of course, I did my favorite technique of embossing an alcohol inked background and sanding off the top layer to reveal the stunning design. I let the design be the star of the show and finished with an elegant hot foiled sentiment, using Satin Champagne foil for the first time. I love it!
The alcohol ink colors that I used for this card are Espresso, Butterscotch and Turquoise.
I hope these cards put a smile on your face today. Leave me a comment and let me know which project is your favorite! And be sure to head over to YouTube to watch my video. I hope to see you there!
Wishing you all a crafty day,
Allison
SUPPLY LIST
Note: External links on my blog may contain affiliate links. This gives me the opportunity to earn a small commission when you click on the links and place an order. This comes at no additional cost to you. Thank you so much for your support! You can see more information on my Affiliate Disclosure page.