UPDATE: Congratulations to Roxanne Tellini for winning the blog hop!!
Welcome to the Waffle Flower June Release Blog Hop! I'm happy to be hopping with the folks from Waffle Flower to show you all the fun new stuff awaiting you on the Waffle Flower website! Be sure to check out each stop in today's blog hop for fun, inspiration, and chances to win some of these new release goodies!
This is such an amazing release, and I got a "little" bit carried away – I just couldn't stop making cards! I have an intro video on my YouTube channel (you can also watch it below), where I show each of my cards and the new products that I used. I will also have detailed videos showing how I made the cards – stay tuned for those.
The June release is called "Hugs Inside." You can see the entire release HERE. All of the new products are also linked in the thumbnails at the bottom of this post. One of the special things about this release is that many of the products focus on the INSIDE of the card! From sentiments to pop-up elements, the inside features are so amazing. The images below show you the outside and inside of some of my cards. You can see how I carried the design elements from the outside to the inside.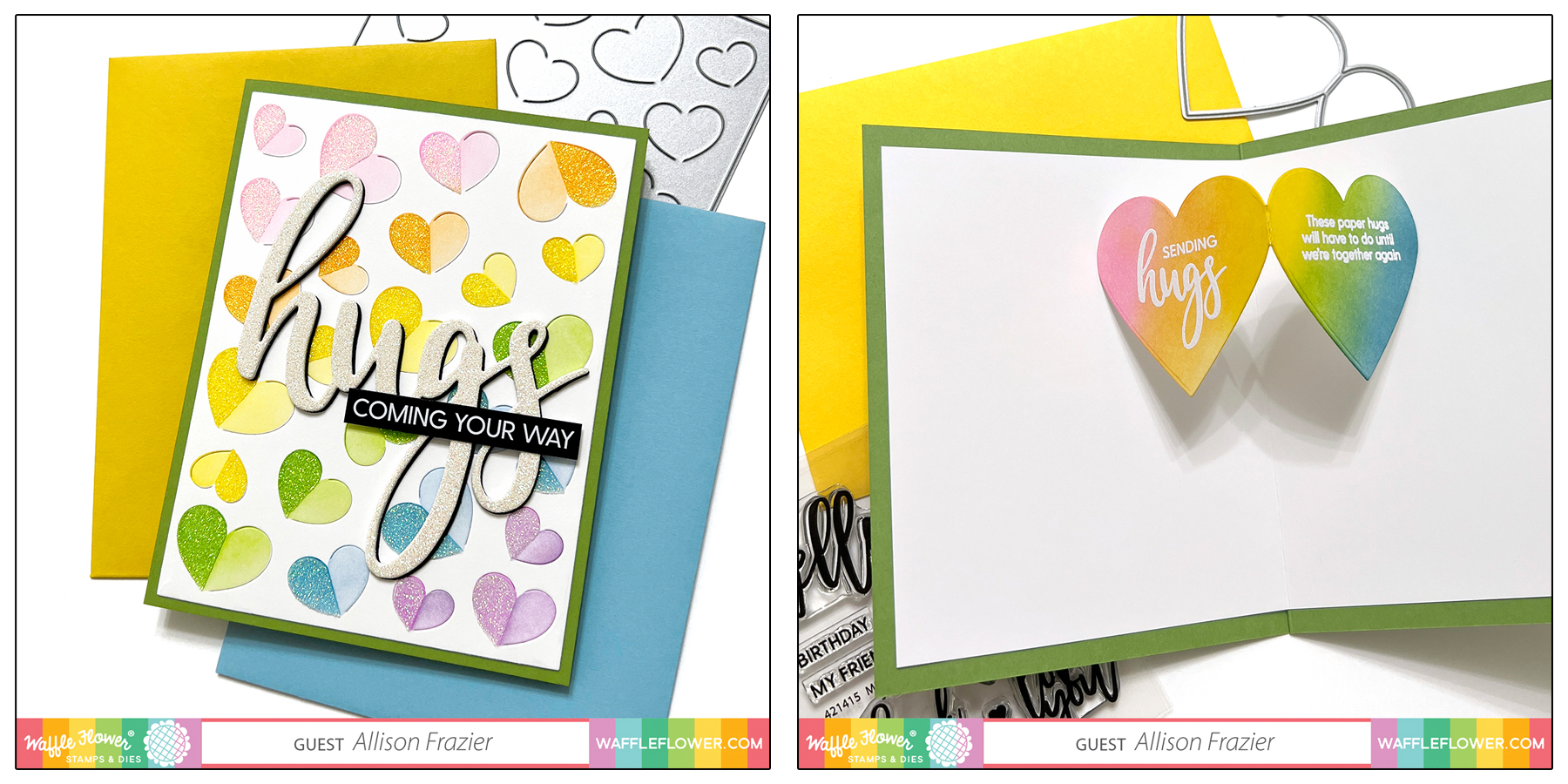 GIVEAWAY DETAILS:
For today's hop, Waffle Flower is giving away $25 gift certificates at every stop of the hop. That's a total of 16 chances to win! You can leave a comment on this blog and along the hop by 11:59pm EST on Thursday June 8th, 2023 for your chances to win. Winners will be chosen at random from the comments and will be announced on the Waffle Flower Blog on 6/9/2023.
SPECIALS:
From now until June 8th, 2023, all orders placed at waffleflower.com will receive a mysterious gift – no code required!
For those of you who are new to Waffle Flower, they have a Last Chance section on their website that lists many goodies for 25% off until they are gone – just use the code "LASTCHANCE." This would be a great place to start your collection. And, this is a HEADS UP – JJ's Rainbows Paper Pad that I use on so many of my cards for today is in this last chance section! So, if you want this pad, you better beat me to it because I am freaking out that I will no longer have access to my favorite patterned paper ever. There are also monthly Flash Sales, so definitely check those out, as well.
Your next stop on the hop is the amazing Galina Filippenko. For a full list of blog hop participants, head over to the Waffle Flower blog.
Below are pictures of some of the other cards that I made. Remember to check out my videos on YouTube for details on each card! I am working on finishing them all up, so fingers crossed that you'll be able to view those soon.
I had so much fun making these cards! I hope they put a big smile on your face today. Don't forget to leave a comment for your chance to win the gift certificate. Good luck and enjoy all of the inspiration along the hop! Thanks so much for visiting today.
Wishing you all a crafty day,
Allison
SUPPLIES
Note: External links on my blog may contain affiliate links. This gives me the opportunity to earn a small commission when you click on the links and place an order. This comes at no additional cost to you. Thank you so much for your support! You can see more information on my Affiliate Disclosure page.