Aloha, Everyone! Today I am sharing another fun card from the Penguin Palace Spring 2021 Release. Everything from the new release is now available for pre-order in the Penguin Palace online shop. Any orders of $80CAD+ (≈ 65USD+) will be eligible for a free gift, and there is also an awesome giveaway – check out the Penguin Palace blog for details.
Continuing the "Around the World" theme, today's stamp set comes to you from beautiful Hawaii. I had so much fun using the Aloha Hawaii set – I think I used almost every image on my card! Aren't they all adorable?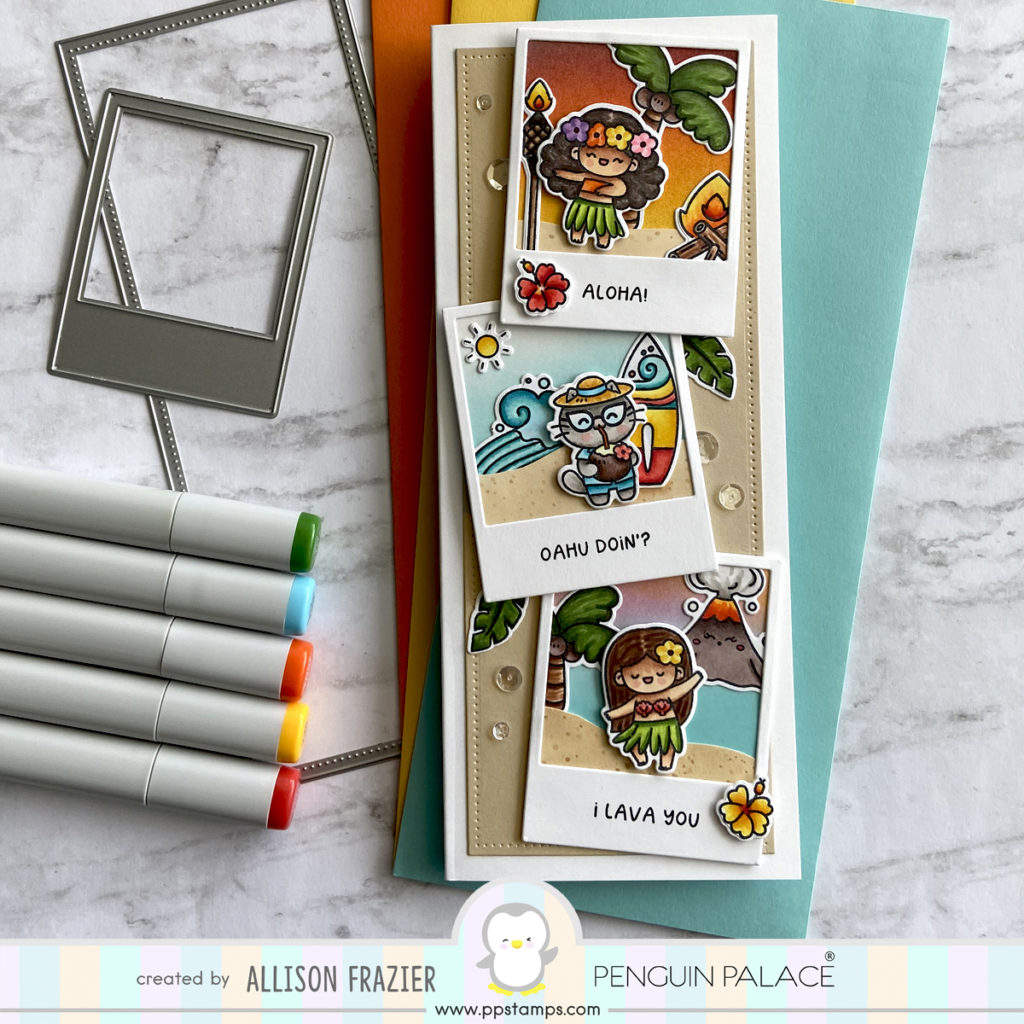 When I saw this stamp set, it reminded me of how long it's been since most of us have had a vacation. I saw so many cute scenes in my head, so I decided that I wasn't going to limit my card to just one. That's how I came up with the idea of making a card full of vacation photos.
Making the Card
I first stamped all of the images and colored them with Copic markers. I cut them out with the coordinating dies. I cut some white card stock using the polaroid dies from the new Twist-n-Pop Surprise die set. This is a really fun die set that will be featured later in the week!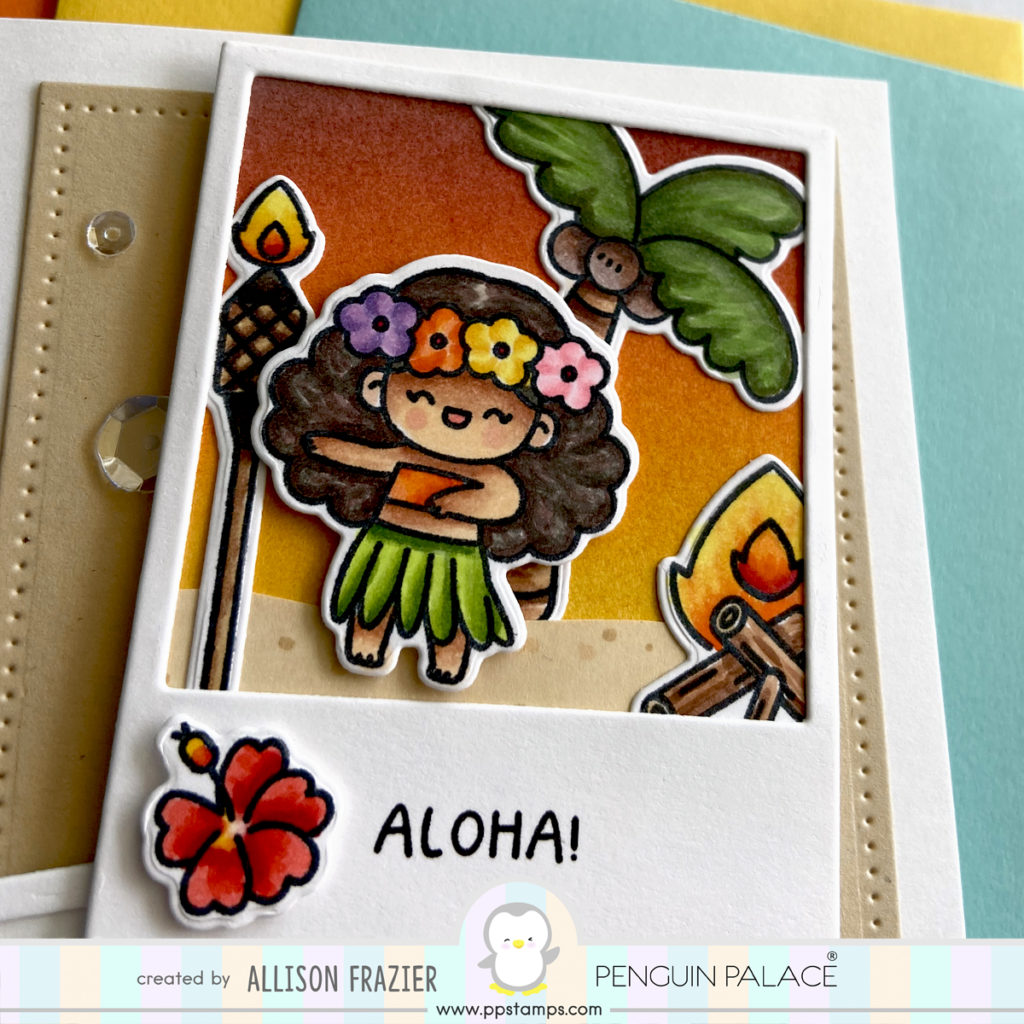 Next, I began playing around with the scenes that I wanted to create. It was hard to limit it to just three! When I finally had my scenes arranged, I blended Distress Ink onto the pieces of card stock that go in back of the polaroid frame. For the top scene, I used some yellow and orange inks to create the look of a sunset. For the middle scene, I used blue ink for the sky. And for the bottom scene, I blended blue for the ocean and some pinks and oranges for the sky. I then cut some small curved pieces to represent the beach for each scene and ink blended those, as well. I also added some small dots to the sand with brown Copic markers.
Next, I glued all of the images to the backgrounds. Before gluing the polaroid frames on top, I stamped all of the sentiments. I was very proud of myself for remembering to do this before the entire card was assembled! I did pop up all of the main characters with some foam tape to make them stand out.
I cut a panel from some kraft card stock using one of the slimline dies from the Dotted Borders Slimline Pull Tab die. This is yet another fun die from the new release that I will be sharing with you tomorrow! I glued this panel onto a white card base that measures 4″x9″. I then arranged all of my polaroids and glued them in place, using foam tape where necessary to achieve dimension and layers.
To finish up the card, I added some sparkly clear sequins as well as some leaves and flowers from the stamp set.
This card makes me smile every time I look at it. I am now dreaming of my next vacation, whenever that will be! I have not been to Hawaii yet, but it has for sure moved up on my list now. Be sure to check out the entire Spring Release in the Penguin Palace store, as well as the rest of the design team's creations. I'll be back on Thursday sharing more fun products from the collection.
Wishing you all a crafty day!
Allison
Note: External links on my blog may contain affiliate links. This means that I have the opportunity to earn a small commission when you click on the links and purchase from companies that I am affiliated with. This comes at no additional cost to you. Thank you so much for your support, as this helps me bring you more content.