Hello, Everyone! I am back today sharing another fun card for the Penguin Palace Spring 2021 Release. Everything from the new release is now available for pre-order in the Penguin Palace online shop. Any orders of $80CAD+ (≈ 65USD+) will be eligible for a free gift, and there is also an awesome giveaway – check out the Penguin Palace blog for details.
For today's card, I created another slimline, but this one is interactive! It features the new Dotted Borders Slimline Pull Tab die set. I also used the new Beautiful Africa stamp set, which continues the Around the World theme of the release.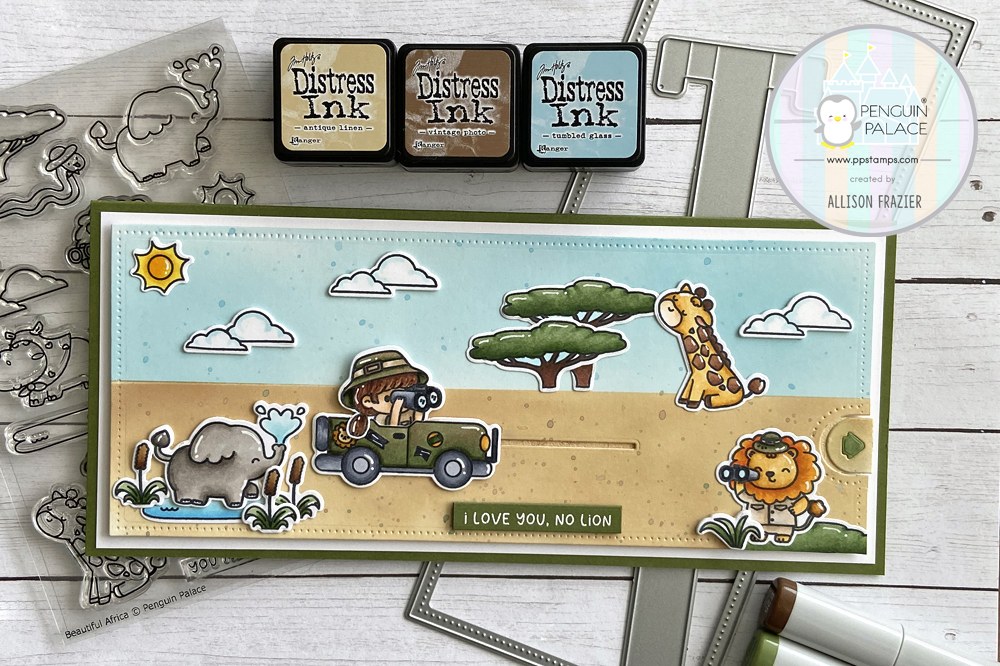 Making the Card
The first thing I did was stamp out all of the images from the set and then color them with Copic Markers. These images were so fun to color – I especially love that sweet giraffe. After I was finished coloring, I used the coordinating dies to cut out the images. I then got started on the background. I cut a panel out of white card stock using the smaller slimline die from the set. I taped off the top half and ink blended the bottom with Distress Ink in Vintage Photo and Antique Linen. I then splattered it with watered down Vintage Photo. After heat-setting the panel, I was ready to ink blend the sky. I used Tumbled Glass and Broken China and then splattered it with watered down Broken China.
Next, I arranged the scene. I played around with all of the images to decide which ones would fit and which ones wouldn't. Sorry, Mr. Snake – maybe next time! I had to figure out how to make the girl look like she was driving . It took a little bit of surgical work on both her and the jeep, but I'm pretty happy with how it turned out. Of course, she should probably be focusing more on the road while she is driving, and I wouldn't recommend driving a convertible around wild animals, but that's okay. Nobody is going to try this at home…right?!
I placed the jeep/convertible in its starting point and figured out how far I wanted it to "drive." This allowed me to properly place the die that would cut the track that the pull tab mechanism would slide along. What I think is really great about this pull tab set is that it comes with four different lengths of track dies, which allows you more flexibility in creating your scenes. Before I continue trying to describe the process of making the interactive feature, I think it's easiest to understand if you can actually see it. I apologize that I don't have a YouTube channel yet, but Penguin Palace does! Check this out for a video that shows the process of using this die set.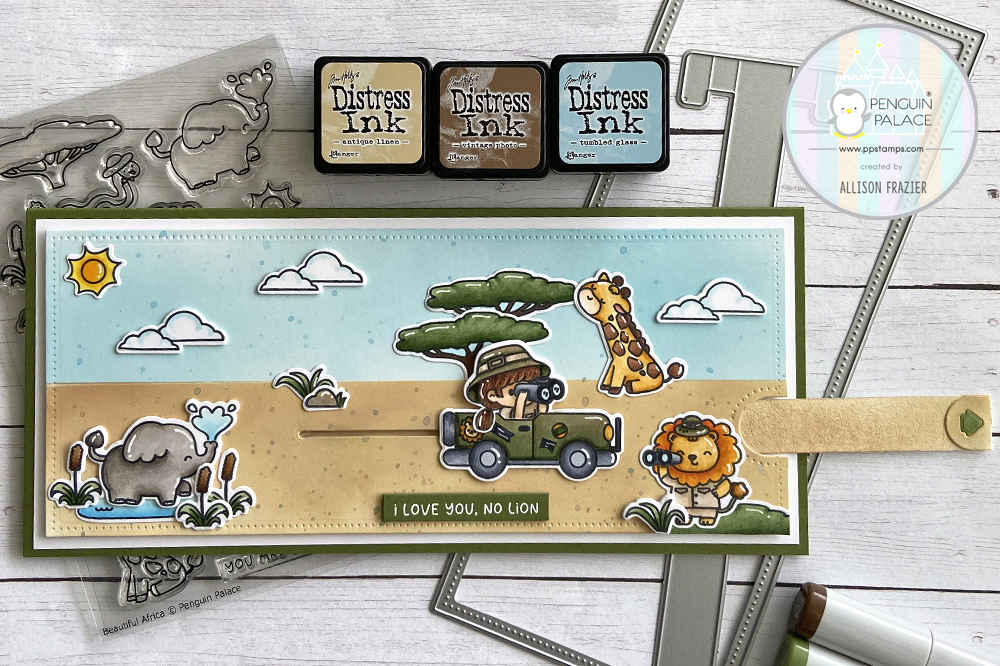 So, hopefully you either watched the video or you've already made a pull-tab card before, and you now know how this interactive die set works. I have to say that, when I attached the jeep/convertible to the sliding mechanism, it was so fun seeing that little girl driving along the road towards the lion. Don't worry – I made sure she stopped short of hitting him. I mean, he had to have looked quite large through those binoculars by the time she got that close to him!
Once I had the mechanism in place, I adhered all of the other images to the scene. Some were glued, and some were popped up with foam tape. There is one tree image in this stamp set, but I cut the tree that is in the back in half so that I could make it look like it was taller than the one in front of it. I also made a third tree – can you find where that one is?
Now, to finish the card! I made a 9″x4″ card base from green card stock and adhered a slightly smaller white panel to the front. I put foam tape on the back of my main panel, being careful not to interfere with the sliding mechanism, and adhered that to the card base. I white heat-embossed the sentiment onto the same green card stock, trimmed it down, and adhered it to the card. Before calling this card done, I used a white gel pen to add highlights to some of the images. Now, sometimes my highlights look pretty good. And sometimes my highlights look like my 10-year old son did them. Not that I'm blaming him or anything…
That's it for my card today. There is something about an interactive card that just screams fun, don't you think? This one also screams, "Hey, look where you're driving, lady!" Thanks for joining me, and be sure to check out the entire Spring Release in the Penguin Palace store. I'll be back tomorrow, so I hope you'll join me again.
Wishing you all a crafty day!
Allison
Note: External links on my blog may contain affiliate links. This means that I have the opportunity to earn a small commission when you click on the links and purchase from companies that I am affiliated with. This comes at no additional cost to you. Thank you so much for your support, as this helps me bring you more content.