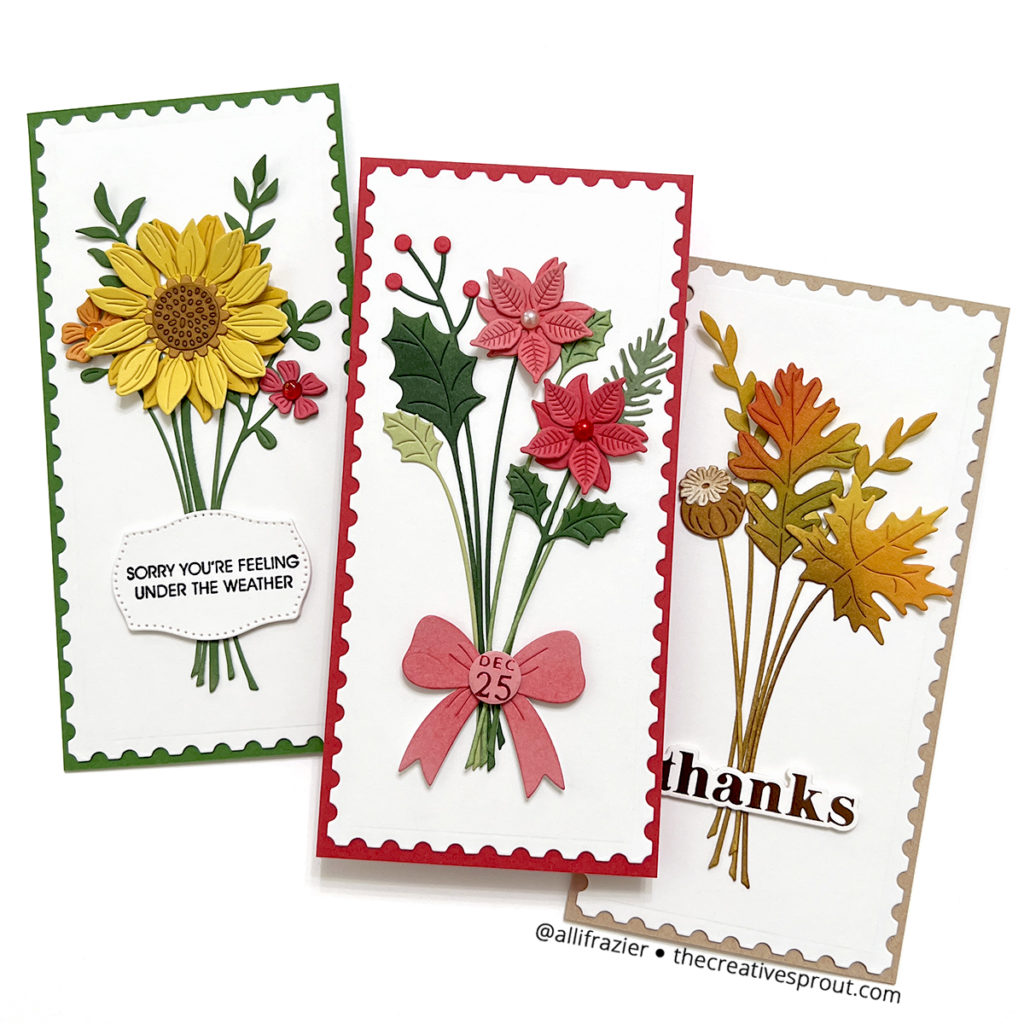 Hello, friends. I hope you are all enjoying your weekend! Today, I am sharing three mini slimline cards featuring bouquets for different occasions using various die sets from Spellbinders. These are very clean and simple looking, but they each feature one thing – an alternative way to secure the bouquet! Typically, you will see these dies being used with the Spellbinders wax seals. Well, I wanted to show different ways to achieve a similar look and function.
I have a new video on YouTube sharing how I made these cards. For today's video, you can CLICK HERE to view on YouTube or watch it below.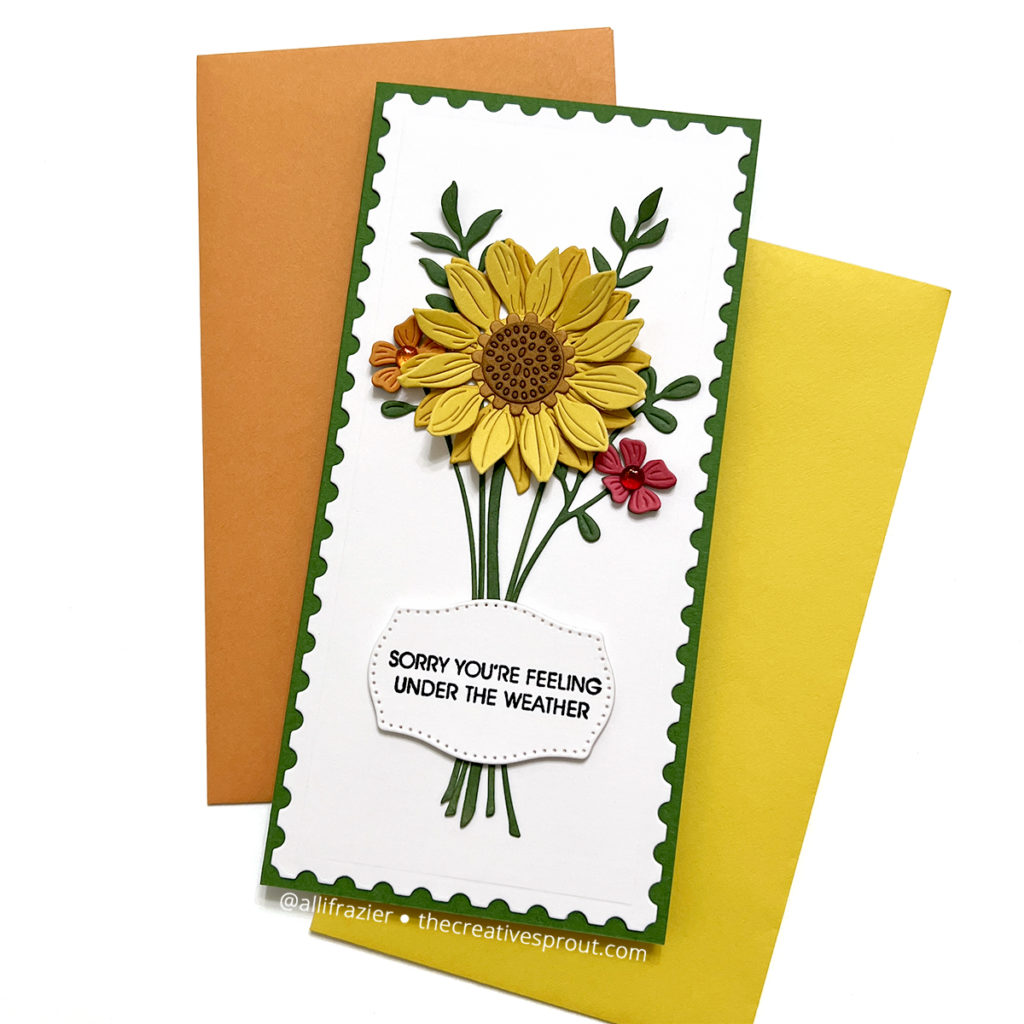 Note: all supplies are linked to multiple sources in the thumbnails at the end of this blog post.
For all of my cards today, I used the Postage Edge Slimlines Set for the white panel. I did partial die cutting in order to get the panel to be the length that I wanted. My cards are slightly taller than a typical mini slimline card. They are 3.25″ x 6.75″. I can easily put these in a 5×7 envelope, if I want.
My first card features the new Sunflower Serenade die set from the Serenade of Autumn Collection. This sunflower is so pretty on its own, but I thought it would be nice to have it as the focal point in a bouquet. The small flowers come from the Sealed Blooms die set, and the other green "filler" comes from the Sealed Wildflowers die set. I secured my bouquet using one of the labels from the Pierced Mini Labels set. I used a sentiment from the "I've Got You Covered" stamp/die set, which makes this a great get well card.
My second card features the Autumn Sealed Sprigs set. For this card, I used the "thanks" from the Be Bold Glimmer Sentiments set. I used copper foil to hot foil the sentiment. The matching die made it easy to secure the bouquet.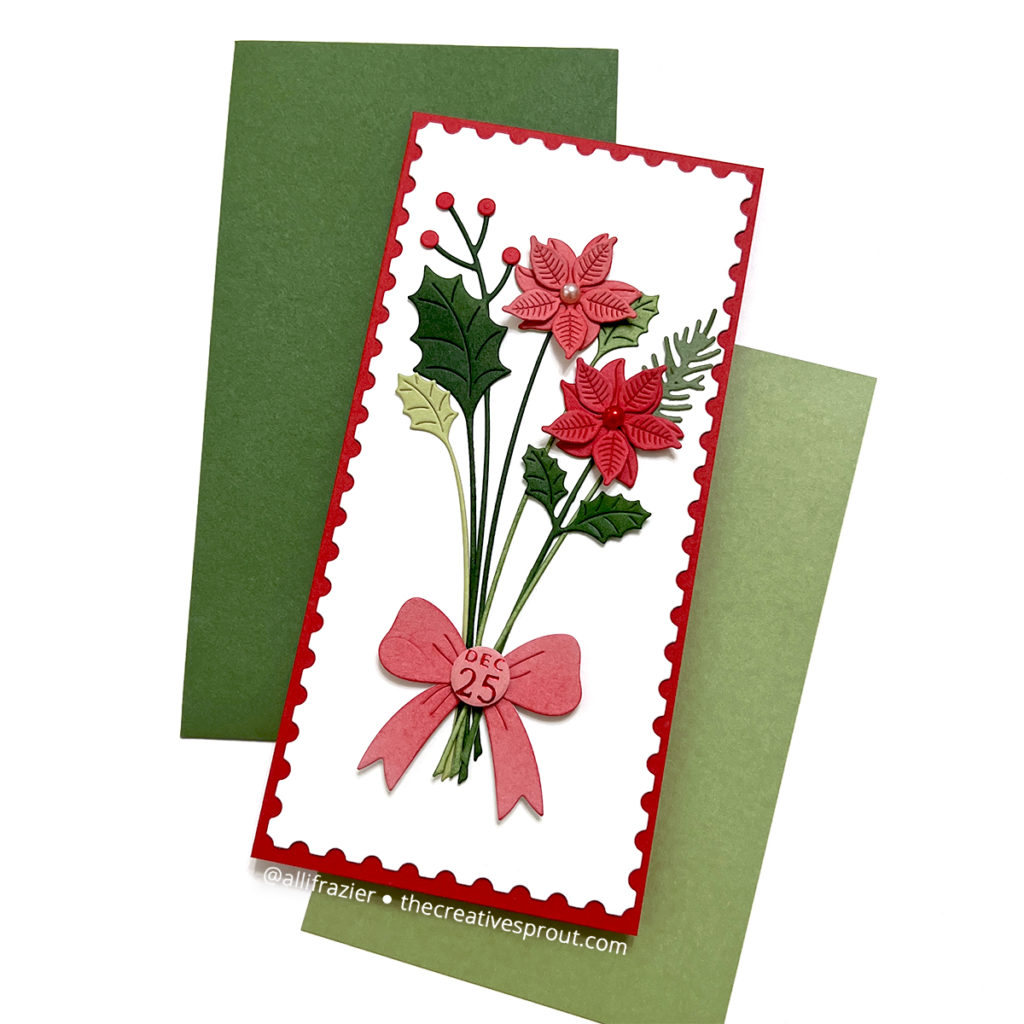 My last card features the Sealed Christmas Sprigs. This card was the most challenging one, not only because it has more stems, but because I had to create some of those stems myself. And when I say "I had to," I didn't really have to. I just wanted some different "filler" for my Christmas bouquet, so I grabbed a few dies from the Christmas Blooms set. Keep in mind that Spellbinders has a lot of other "sealed sprig" die sets that have filler that would have worked for this card. I was just playing with what I have in my stash.
For this card, I secured the bouquet with the sweet bow from the Halloween Wreath Add-Ons set that was just recently released. There are a lot of bows in that Beautiful Wreaths Collection that would work for this kind of card. I even added a little sentiment in the middle of the bow, mainly because I couldn't figure out where else to put one! I do think it looks cute, though. I hot foiled this sentiment using one of the hot foil plates from the Christmas Magic set. I then cut it out with a small circle die.
I hope these cards put a smile on your face today! Leave me a comment and let me know which one is your favorite. As always, I appreciate you visiting my blog and YouTube channel.
Wishing you all a crafty day,
Allison
SUPPLY LIST
Note: External links on my blog may contain affiliate links. This gives me the opportunity to earn a small commission when you click on the links and place an order. This comes at no additional cost to you. Thank you so much for your support! You can see more information on my Affiliate Disclosure page.