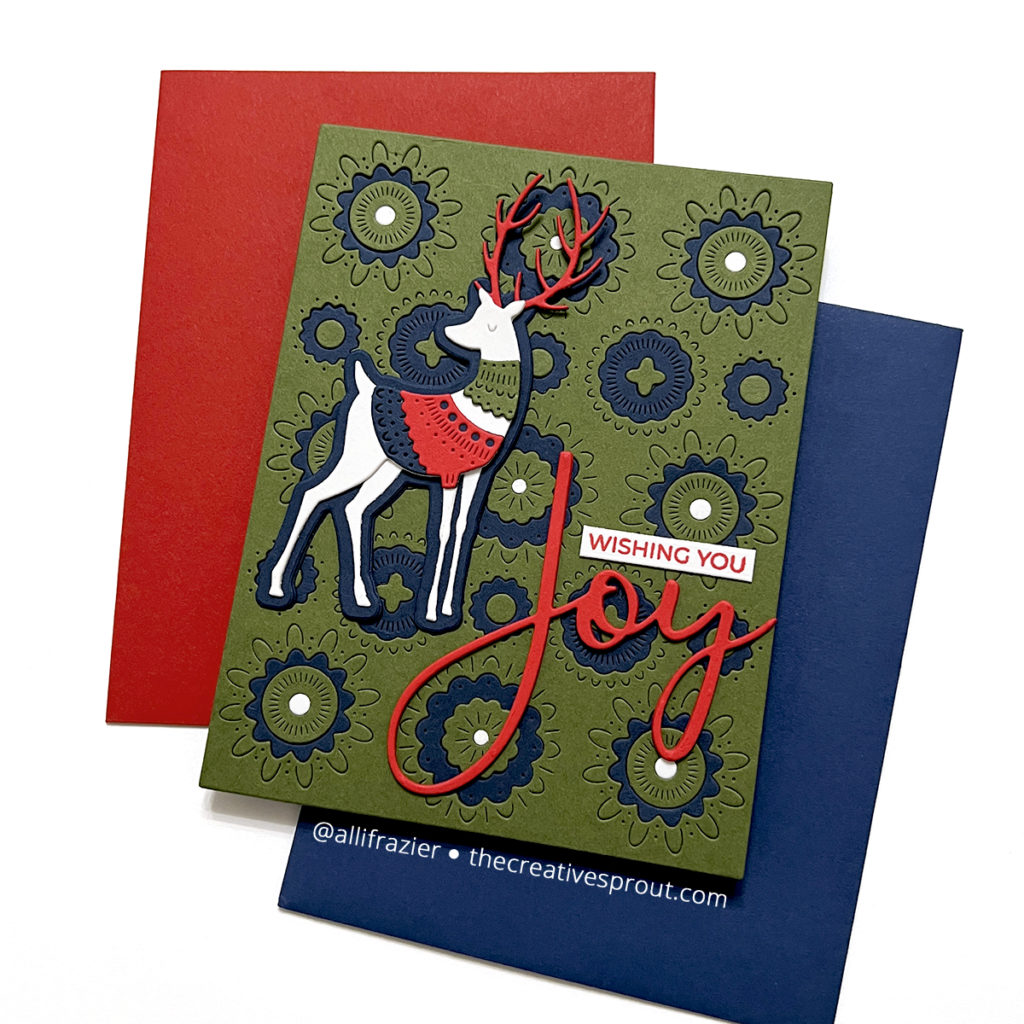 Hello, friends! I hope your weekend is off to a great start. I am visiting my parents this weekend, but before I left town, I found a little time to play with some new dies that I recently purchased from Poppystamps. They have a beautiful new Christmas collection, and the dies that really caught my eye were the Nordic-inspired dies. There are many to choose from, so I had to use some will power and make some hard choices! I'm sharing two cards on my blog and YouTube channel today, but you may have seen an ornament/tag that I shared on Instagram before I left town. You can view my video below or head directly over to YouTube.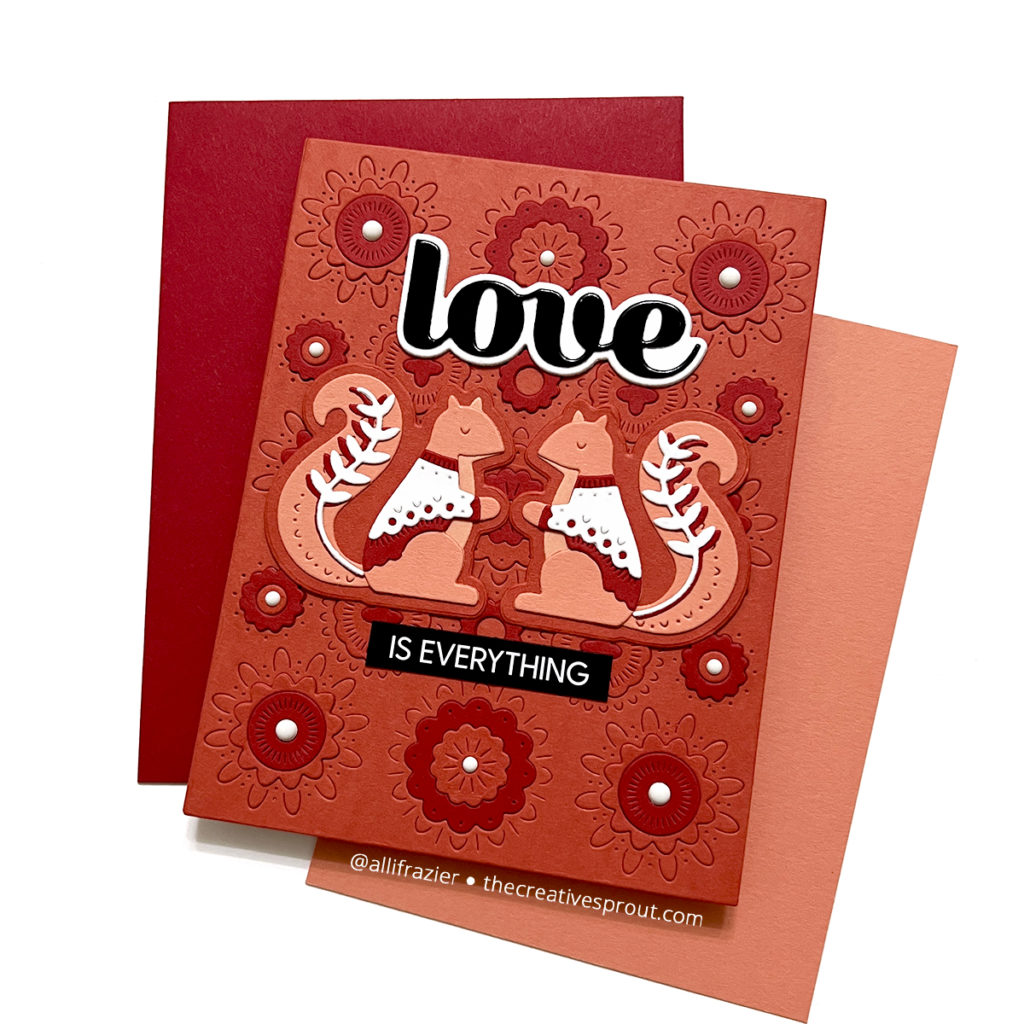 Note: all supplies are linked to multiple sources in the thumbnails at the end of this blog post.
For both of my cards today, I used the fun Nordic Floral Plate, which is a cover die with so many possible design combinations. Since I was a little pressed for time, I kept today's backgrounds pretty simple. For my first card, I used a monochromatic color scheme using orange and red, along with a symmetrical pattern. The feature focus on this card is the Nordic Squirrels, which are just so adorable. The "love" die is one of my favorite Sugar Script dies from Birch Press Design, but sadly it is retired. Boo. The subsentiment is from the Friends-n-family Subsentiments Diecut from Waffle Flower. I hadn't anticipated making this into a love-themed card – it just kind of happened! I embellished the final design with some white enamel dots.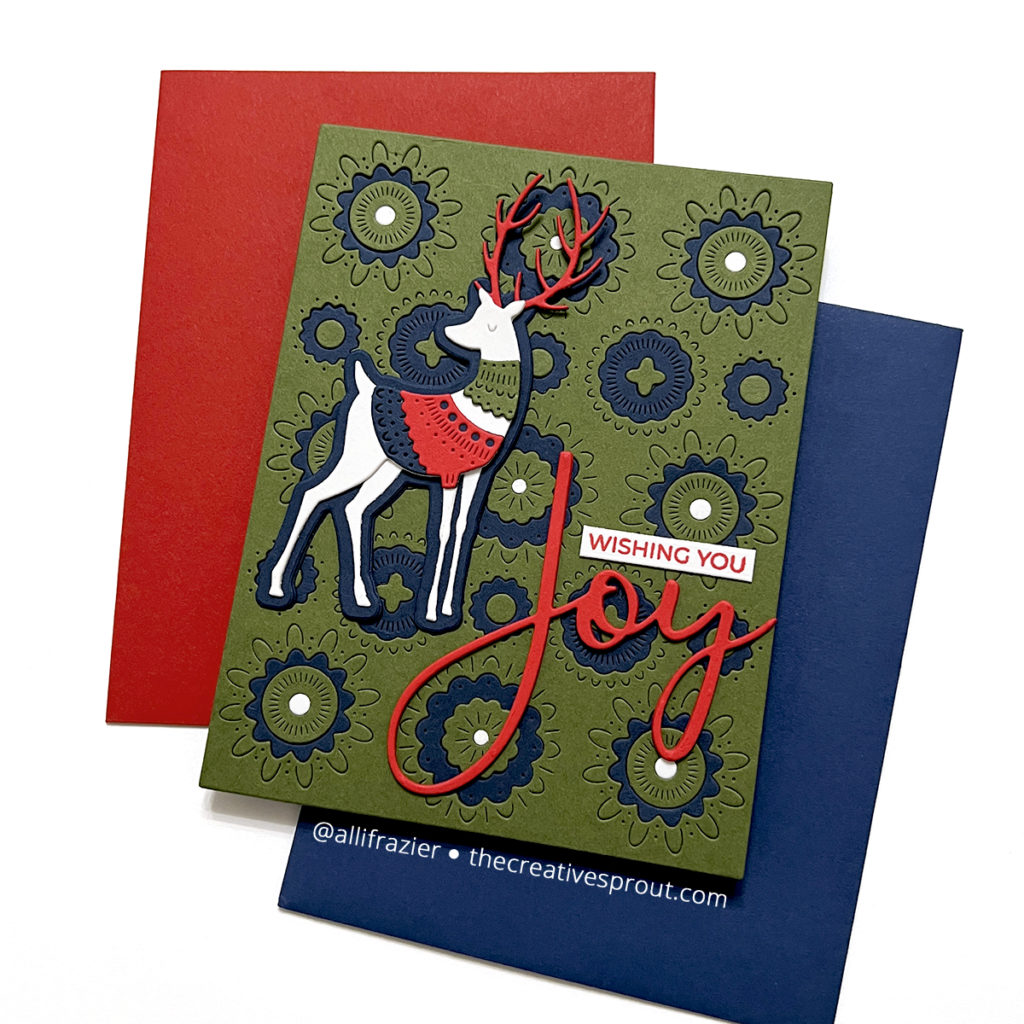 The feature focus on my second card is the Nordic Deer. I love deer dies for the holidays, and I just think this one is so beautiful. The "Joy" is the Large Joy die from Simon Says Stamp. This die comes with a shadow layer, but I didn't want to cover up too much of the background created by the Nordic Floral Plate. I finished the card with a subsentiment that I made using a stamp that I found in my stash.
Like I mentioned above, I had shared this ornament/tag on Instagram before I left town on Thursday. This features the Nordic Snowman. Isn't he adorable? I created the ornament from the Snowy Circle Layer Set from Birch Press Design. The "merry' is from the Print & Script Merry Christmas Die set from Waffle Flower. Although this may look like a shaker, that is actually a really amazing chunky glitter paper in the background.
I loved making these cards and can't wait to play with this collection some more. Leave me a comment and let me know which card you like the best! As always, I appreciate you visiting my blog today.
Wishing you all a crafty day,
Allison
SUPPLY LIST
Note: External links on my blog may contain affiliate links. This gives me the opportunity to earn a small commission when you click on the links and place an order. This comes at no additional cost to you. Thank you so much for your support! You can see more information on my Affiliate Disclosure page.