Hello, crafty friends. I hope life is treating you well! I have a few things going on behind the scenes, but I really wanted to take some time to just play this weekend. I know we all get caught up in everything new and shiny, but every once in awhile, I like pulling out some of my older supplies and get more use out of them. To be honest, many of my "old" supplies haven't even been used yet. Don't tell my husband, though.
The supplies I used for these adorable gift boxes are all from Concord & 9th, and a few of them come in bundles, where you save money if you buy the stamp and die sets together. The main bundle I used for today's project is the Mini Gift Box Bundle. A full supply list with clickable thumbnails can be found at the end of this blog post.
Red Box
I have used this Mini Gift Box Bundle once before, but this is the first time that I've used it to make actual boxes! It's a really fun set that allows you to get creative. You can click here to see how I used this set to make little gift card holders. I was pleasantly surprised at how quickly and easily the boxes go together. A little bit of double-sided tape on the three small, scored flaps does the trick! To decorate this red box, I used this adorable monster from the Monster Love Bundle. I kept him pretty simple, only coloring the heart. The bow is part of the Mini Gift Box Die Set, and I made it by stamping white card stock with the polka dot stamp from the Mini Gift Box Stamp Set. Although I bought these sets as a bundle, you can purchase them separately.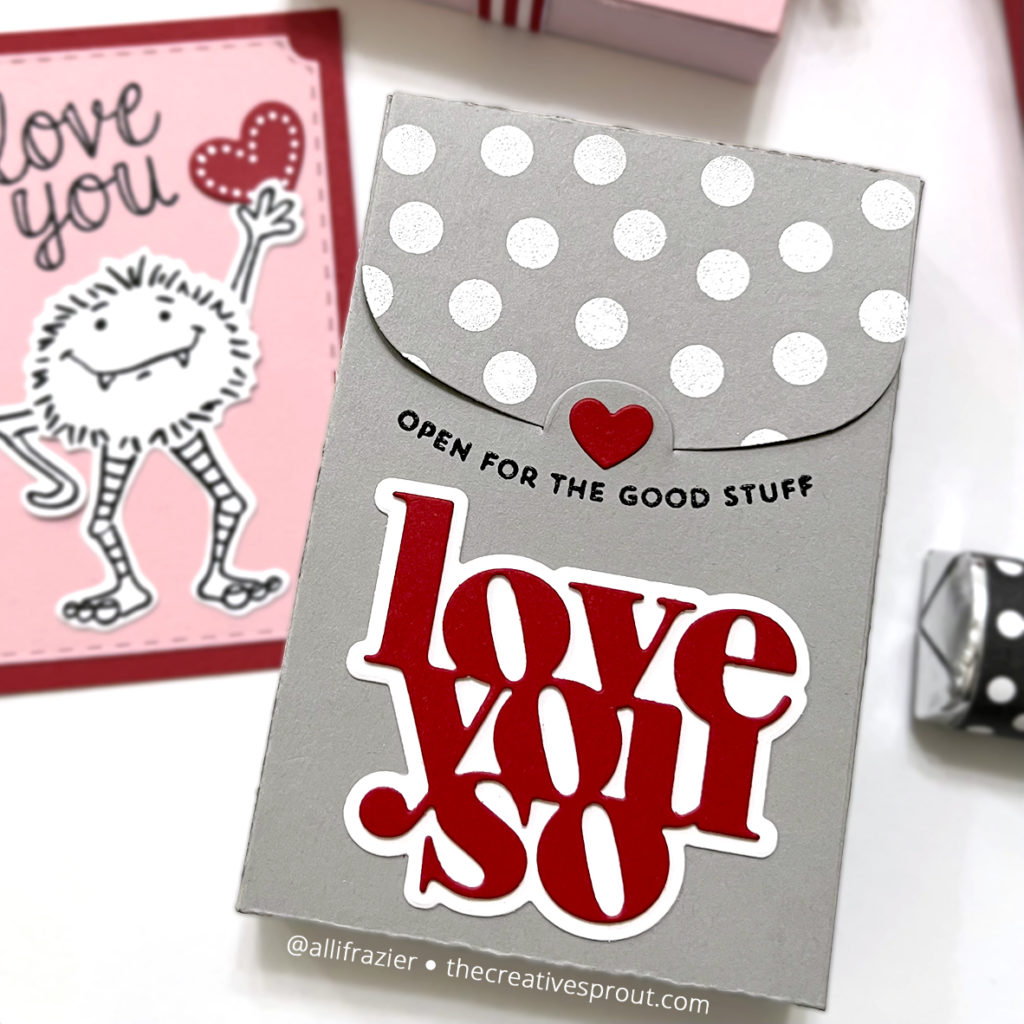 Gray Box
The gray box is another simple one. Again, I used the polka dot stamp from the bundle and decorated the flap of the box. The "love you so" die is from the Just Saying Die Set.
Pink Box
For the pink box, I decorated the other side of the box by having a see-through window. I'm not sure if you'd consider this the front of the box or the back, but it's the side without the flap. To give the window shape some interest, I used the die from the Be Mine Die Set. I just centered it in the piece of card stock that I had already cut with the Mini Gift Box Die. Once it was cut, I adhered a piece of acetate to the back side before putting the box together. I admit I was a little late to the game in buying Valentine's Day Candy, so yes, those are Swedish fish in the box. But, they're red, so that counts! I finished this box with some ribbon, string, and a tag that I made with elements from the bundle set.
Because I had the pink decorative cutout from the Be Mine Die Set, I decided to not let it go to waste, and I made a little card with the other monster from the Monster Love Bundle.
I had a lot of fun making these boxes. While I admit that my family is not really big into Valentine's Day, I am looking forward to giving these to the boys on Tuesday. Maybe I'll get a smile out of them! Teenagers, right?? I hope they put a smile on your face and inspire you to pull out some of your older and/or never-used supplies. As I mentioned above, all products are linked below.
Wishing you all a crafty day,
Allison
SUPPLIES
Note: External links on my blog may contain affiliate links. This gives me the opportunity to earn a small commission when you click on the links and place an order. This comes at no additional cost to you. Thank you so much for your support! You can see more information and disclosure on my Affiliate Links page.