Hello, Friends! There are some fun releases from Spellbinders today that inspired me to create some Autumn themed cards. One of them is actually inspired by home decor, specifically Becky Roberts' love of tiered trays. And for the other, I actually made a home decor item using the new 3D Vignette Collection from Becky Feeken. I had so much fun making both of these cards.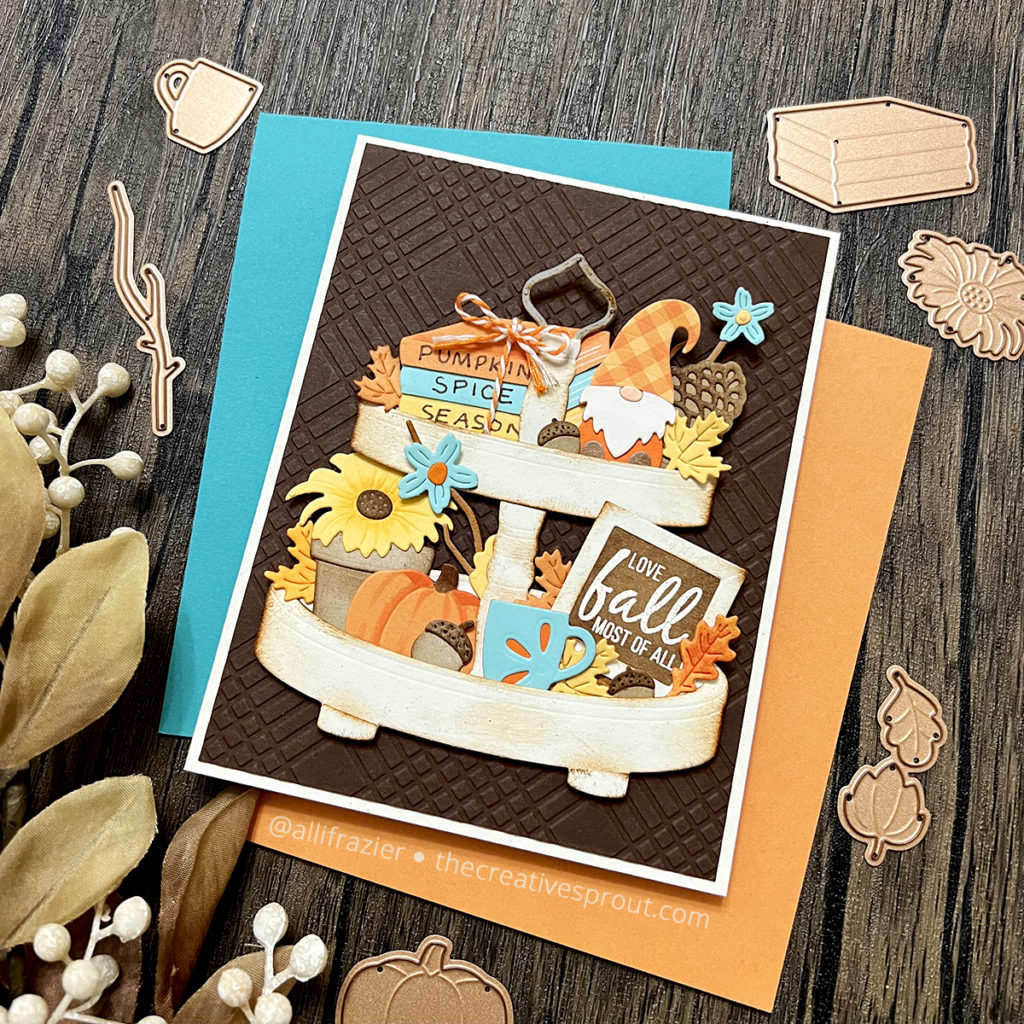 Card 1 Supplies
Spellbinders – Tiered Tray Dies
Spellbinders – Tiered Tray Decor Dies
Spellbinders – Fall Greetings Stamp Set
Spellbinders – Mini Fall Blooms Dies
Spellbinders – Diamond Plaid Embossing Folder
Making the First Card
How fun is this?? If you follow Becky Roberts (and you should), you know that she loves creating tiered tray decor. I love that she created this collection that was inspired by one of her passions. This makes me want to go out and get my own tiered tray to start decorating for the holidays!
I had a blast putting this card together, and it's easy to do with the dies. The tray itself is one die set, and then the decor pieces are in another set. I have a feeling there will be more holiday-themed decor sets in the future! There is also a stamp set in this collection, which I used for my second card. There is nothing complicated here – I just used the dies to make all different kinds of pieces to decorate the tray. I love that gnome! I did pull some pieces from the Mini Fall Blooms die set, as well. And the little sign is a sentiment from the Fall Greetings Stamp Set. I used a die from the Sky View Pies set to make the design on the mug, but the possibilities with that mug are endless! If there is one thing that I would do over, it would be the writing on the books. But that would involve going back in time and learning how to have better handwriting.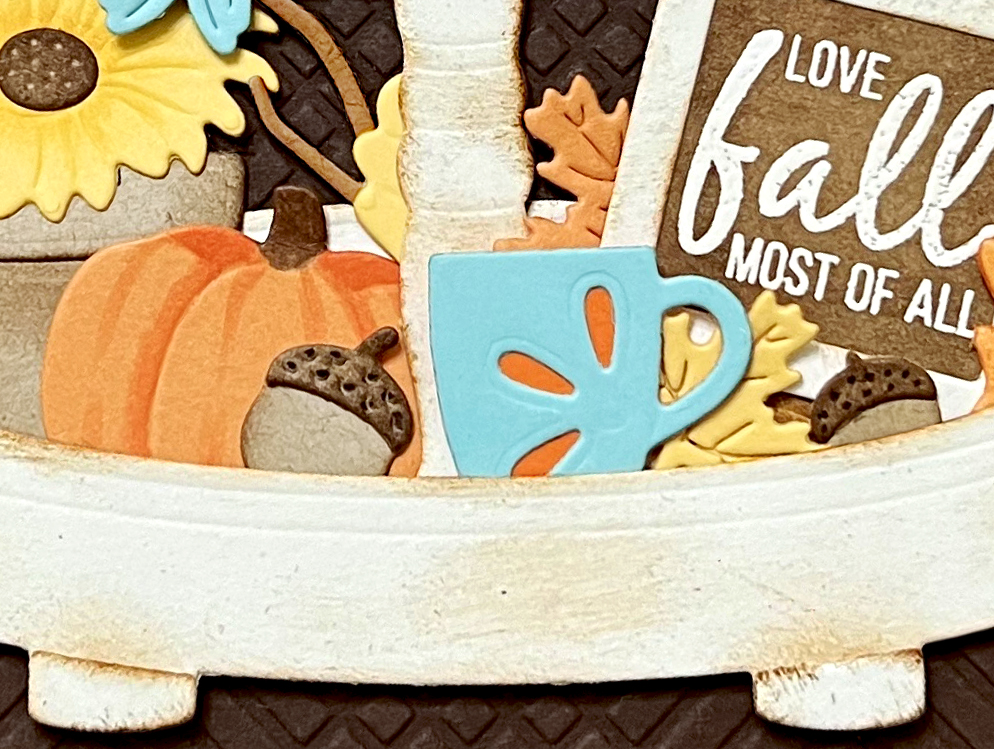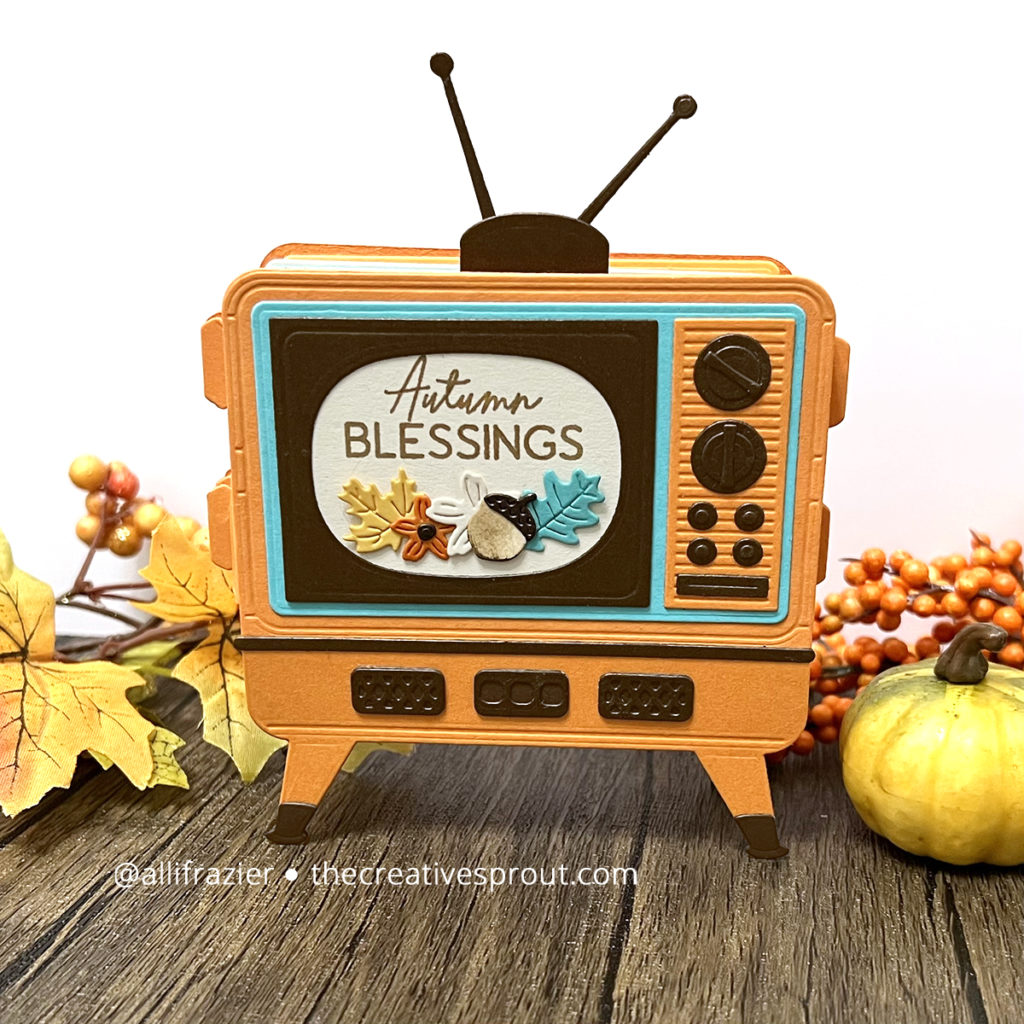 Card 2 Supplies
Spellbinders – 3D Vignette Retro TV Dies
Spellbinders – Tiered Tray Decor Dies
Spellbinders – Fall Greetings Stamp Set
Spellbinders – Mini Fall Blooms Dies
Spellbinders – Tiered Tray Sentiments Stamp Set
Making the Second Card
This Retro TV die set is so cool – I'm always amazed by the design of these things and the inspiration behind them. I plan to use mine as a little home decor item for the fall holidays, but I may end up mailing it because it does fold up and fit in an envelope! There are spaces inside the 3D TV to tuck four messages. Mine are all Autumn themed, but I do plan on making one where the little cards are actually photographs – I think that would be a really fun gift for someone special.
Best part about this die set? Detailed instructions are available, and they are invaluable! For this card, I followed the directions and didn't stray, which is unusual for me – ha ha.
I hope these cards put a smile on your face today! Be sure to check out all of the new October arrivals on the Spellbinders website. There are different 3D vignettes besides the TV, and there are other exciting additions…like the NEW Spellbinders Platinum 6 die cutting machine, which includes the new Universal Plate System! The plate system is still sold separately if you want to buy it for your existing machine, like I did. The new plates are fabulous, especially if you use embossing folders and/or slimline dies. Thank you so much for visiting today, and I hope you all have a wonderful weekend!
Wishing you all a crafty day,
Allison
Note: External links on my blog may contain affiliate links. This gives me the opportunity to earn a small commission when you click on the links and place an order. This comes at no additional cost to you. Thank you so much for your support, as this helps me bring you more content.