Hello, Everyone! I am extremely excited to be guest designing for Penguin Palace for the Spring/Summer 2022 Release! There are a bunch of adorable stamps and, of course, more amazing Stencils 360°™. Everything from the new release is now available to order in the Penguin Palace online shop.
For today's card, I was able to play with the new Mandalas Bundle Stencils 360°™. And when I say play, I'm not kidding. I had so much fun! If you're not familiar with Penguin Palace's innovative stencil system, check out the videos on their YouTube channel. This video is a great one to start with.
What I find really fun about these stencils, other than the spinning and rotating which is oddly satisfying, is that there are so many ways to change the outcome. Yes, there is a suggested rotation for each stencil. But you know me – I'm always going to try to change things up. And this Mandala bundle is the perfect set for changing things up. There are 8 – yes 8 – stencils in this set! So, to say that the combinations are endless is really not an exaggeration.
Card One
For my first card, I really wanted to just play and not think. And yes, this was my first design with this set – no practicing or planning whatsoever! The only real thought was to choose the three colors. I ignored the suggested combos and wanted to see what would happen if I just combined all the large stencils together. It results in an extremely layered look, and I love it. I did also use a few of the smaller stencils to fill in the middle. There are no rules here! The mandala police will not come arrest you if you do your own thing!
Card Two
For my second card, I definitely used a more thoughtful approach, while still doing my own thing. I stenciled one of the 6″ stencils in light blue, and from there I kind of decided where to place some of the other elements. In many cases, I was using the stencil "freehand," meaning that I wasn't using the Stencils 360°™ ring and positioners. So, if you don't have the Stencils 360°™ Starter Kit yet, this may be a great stencil set for you. I love how there are so many fun spots to add in bling!
All of the sentiments that I used on my cards today come from the new So Blessed stamp set. This set has a ton of small sentiments, two large sentiments and a corner floral arrangement. The cool thing about this set is the matching Penguin Perfect Cuts die set. There is one large die that will cut out all of the smaller sentiments in one swoop! I love the rounded corners that it gives. In my card above, I performed a little surgery on my cuts, while still being able to take advantage of the matching dies.
Card Three
Since I couldn't stop playing, and I love a good circle card, here is card #3! Similar to my second card, this one is a combination of spinning the stencils as intended and freehand stenciling the rest. Given all the colors of the rainbow and these six stencils, I really could have kept playing for days. But, then the kids and the dogs expect to be fed, and you have to eventually come out of your craft room. Right??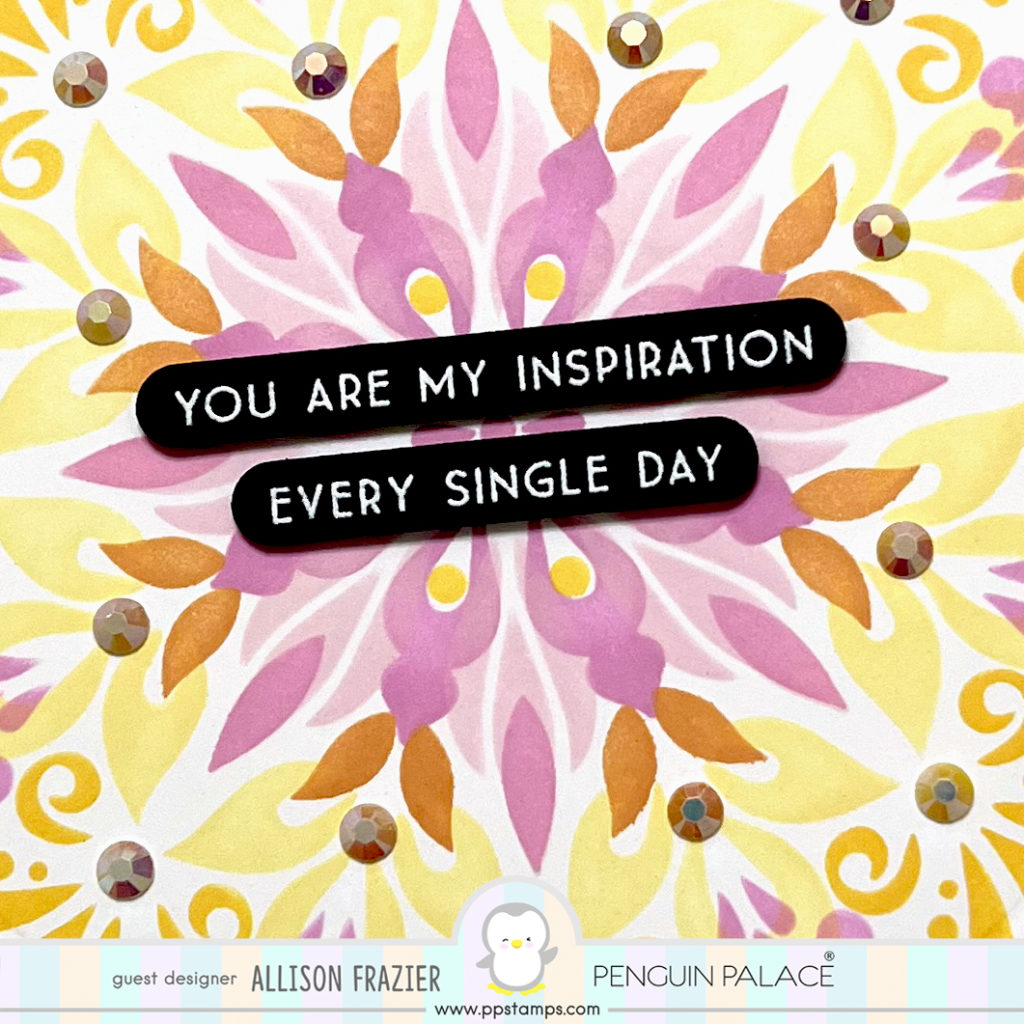 I love how these cards turned out, and I absolutely love the versatility of this stencil set. Be sure to check out the entire new Release in the Penguin Palace store, as well as the rest of the design team's creations. Thanks so much for joining me today! I hope these cards bring a smile to your face.
Wishing you all a crafty day!
Allison
Note: External links on my blog may contain affiliate links. This means that I have the opportunity to earn a small commission when you click on the links and purchase from companies that I am affiliated with. This comes at no additional cost to you. Thank you so much for your support, as this helps me bring you more content.