Hello again, crafty friends! I have a new card to share with you today, and it features this aptly named Simply Wonderful sentiment. This stamp is from The Greetery, and I am in love with how it looks when you cut it out with its matching die.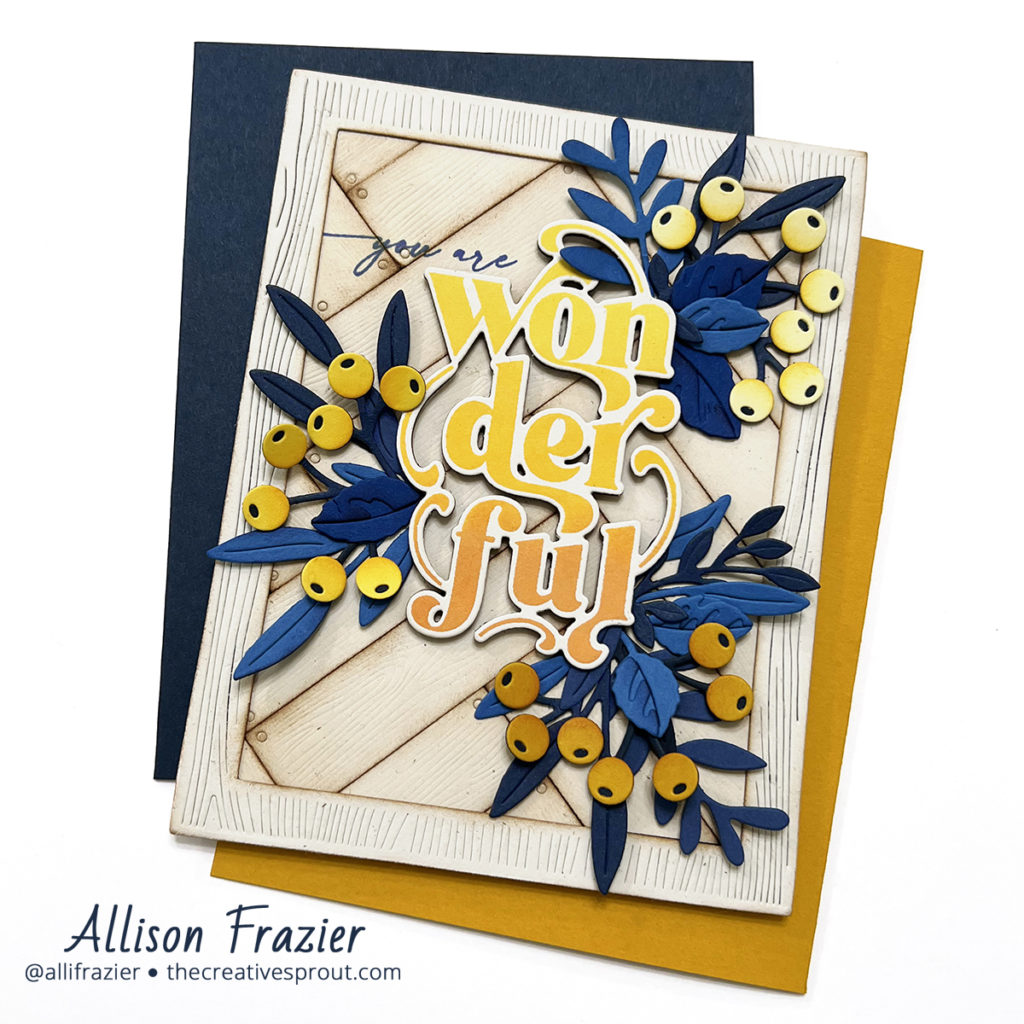 Supplies
The Greetery – Simply Wonderful Stamp Set
The Greetery – Simply Wonderful Die
The Greetery – Shiplap Builder Die
Hero Arts – Wood Frame Infinity Dies
Birch Press Design – Eucalyptus Stem and Berries Die Set
Birch Press Design – Tiny Tuft Flowers and Leaves Die Set
Birch Press Design – Dainty Rose and Leaves Die Set
Waffle Flower – Sprigs Die Set
Spellbinders – Petite Floral Potpourri Die Set
Pinkfresh Studio – Premium Dye Inks
Waffle Flower – Mini Media Mat
Waffle Flower – Blending Brushes
Can You Be-Leaf How Many Leaves Are On This?
As you can probably see from looking at the supply list, not to mention the card itself, I may have gone a bit overboard with the foliage on this card. You might think that I used every die set in my stash that had something remotely looking like a leaf. And you might be right! Maybe. Kinda.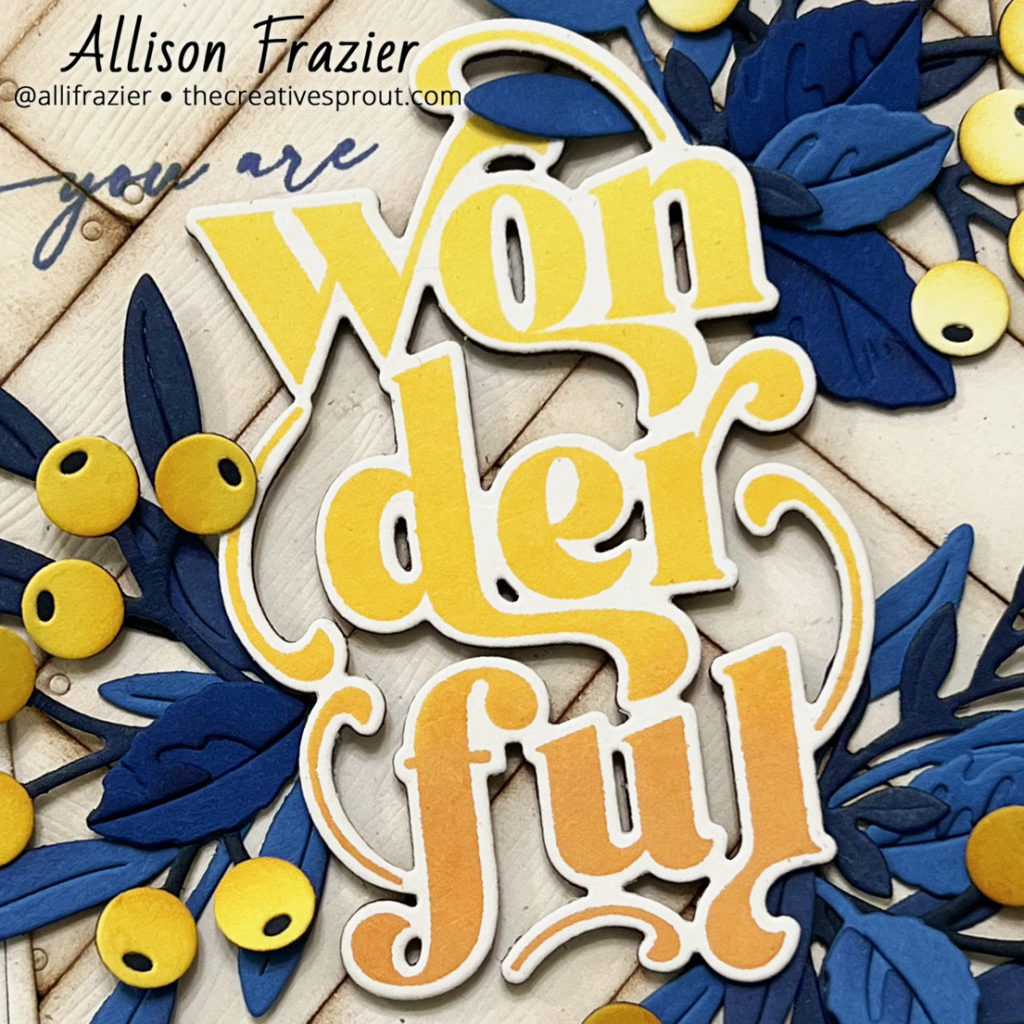 Making the Card
In order to distract you from the foliage, let's talk about this amazing sentiment! I stamped it with three shades of yellow Pinkfresh ink onto off-white card stock and then cut it with the die. I then got to work on my background. I cut the same off-white card stock using the Shiplap Builder die. I probably made about 13 or 14 pieces of shiplap, although I didn't end up using it all. I ink blended some Vintage Photo Distress Ink along the sides of each "plank." I then took a scrap piece of brown card stock and glued my planks to it in a pattern. I spent awhile deciding on the pattern to use, and it turns out you can't really see it on the finished card! Oh well.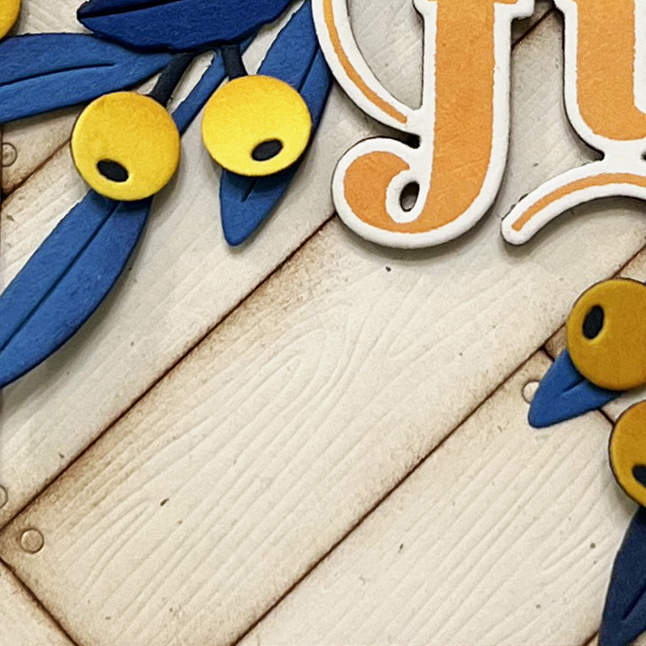 I also used the same off-white card stock to create my frame. I used the largest die from the Wood Frame Infinity Set and then stacked scrap pieces of white card stock behind it. Like the shiplap planks, I also grunged up the sides of the frame with Vintage Photo ink.
The highlight of my foliage is the bunch of berries from Birch Press Design. This has to be one of my favorite dies from their newest Contour Layers Collection. I cut each bunch out of a different shade of yellow card stock and then added some shading with the same yellow inks that I used for the sentiment.
Now, I'm not going to go into every leaf that I cut and every color that I cut it out with. Let's just say that it's a LOT. And looking at it, it seems that I lost steam once I made my way around to the bunch on the left side of the sentiment! Placing all of this foliage took some time, as I didn't really want any of it peaking through to the middle of the sentiment. I would constantly be placing my sentiment down to figure out where to place a leaf, then remove the sentiment to glue, then rinse and repeat…a million times.
That's it for this card. I kinda love it, but I kinda wish I could go back and make some changes. I sure hope it brings a smile to your face today.
Wishing you all a crafty day,
Allison
Note: External links on my blog may contain affiliate links. This gives me the opportunity to earn a small commission when you click on the links and place an order. This comes at no additional cost to you. Thank you so much for your support, as this helps me bring you more content.