Hello, friends! I have a fun card to share with you today. And if it seems over the top in its enthusiasm, it's because I made it for my niece who is graduating next month from high school. To say that she has continued to wow us with her accomplishments is an understatement.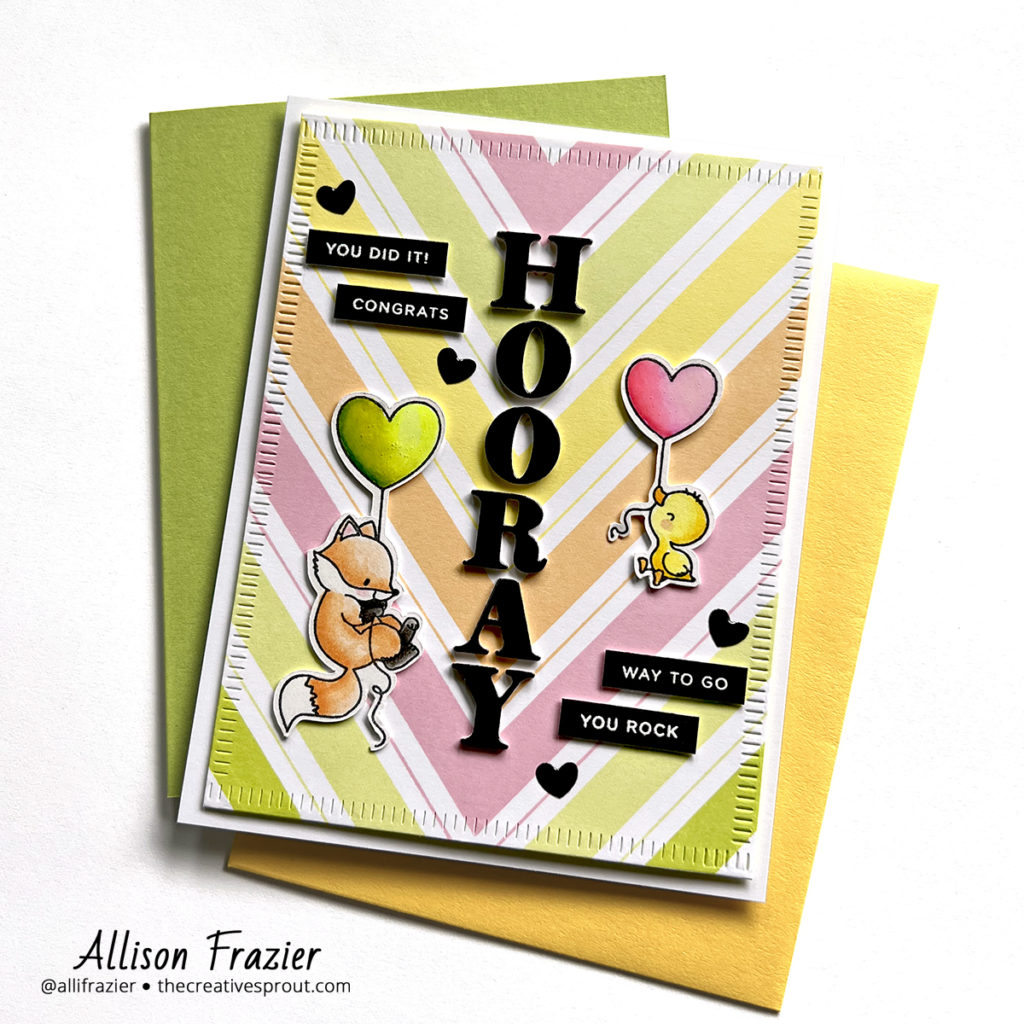 Supplies
Pinkfresh Studio – Pop out Nested Chevron Stamp
Pinkfresh Studio – Blanket Stitched Rectangle Die Set
Spellbinders – Be Bold Uppercase Alpha Die Set
Mama Elephant – Up With Love Stamp Set
CZ Design – Grad Party Stamp Set
Altenew – Summer Sherbert Crisp Dye Ink Mini Cube Set
Memory Box – Black Glossy Card Stock
Making the Card
Last week, I was swatching out this set of Altenew inks that I got a few months ago. The colors are so yummy that I had to make a card using them together. I also had this chevron stamp from Pinkfresh Studio on my desk, so they were the perfect pairing. I love how you can remove parts of this rubber stamp so that each stripe can be stamped a different color without worrying about mixing colors.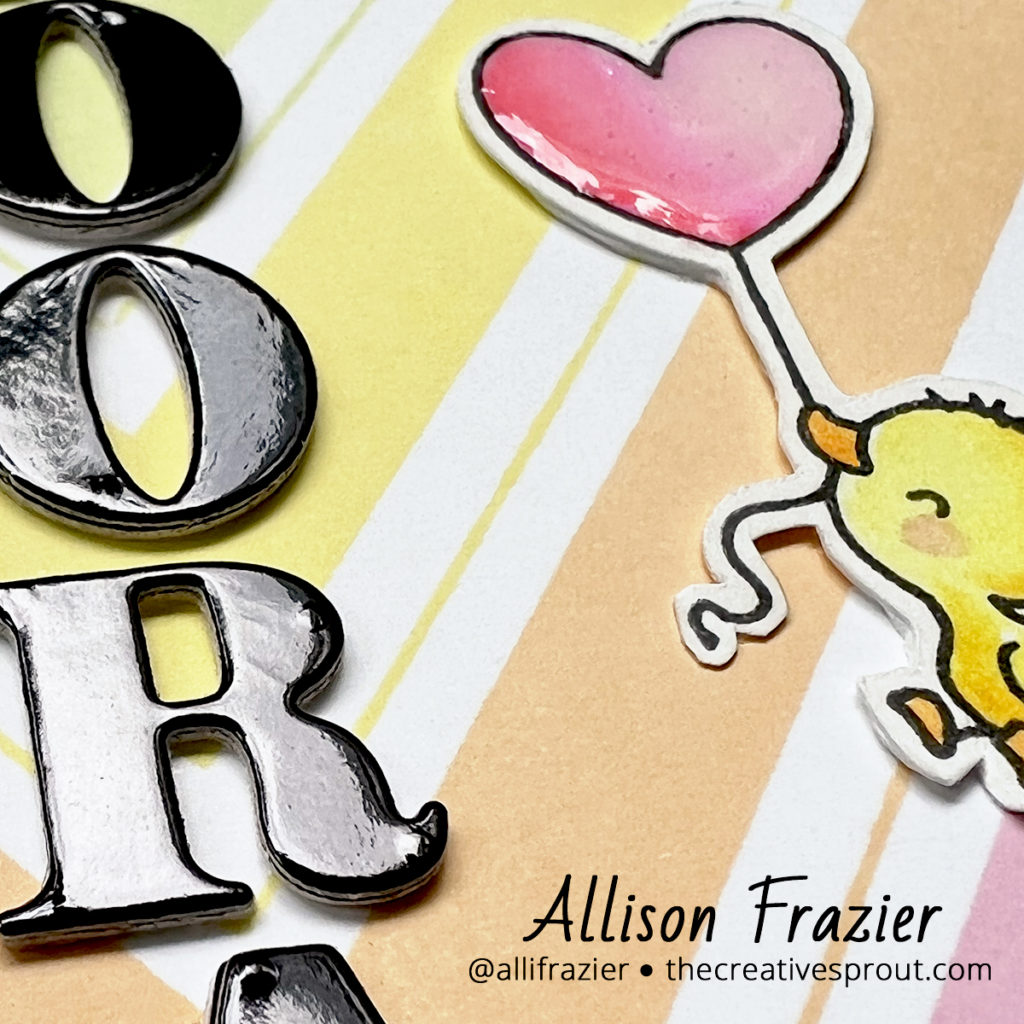 I didn't really have a plan on what I was going to do with this card, but it did start with lining up a word vertically through the center of the chevron pattern. I love these alpha dies from Spellbinders, and even more so when they're used with glossy card stock. The critters from Mama Elephant were somewhat of a surprise addition. Sometimes you gotta add a critter (or two) to your card, right?
A fun discovery I made while creating this card is that you can emboss on glossy card stock. I have embossed on metallic card stock before, but nothing like this glossy card stock. I'm happy to report that it works just fine and has a really cool effect – it looks very similar to what you would get from one of those retro embossing label makers. By the way, do you ever forget that you added Glossy Accents to your card, and then you smoosh your hand in it while you're adding last minute embellishments? Yep, that's what happened with the green balloon. I had to add more Glossy Accents to try to fix it, and it's THICK, to say the least. Those last minute additions were the black enamel hearts that I scattered around the sentiments.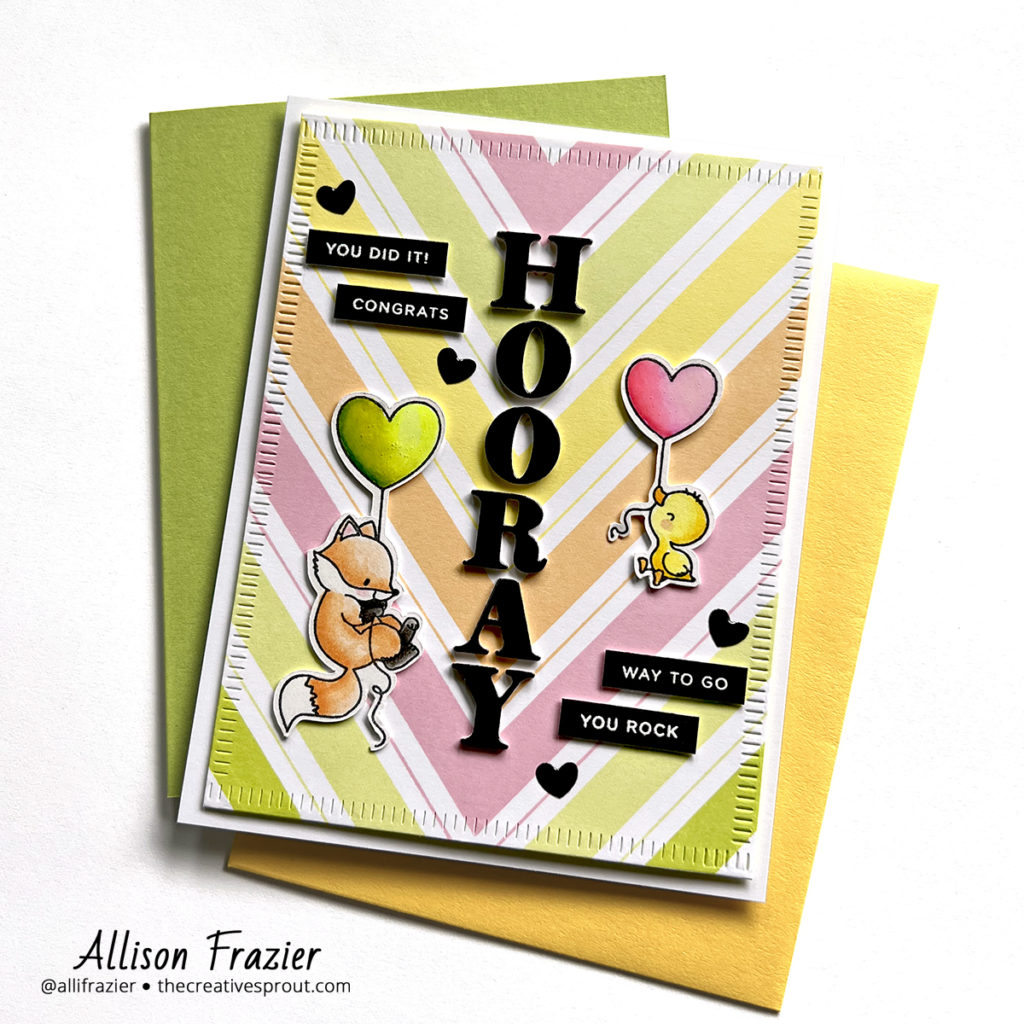 I love how this card turned out. It screams happy, or at least hooray. Thanks for joining me, and I hope this card brings a smile to your face!
Wishing you all a crafty day,
Allison
Note: External links on my blog may contain affiliate links. This gives me the opportunity to earn a small commission when you click on the links and place an order. This comes at no additional cost to you. Thank you so much for your support, as this helps me bring you more content.