Hello, friends – I hope you're all having a wonderful weekend. I am sharing some cards that I have made in the last few days. I know I'm not the only one who is feeling helpless, sad, stressed out, and worried about what's going on in Ukraine. My craft room is always my source of mental therapy and sanity, so making cards is a big stress reliever for me.
You may have already seen all of the cards that people are posting on Instagram using the hashtag #cardsforukraine. This is a way that we, as card makers, can put positivity out into the world. You may ask, "but what am I supposed to do with these cards?" Well, there are several things you can do. Number one, just making them and posting them on social media sends some positive energy out there and may help you personally deal with your stress. Number two, you can give cards to local Ukrainian groups. Number three, you can give these cards to anybody in your life who may need these uplifting messages. The yellow and blue obviously symbolize the Ukrainian flag, but it's such a beautiful color combination for everyday cards. I already know where my three cards are going, and I know that the recipients will appreciate the significance of the colors.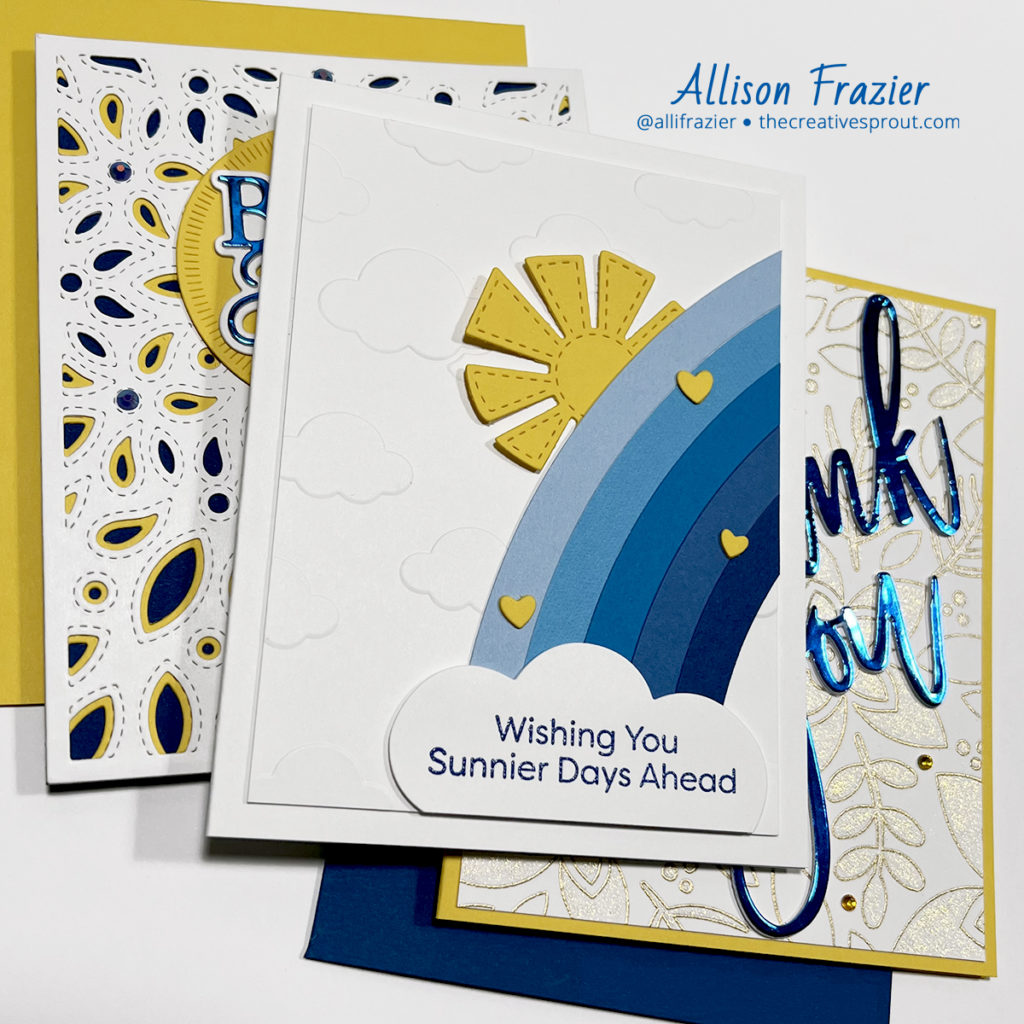 One more message on this topic. One of our fellow card makers (along with many others) is Ukrainian. Yana Smakula is one of the most talented and gifted card makers out there. She and her husband have chosen to stay in Ukraine to help fight for their country. They need all of the support that they can get. So, I'm asking that, if you see any products that I'm using on my cards today that you want to purchase, please use Yana's affiliate links. Affiliate links do not cost you anything, as the product prices are the same for you whether you click on an affiliate link or not. But they are one of the very few ways that card makers are compensated for all of the work and time they put in to share inspiration with you every day. In order to use her links, the easiest way would be to click on one of her projects on her blog, and then click on one of the supplies she lists, where it will take you to some of the common stores where you can find everything you need. Once on the store site, just find what you want and place an order.
All of these cards are pretty straightforward, so I will only be listing supplies. Again, if you want any of these supplies and don't mind going through the extra steps, please use Yana's affiliate links. In the event that I used retired products, I will list somewhere that you can still find them or provide some alternatives.
Card 1 Supplies
MFT – Weather With You Stamp Set (Retired)
La-La Land Crafts – Stitched Sun and Clouds Die
MFT – Rainbow Bright Die-namic (Retired)
Mama Elephant – Lots of Hearts Die
Mama Elephant – Cloud Nine Die Set
Darice – Clouds Embossing Folder (Retired)
Tim Holtz – Prize Ribbon Distress Oxide Ink
An alternative for the cloud embossing folder used above would be the Cloudy Day 3D embossing folder from Altenew. Or, if you have a stencil with clouds, you can use that to dry emboss a piece of card stock.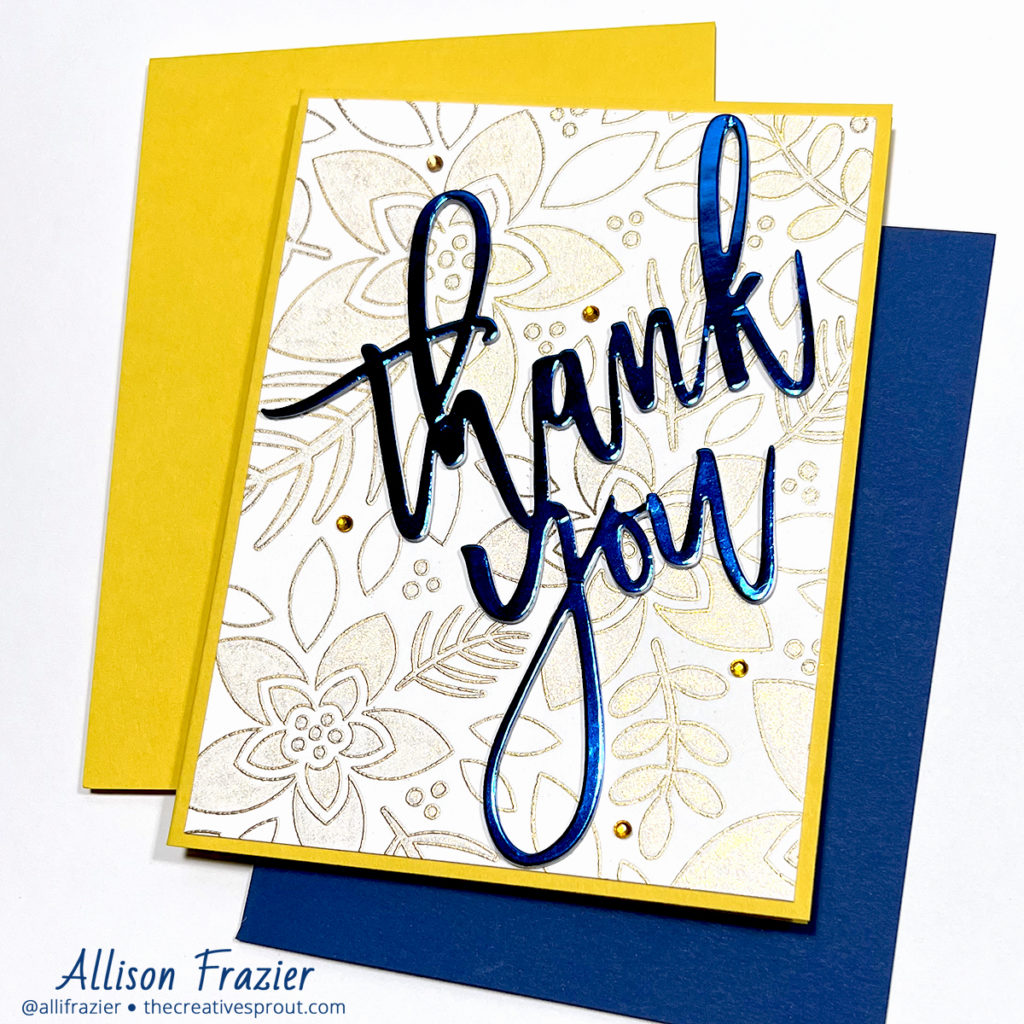 Card 2 Supplies
Simon Says Stamp – Outline Winter Floral Cling Stamp (Retired)
Waffle Flower – Oversized Thank You Die
Tonic – Midas Touch Aqua Shimmer
An alternative to the background stamp that I used above would be the Winter Floral Mix Background stamp by Simon Says Stamp.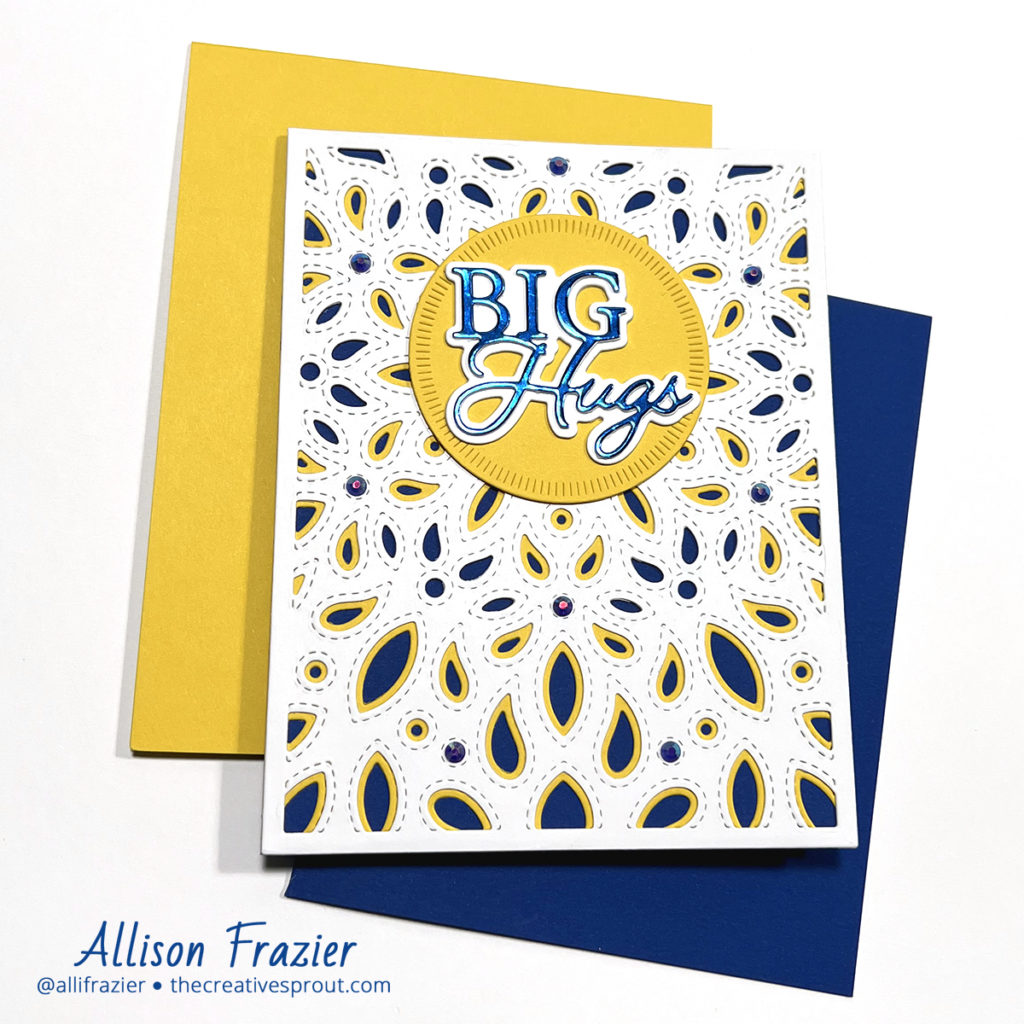 Card 3 Supplies
Birch Press Design – Fiori Layering Plate Die Set (Retired)
The Greetery – Crimped Circles Die Set
Memory Box – Big Hugs Posh Script Die
There are many alternatives to the layering die set that I used on this card. One which would be great for this design is the Dazzle Layer Set from Birch Press Design.
I hope these cards helped lift your spirits and gave you some ideas on how you can help or relieve your own stress.
Wishing you all a crafty day!
Allison
Note: External links on my blog may contain affiliate links. This gives me the opportunity to earn a small commission when you click on the links and place an order. This comes at no additional cost to you. Thank you so much for your support, as this helps me bring you more content.