Hello, Everyone! I am really excited to announce that I will be part of the design team for Club La-La Land Crafts for the next term. It is such a great team of supportive, amazing, not to mention talented, women. Today we are revealing the September 2021 Stamps and Dies Kit, and it's just awesome.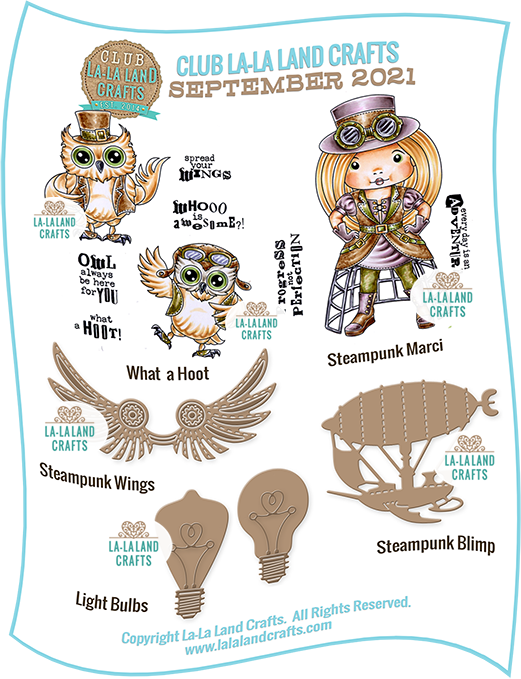 Club La-La Land is a monthly subscription featuring exclusive coordinating stamps and/or dies. Each month you'll receive a package with a kit based upon your choice: Stamps and Dies, Stamps only, or Dies only. You will also get step-by-step project tutorials from the Club La-La Land Crafts Design Team as part of your subscription.
Click here for more information on the Club Kit Subscription
As you can see, the September kit has a fun Steampunk theme, so you can let your imagination run wild! Sign up by September 30, 2021 to get the kit.
My first project with the September kit uses the powerful Steampunk Marci image. I wanted to give her a bit of a vintage flair, so I used very muted colors. My favorite part of this card is how she's stepping out of the frame as she's spreading her wings.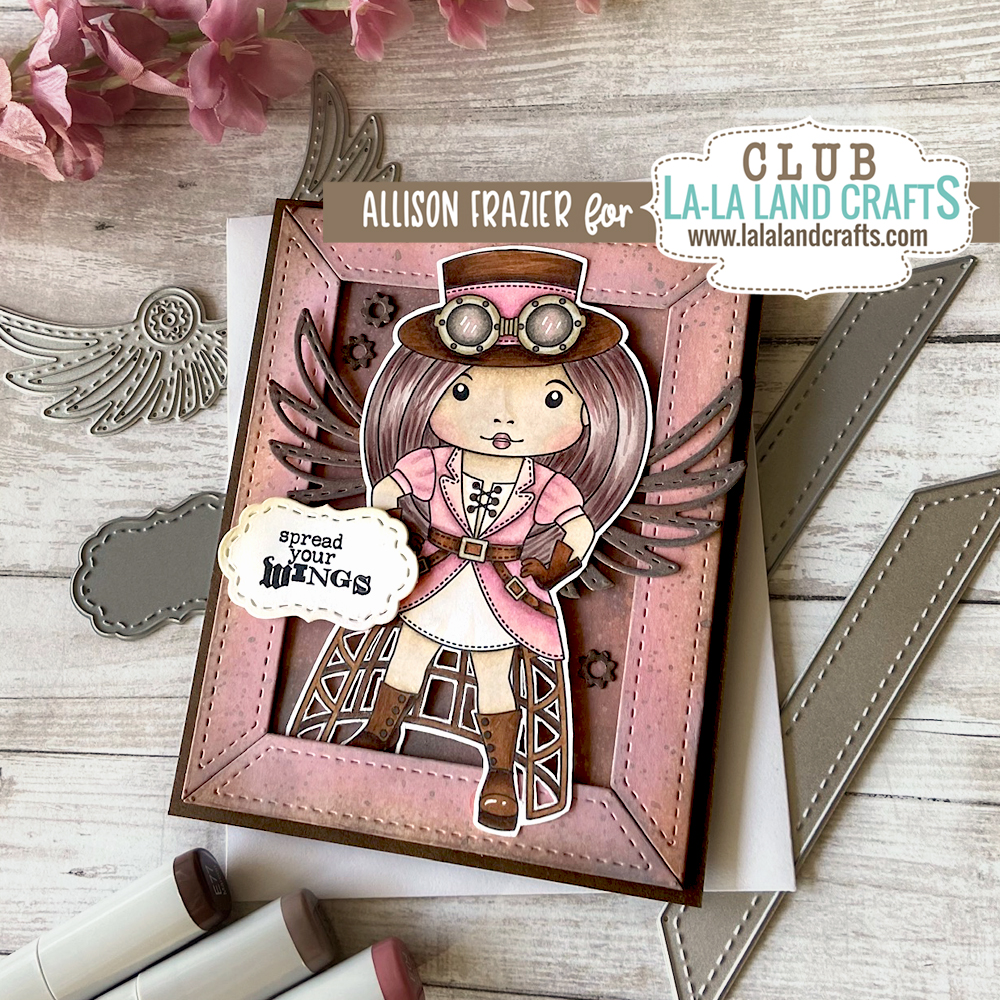 Additional products used:
Build-a-Frame Stitched Small Die
Build-a-Frame Stitched Large Die
Copic Colors:
Hair: E70,71,74,77,04
Skin: E40,41,43,50
Cheeks, Lips, Jacket: E04,R00,R81
Hat: E04,R00,R81, E57,59,79
Leather Details: E23,57,59,79
Dress: E50
Buckles: Y28, C1
Goggles: Y28, C1, W1,3,5,7 R00,R81
My second project features one of the fun steampunk owls. This is where this theme really lets you use your imagination. In my steampunk world, balloons are shaped like lightbulbs, and clocks have wings!
Additional products used:
Pocket Watch Die from the August 2021 Club Kit
Copic Colors:
Owl: E70,71,74, W00,1,3 C1,3,5
Hat: E13,15,25
Goggles: Y28, C1,C3 W00,1,3, E13,79
Beak: YR24, Y21
Vest: YG61,63, G99
Thanks so much for joining me today. Make sure to visit the Club La-La Land Crafts blog to see the amazing projects from the rest of the design team.
Wishing you all a crafty day!
Allison
Note: External links on my blog may contain affiliate links. This gives me the opportunity to earn a small commission when you click on the links and place an order. This comes at no additional cost to you. Thank you so much for your support, as this helps me bring you more content.