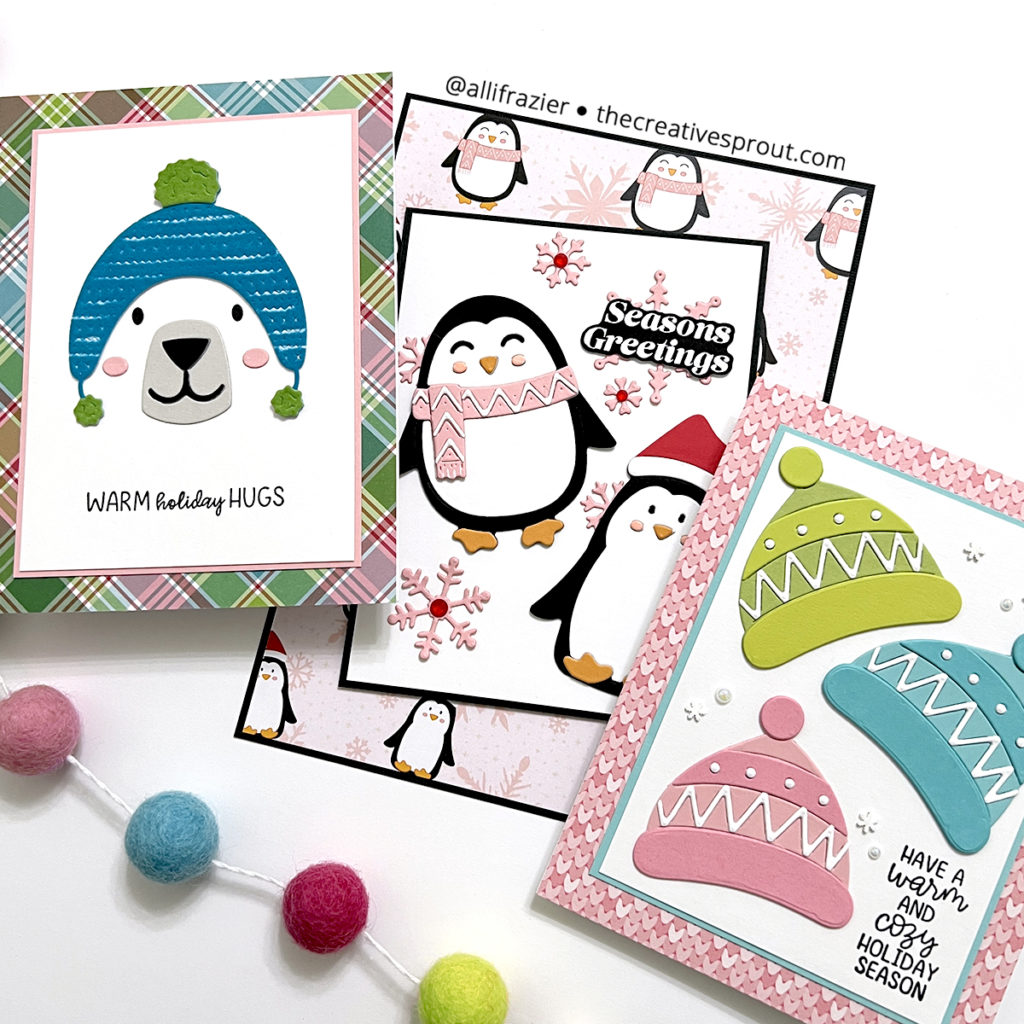 Hello, friends. I hope you all had a great weekend! We had a very exciting and busy weekend here, which included the first snowfall for the season. I was really enjoying the fall weather, but I'm sure it will be back in a few days – that's how things go here in Colorado. Since I was outside quite a bit trying to stay warm with my hat and other gear, I was inspired to use these new die sets from Scrappy Tails!
I have a new video on YouTube sharing how I made these cards. For today's video, you can CLICK HERE to view on YouTube or watch it below.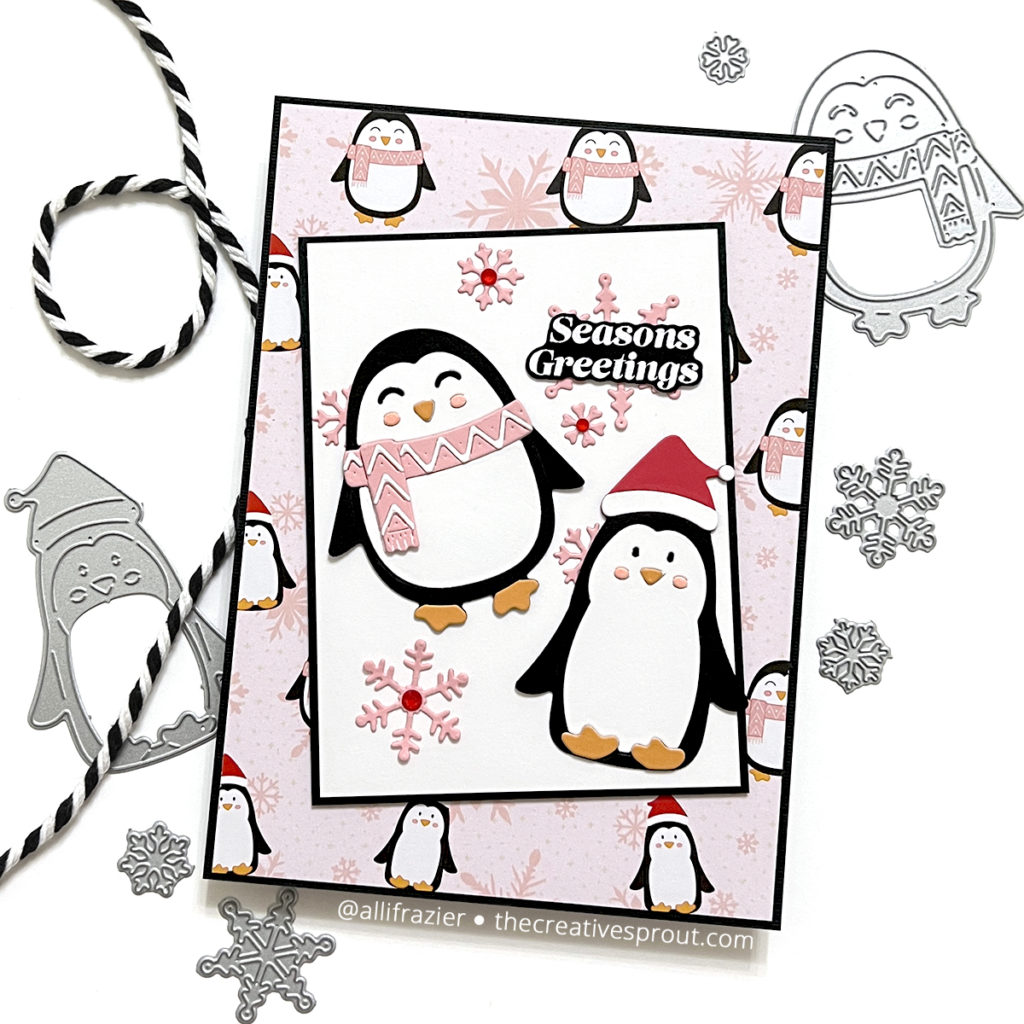 Note: all supplies are linked to multiple sources in the thumbnails at the end of this blog post.
My first card features the new Layering Penguin Duo die set. These dies are based on a really adorable patterned paper that was previously released several months ago – the Retro Christmas in July 6×8 Paper Pad. I decided to incorporate that paper into my card because it was just too cute. I also included some snowflakes on the main panel of the card, since there are snowflakes on the patterned paper. The sentiment comes from the previously released Christmas Postcards and Tags Stamp Set. Because I wanted to incorporate the patterned paper and have both penguins showing in the background, I had to make this into a bigger card than I normally make. It is 5×7, and I love the size!
My second card is probably my favorite because I adore bears. I used the new Penguin & Polar Bear Add-On set to make my bear. This set works as an Add-On for the fun Pumpkin Pop-up Card, but I thought it would be just as fun to find new uses for it. NOTE: as of the time that I am posting this, the Penguin & Polar Bear set is sold out, but it is available for pre-order. I do appreciate how some companies are starting to offer "pre-orders" for items vs. clicking a "notify me" button. When you pre-order, you know you're going to get it! When you click a notify me button, you may miss out on the restocking. There are other fun add-ons that are in stock, including reindeer, nutcrackers, Santa, and snowmen. These would all work great on a flat card like I made.
I used flock transfer sheets to make the hat for this card. The fuzzy, velvety texture gives that warm and cozy vibe! The sentiment on my card comes from a Mama Elephant stamp set called Fuzzy Hugs.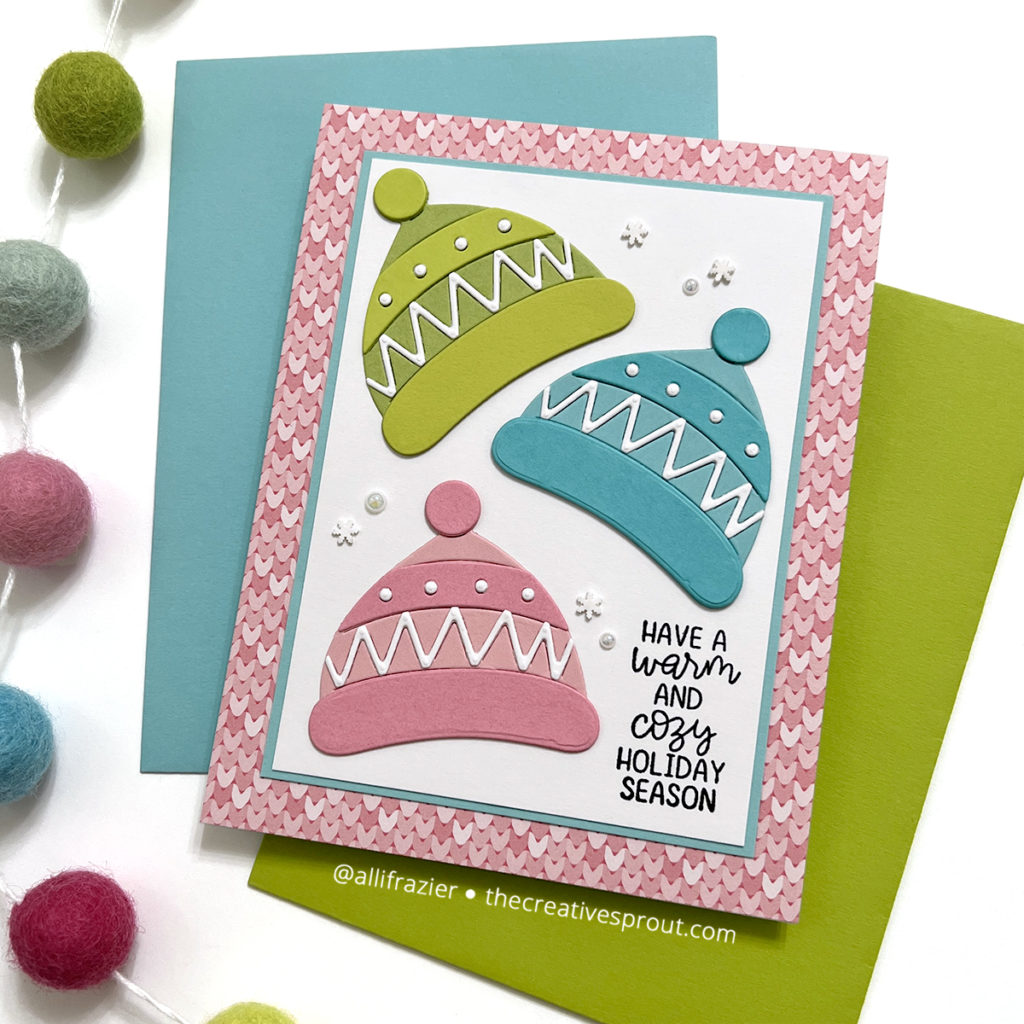 My last card also features the Penguin & Polar Bear Add-On set. This time, I used the other hat in the set and made three of them. The clay snowflake embellishments are from Scrappy Tales. There are so many embellishment mixes from Scrappy Tales, and they're a really great value! You get more embellishments for less money than many of the other mixes out there. The sentiment is from another Mama Elephant stamp set called Mixed Holiday Greetings. The fun patterned paper on the card front is from a Lawn Fawn paper pad called Knit Picky Winter.
I hope these cards put a smile on your face today! Leave me a comment and let me know which one is your favorite. As always, I appreciate you visiting my blog and YouTube channel.
Wishing you all a crafty day,
Allison
SUPPLY LIST
Note: External links on my blog may contain affiliate links. This gives me the opportunity to earn a small commission when you click on the links and place an order. This comes at no additional cost to you. Thank you so much for your support! You can see more information on my Affiliate Disclosure page.
</d