Hello, friends! I hope you have all been doing well. I have been taking a little bit of time away from the craft room the past week. My husband and I went away for the weekend to celebrate our 15th anniversary, and we had a really great time. Now that I am back, I am busy getting ready to go out of town again – this time to the Simon Says Stamp Create event in Columbus, OH. I am really excited!! Leave me a comment and let me know if I will see you there!
In the meantime, I opened up my email today to find out that My Favorite Things is having another retirement sale! These sales are always bittersweet. The prices can't be beat, but to see some of my favorites retired makes me a little sad. Still, you never know when you'll see some of these goodies pop back up in one of MFT's vault releases. In the meantime, I always find the retirement sales a great time to grab that stamp set that I was either on the fence about or just plain old forgot about. It's also a great time to grab the matching die set to stamps that may already be in your stash. Note that some of these get snatched up fast, so I can't promise that what I have linked below are still in stock. I did see a note on their website that some of the items in the retirement sale are set to restock one last time, so it doesn't hurt to click the "Notify Me" button on items that you want but are showing out of stock.
Below, I am sharing some cards that I made in the past with some of the goodies that are up for retirement. These are cards that I made before I started my blog. Maybe you'll find some inspiration, or maybe you'll just find some of your favorites that are also being retired. Either way, I hope you enjoy the cards!
Note: all supplies are linked in the thumbnails at the end of this blog post.
My first card uses the You Make My Tail Wag set. This set is especially fun because it has a dog where you can use its head and the back of the dog to create a card like the one I made above. The first picture at the top shows the back of the dog looking out the window. The second picture shows the front of the house where the dog's adorable head is poking out the window waiting for his owner to come home.
This next card was a shadow box card that I made with one of the adorable little guys from the BB Happy Hedgehogs set. I love this set so much.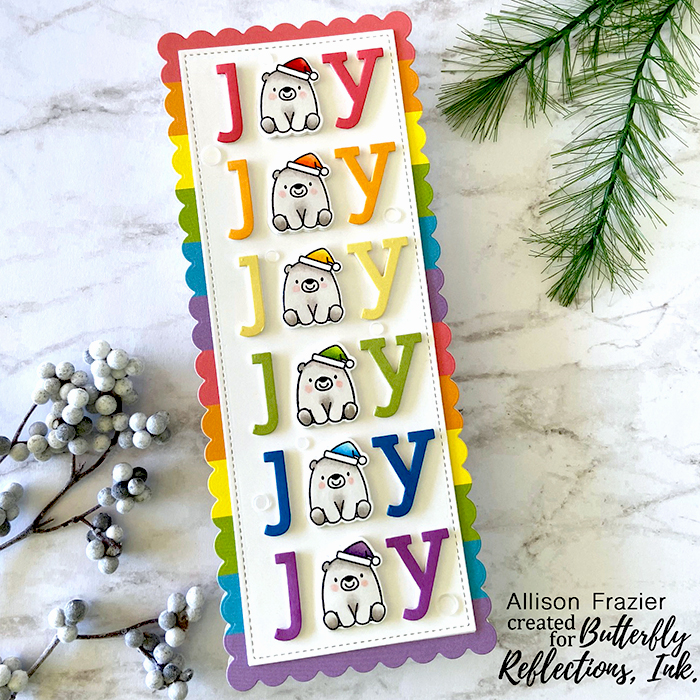 This holiday card featured one of my favorite stamps ever because it was one of the first ones that I bought when I started making cards! The BB Bitty Bears is just about the best little stamp set around.
Another longtime classic in the MFT lineup is the BB Gill Friends set. This set has a great assortment of fish for every occasion. I can't tell you how many cards I've made with that "Hey, Gillfriend" sentiment!
This BB Super Boy came in handy when I made a card for my friend's son, who was fighting a life-threatening infection in his heart. And yes, he did pull through, and YES he is awesome! But really, what boy wouldn't love to get a card like this?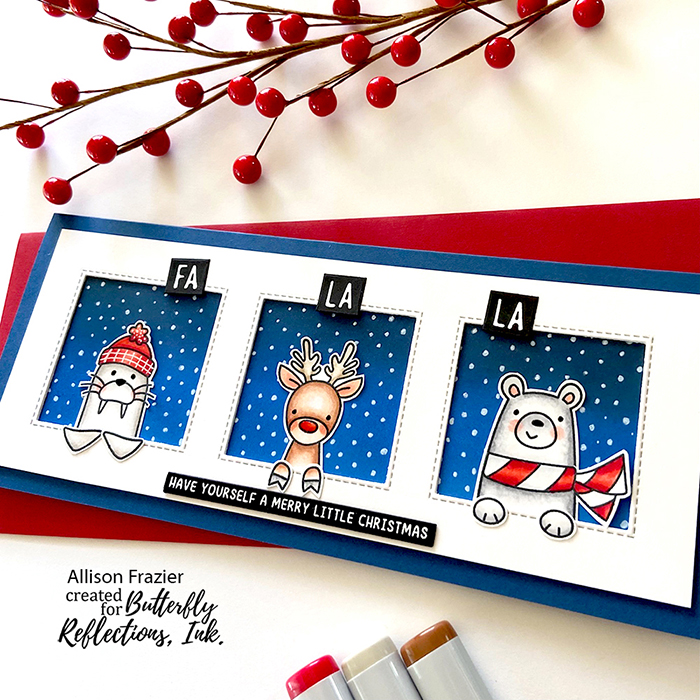 The critters in the card above are not from MFT, but you can put whatever you want inside these square openings using the Slimline Stitched Square Trio Die-namics. This is a great die for your stash and a great price while it lasts!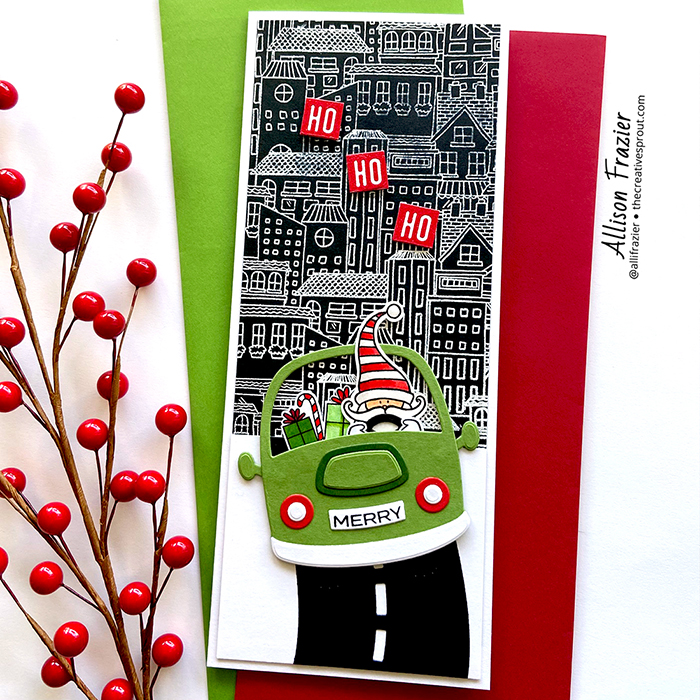 One last fun set to share (although I could keep going on and on) is the Stuffed Santa set. It's fun to use bits and pieces of Santa to either put him in a car like I did, or have him stuffed in a chimney. And, the sentiments are so fun!
That's it for me today. I don't know when my next blog post will be, but I will try to make one soon. Who knows – maybe I will get a sudden burst of creativity while I am procrastinating on the packing situation!
Wishing you all a crafty day,
Allison
SUPPLY LIST
Note: External links on my blog may contain affiliate links. This gives me the opportunity to earn a small commission when you click on the links and place an order. This comes at no additional cost to you. Thank you so much for your support! You can see more information on my Affiliate Disclosure page.