Hello, friends! I hope that your weekend is off to a great start. I have a few cards to share with you today using a set of layering stencils, stamps and dies from The Greetery. This set came out last summer, but I've only used it once before, and I love it so much. One of these cards is also part of the Autism Awareness Card Auction that is happening over on Instagram. If you're reading this post before Monday, April 3rd, 2023 at 9 a.m. EST, there is still time to bid on cards. There are so many great card makers participating, and there are a bunch of prizes, as well. CLICK HERE to head over to the auction for all the details.
As for my cards, all of the details on how I made them are in my new video! You can watch it below, or you can watch in on YouTube. I will include pictures below with some minimal descriptions.
Note: all supplies are linked in the thumbnails at the end of this blog post.
My first card is the one that is up for auction! You can watch me make this card in the video. The card front design is from the Concord & 9th Stitched Vines Card Front Die. I used matte gold card stock to cut the friend die. The centers of the flowers are little gems from Honey Bee. I used a combination of Altenew, Pinkfresh Studio and Gina K inks to stencil and stamp the design. Colors are noted below:
Stencil 1 – Gina K Ocean Mist
Stencil 2 – Altenew Lagoon
Stencil 3 – Pinkfresh Studio Soft Lilac
Stencil 4 – Pinkfresh Studio Lavender
Stencil 5 – Altenew Warm Sunshine
Stencil 6 – Gina K Turquoise Sea
Stencil 7 – Gina K Tranquil Teal
Stamped Flower Detail – Pinkfresh Studio Lavender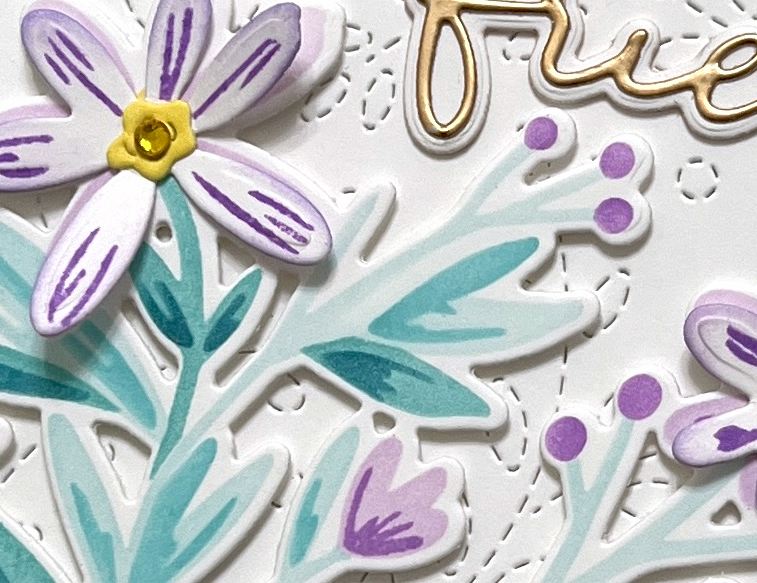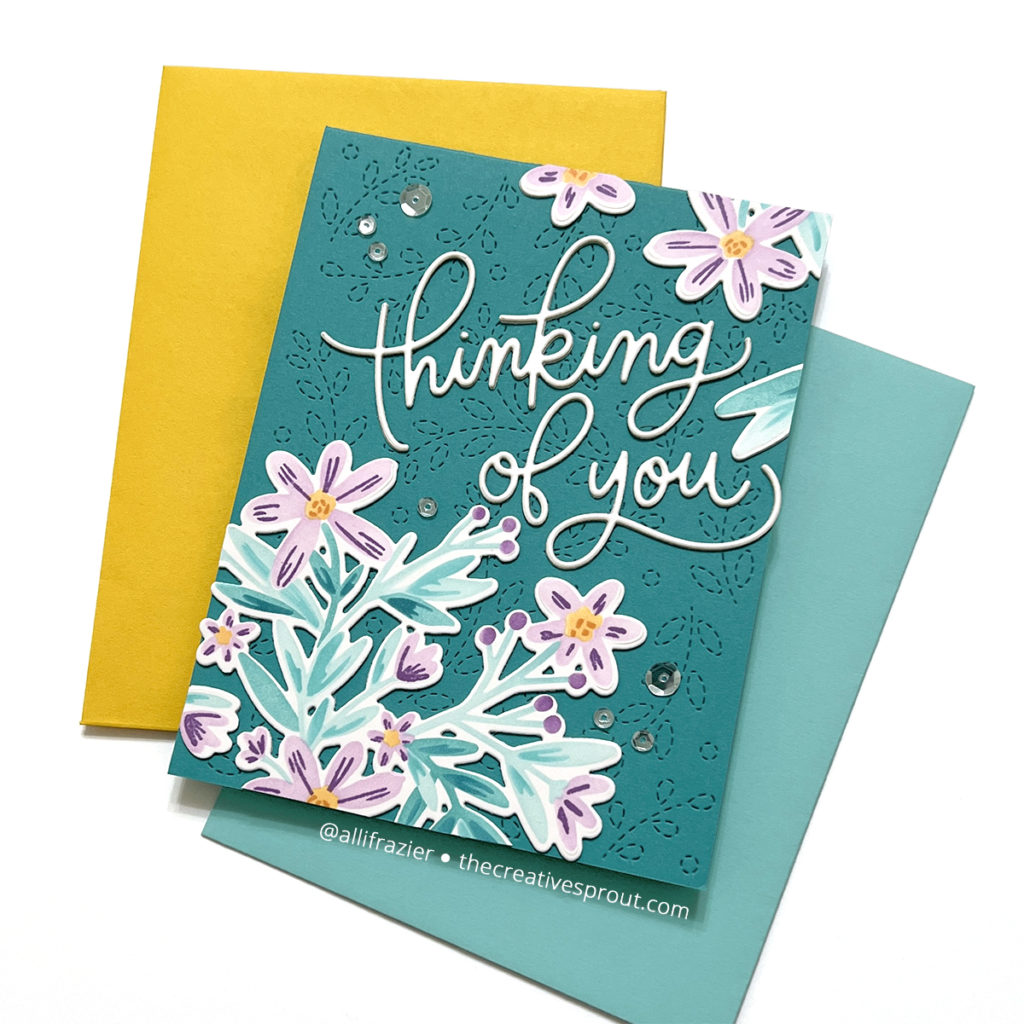 My second card is just a variation of the first card, but I put it on a Tropical Teal card base. I used a pearly white card stock for the Thinking of You die cut and finished the card with clear sequins. I used darker colors for the centers and details on my flowers than I did on the first card, this time using Altenew Sunkissed and Deep Iris.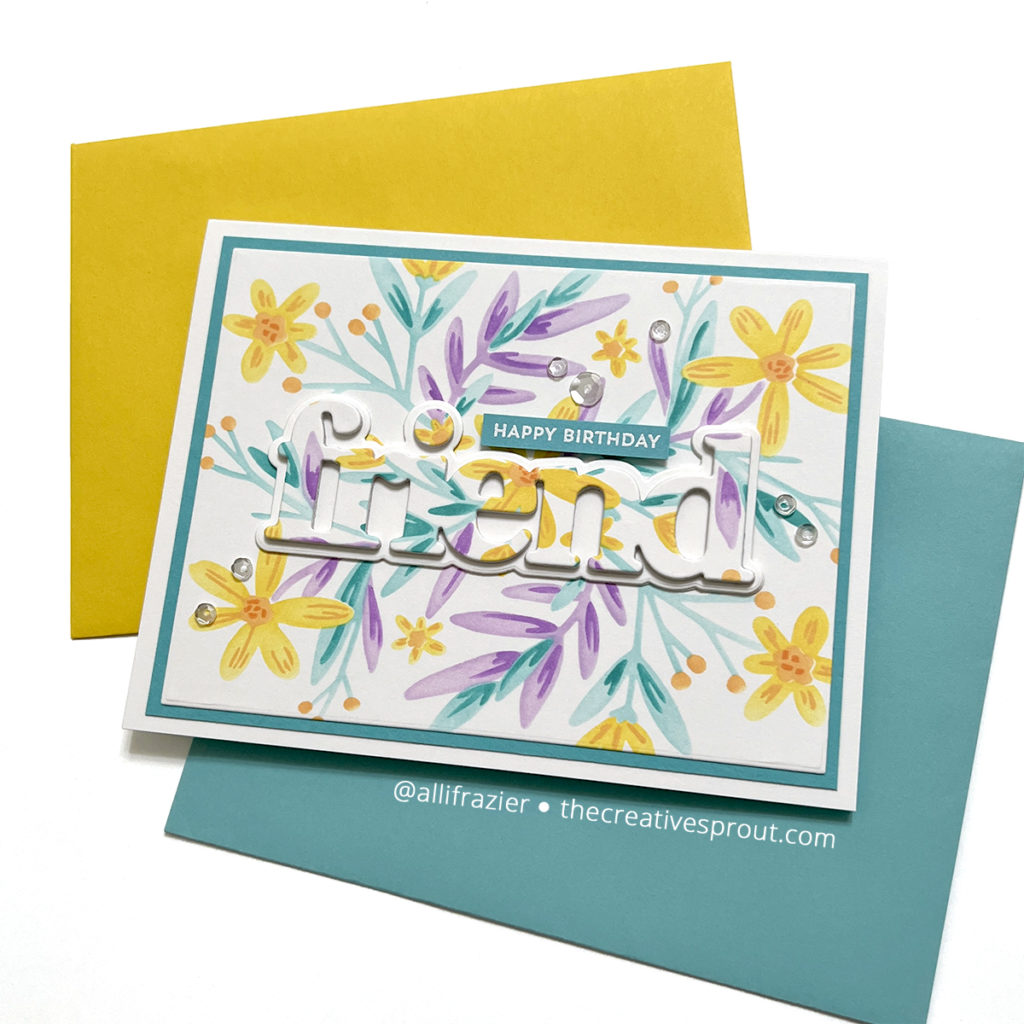 My third card uses the same colors as the first, but look how different it looks! I just changed up which colors I used with the seven stencils included in the Daisy Days set. I used the "eclipse technique" to create this card with the new Oversized Friend Print Die from Waffle Flower. The sub-sentiments for this card and my auction card both come from the Itty Bitty Gifting stamp set from My Favorite Things.
I hope these cards and video put a smile on your face today. Even if you don't plan on bidding, you should go check out the card auction. There are some pretty exciting cards, including one from Tim Holtz! That one is always very popular every year. As always, I really appreciate you visiting today.
Wishing you all a crafty day,
Allison
SUPPLY LIST
Note: External links on my blog may contain affiliate links. This gives me the opportunity to earn a small commission when you click on the links and place an order. This comes at no additional cost to you. Thank you so much for your support! You can see more information on my Affiliate Disclosure page.