Hello, crafty friends! I am back guest designing for Penguin Palace for their 4th Anniversary release, which has so many great products. You can find everything from the new release in the Penguin Palace online shop. There is also a more recent release of digital stamps, which is really exciting.
For today's card, I played with the new Flurry Snowflakes Stencils 360°™, as well as the Most Wonderful Time stamp set. This stamp set is full of adorable children enjoying some winter activities and some related images. If you're not familiar with Penguin Palace's innovative stencil system, check out the videos on their YouTube channel. This video is a great one to start with.
I started my card with the background, which I created with the Flurry Snowflakes Stencils 360°™ and Distress Inks. I started with Stencil B and inked one of the snowflakes with Shaded Lilac and the other with Kitsch Flamingo. I turned the stencil 60° and inked both snowflakes with Squeezed Lemonade. The only one that really mattered was the snowflake at the top, since I knew I was only using part of my panel for the card. I turned another 60° and inked the snowflakes with Salvaged Patina.
I then took Stencil A and inked it with Twisted Citron. I turned it 60° and used Tumbled Glass. Finally, I turned it another 60° and used Dried Marmalade. Once I was finished, I decided to fill in some empty spots since I knew I wanted to use this as my sky. So I just stenciled snowflakes at random.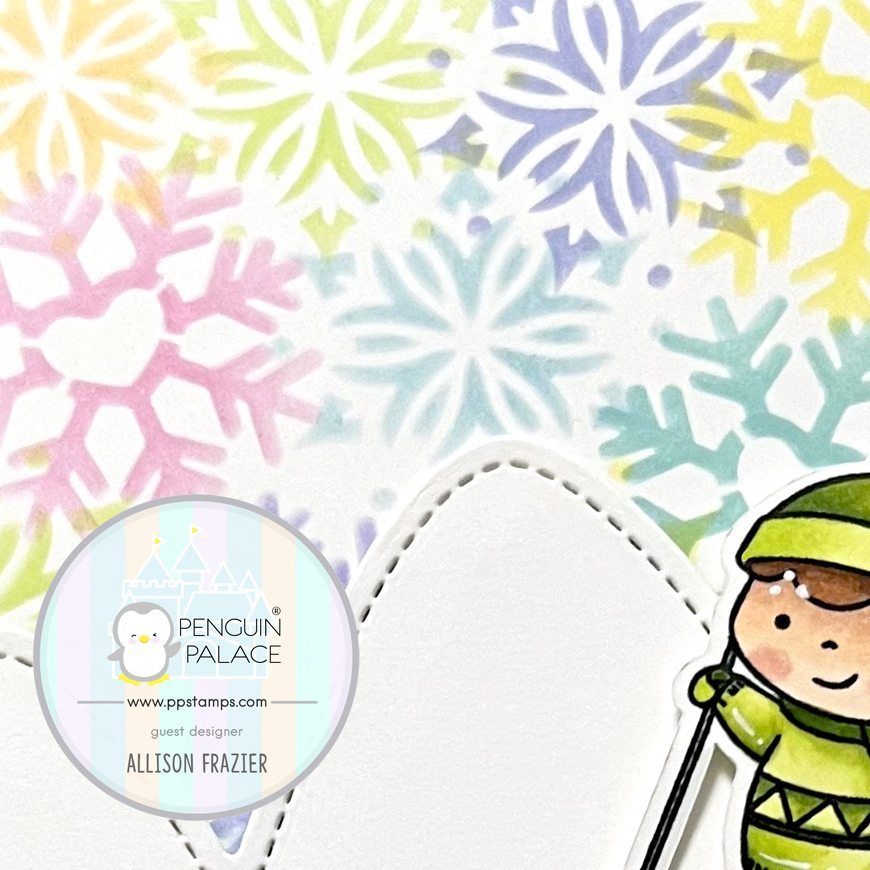 For my card base, I cut a panel of white card stock using the largest rectangle in the Cinematic Shadow Box Die Set. This measures 3.75″ x 6.5″. I also cut my snowflake panel with this die, and I glued it to my white base. I cut two more panels of white card stock using the large rectangle die. From one of those panels, I cut the mountains using the die from the Mountain Landscape Scene set. From the other panel, I cut the hill – again, using a die from the Mountain Landscape Scene set.
I stamped the two boys from the Most Wonderful Time stamp set and colored them with my new OLO markers. I added some highlights with my white gel pen. There is a matching die set for this stamp set, but I just fussy cut my images and popped them up on my card base with foam tape. Finally, I stamped the "Let it Snow" sentiment directly on the card. This sentiment comes from the Sounding Joy stamp set – I love this adorable font!
I love how this card turned out, and I hope it puts a smile on your face. Be sure to check out the entire Anniversary Release in the Penguin Palace store, as well as the new digital release. Thanks so much for joining me today.
Wishing you all a crafty day!
Allison
Note: External links on my blog may contain affiliate links. This means that I have the opportunity to earn a small commission when you click on the links and purchase from companies that I am affiliated with. This comes at no additional cost to you. Thank you so much for your support, as this helps me bring you more content.