Hello, friends! I hope you all had a wonderful weekend. I was able to spend some time in my craft room doing what I like best lately – die cutting. I just recently bought this fun Valentine Mug Addition Dies set from Pretty Pink Posh, and I couldn't wait to use it. I also got the Winter Mug Dies, which is what this "addition" set is intended for, and I hope to use that soon, as well.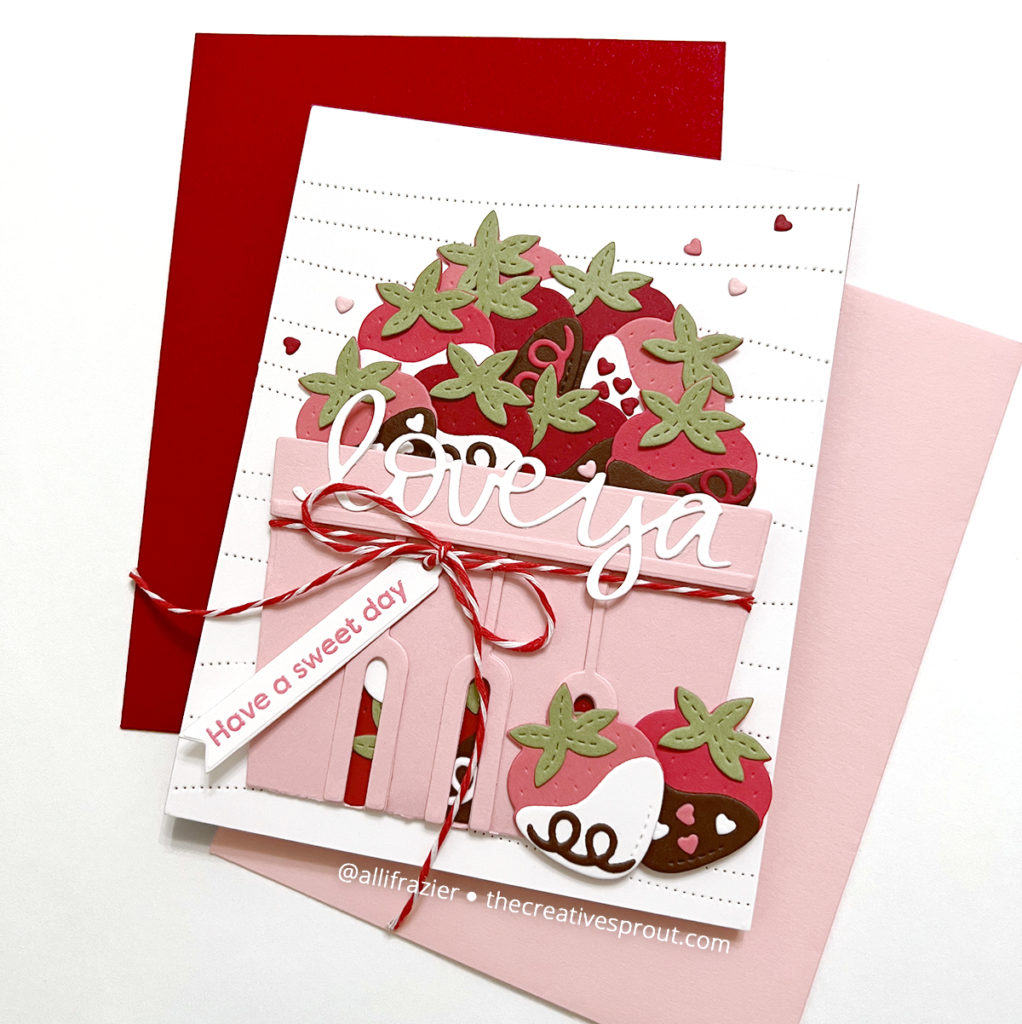 Card Supplies
Pretty Pink Posh – Valentine Mug Addition Dies
The Stamp Market – 3D Berry Box Die Set
Birch Press Design – Pinpoint Contour Plate
Mama Elephant – Love Ya Script Die
Simon Says Stamp – A Glazing Day Stamp Set
Spellbinders – Swallowtail Tags Die Set
Tim Holtz – Distress Oxide – Worn Lipstick
Making the Card
I have had this 3D Berry Box Die Set from The Stamp Market for awhile and hadn't used it yet. I guess I was waiting for the perfect berry to come along! And what's more perfect than a chocolate covered strawberry, right? I really love this die set from Pretty Pink Posh. In addition to the strawberries, there are so many other fun elements. But, I did stick to just the berries, along with a few of the little decorations, such as the hearts and candy swirls.
As for the 3D Berry Box, it is not 3D – clearly. The die set does make the cutest little 3D container, and I do plan on making that at some point. But, I wanted to just make a card this weekend. So, I used the dies to create one side of the berry box. Isn't it cute? I love the detail. I filled my basket with a ton of strawberries, all of which I decorated with dark or white chocolate and some embellishments. I even included some at the bottom of the container, since you can see through the holes of the box/basket.
The background of my card is my current favorite cover plate – the Pinpoint Contour Plate from Birch Press Design. I adhered the grouping of strawberries to the card first. Before adhering the box, I tied some string around it and then secured the "Have a sweet day" tag before tying it into a bow. I had heat embossed the sentiment using Worn Lipstick Distress Oxide, and then I cut it out with one of the Swallowtail tag dies from Spellbinders. I glued the larger "love ya" sentiment die cut to the rim of the berry box. I finished the card by scattering some of the tiny hearts around the design.
I hope this card put a smile on your face today. Thank you so much for visiting my blog – I always appreciate your support.
Wishing you all a crafty day,
Allison
Note: External links on my blog may contain affiliate links. This gives me the opportunity to earn a small commission when you click on the links and place an order. This comes at no additional cost to you. Thank you so much for your support, as this helps me bring you more content.