Hello, crafty friends. Can you believe we're coming to the end of 2022? Before the year ends, I had to make a card with my very favorite stamp. While it is not a new stamp, I did pair it with a new color of hot foil that I am absolutely in love with. The stamp is from the Polar Bear Pals set from My Favorite Things, and while I love the entire stamp set, this particular polar bear has my heart. If I could only keep one stamp from my craft room, this guy would be the winner. If you don't have this set, it's on sale right now for 40% off, along with the entire MFT website! As for the foil that I used for the sky, it is called Rainbow Confetti. It is just the craziest looking roll of hot foil that you will ever see, and I was a little skeptical when I first took it out of the shipping box. But, oh my, just look at the results! There are so many different colors, and you'll get a different result every time, even if you use the same hot foil plate.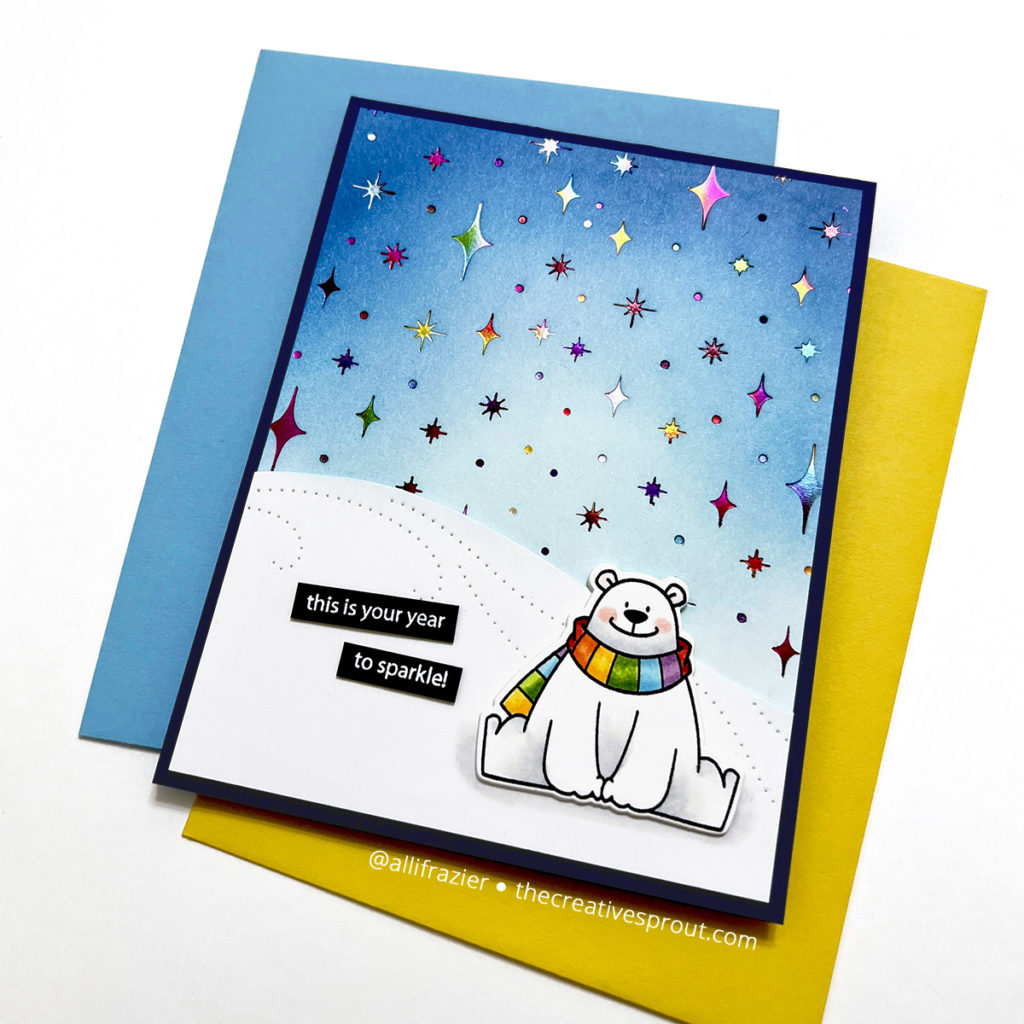 Card Supplies
My Favorite Things – Polar Bear Pals Stamp Set
My Favorite Things – Polar Bear Pals Die-namics
Spellbinders – Twilight Sparkle Strip Glimmer Hot Foil Plate
Spellbinders – Rainbow Confetti Hot Foil
Mama Elephant – Happy New Year Wishes Stamp Set
Spellbinders – Glimmer Hot Foil System
Making the Card
I started by hot foiling the Twilight Sparkle Strip hot foil plate onto smooth white card stock with the Rainbow Confetti foil. When I lifted off the foil for the first time, it was just magical. I think this foil is perfect for plates like this, where you have small elements that will all be different colors. By the way, this foil plate (and so much more) is 50% off right now as part of a huge Spellbinders year-end sale! Because this foil plate covers half of an A2 panel, I did foil it a second time to cover the other half. While I loved the panel just as it was, I wanted to add some color in order to distinguish the sky from the snow at the bottom. So, I took several blue shades of Distress Ink and blended them over the panel. The great thing about hot foil is that it acts as a resist. All you have to do is wipe any excess ink off of the foil when you're done ink blending. Once I was finished, I trimmed the panel down to 4″x5.25″ and adhered it to a dark blue card base.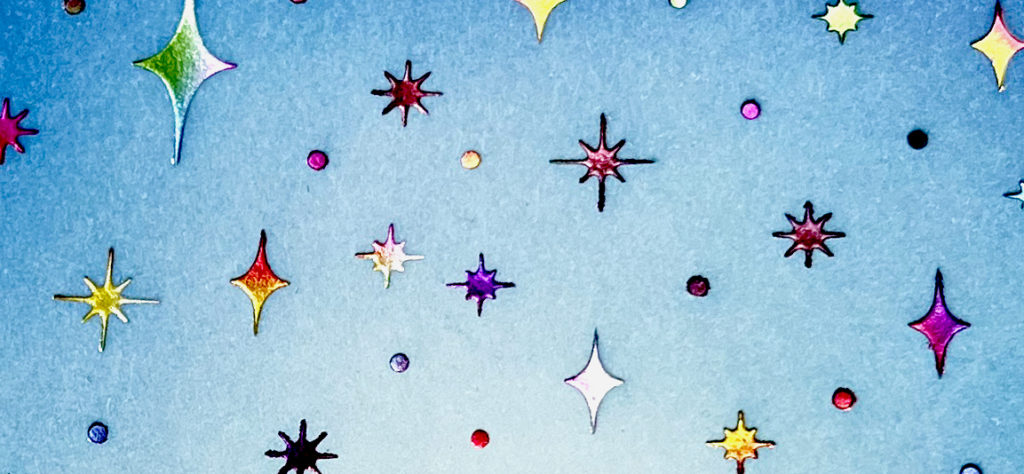 I stamped and colored my bear with Copic markers and cut him out with the matching die. I took a piece of white card stock, trimmed it to 4″ wide, and then created a snowy hill with the Drifting Die. I glued that to my card base and then popped the bear up on foam tape. To finish the card, I stamped a sentiment from the Happy New Year Wishes set from Mama Elephant, split it into two lines, and adhered those to the panel.
That's it for my card today! I hope this bear and all of the sparkle put a smile on your face. It sure makes me happy whenever I look at it. Leave a comment and let me know what your favorite stamp of all time is. Thank you so much for visiting my blog today.
Wishing you all a crafty day,
Allison
Note: External links on my blog may contain affiliate links. This gives me the opportunity to earn a small commission when you click on the links and place an order. This comes at no additional cost to you. Thank you so much for your support, as this helps me bring you more content.