Hello, crafty friends! I am excited to be guest designing for Penguin Palace for their 4th Anniversary release! There are so many adorable stamps and dies, and of course, more amazing Stencils 360°™. Everything from the new release is now available to order in the Penguin Palace online shop.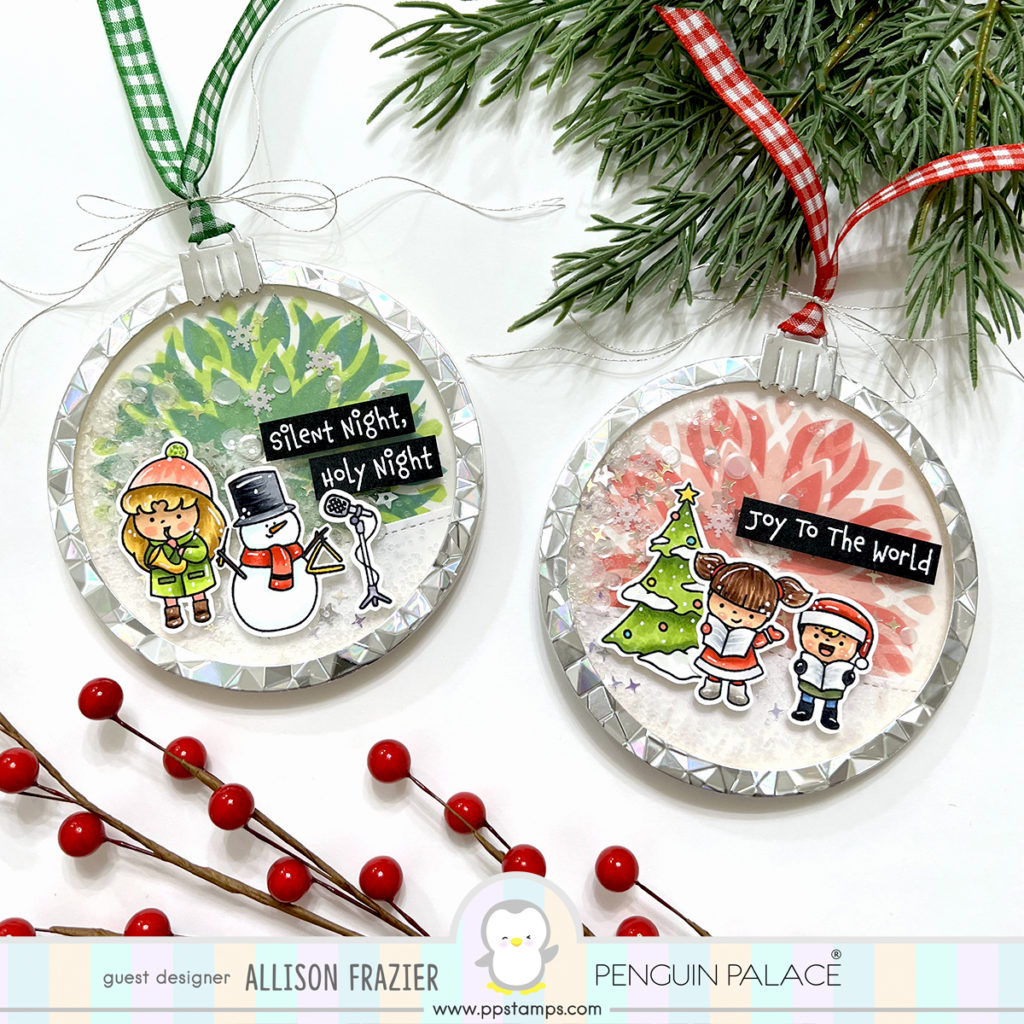 For today's project, I played with the new Dahlia Stencils 360°™, as well as the Sounding Joy stamp set. This stamp set is full of adorable little Christmas carolers and related images. If you're not familiar with Penguin Palace's innovative stencil system, check out the videos on their YouTube channel. This video is a great one to start with.
Whenever I get a new Stencils 360°™ set, I like to just sit down and play with it before deciding what my project is going to be. There are so many possibilities with the stencils, so I don't want to have a preconceived idea in mind. And while I usually go "rogue" and do unexpected things with these stencils, today I followed the expected path and love the result. For my first go with the stencils, I used Stencil A and inked it up at 22.5° intervals with Twisted Citron Distress Ink. I then inked up Stencil B at 30° intervals with Evergreen Bough. I was really happy with the result and decided it was the perfect size to make into an ornament. I made a second one using Tattered Rose and Festive Berries Distress Inks. This time, I inked up Stencil B at 45° intervals.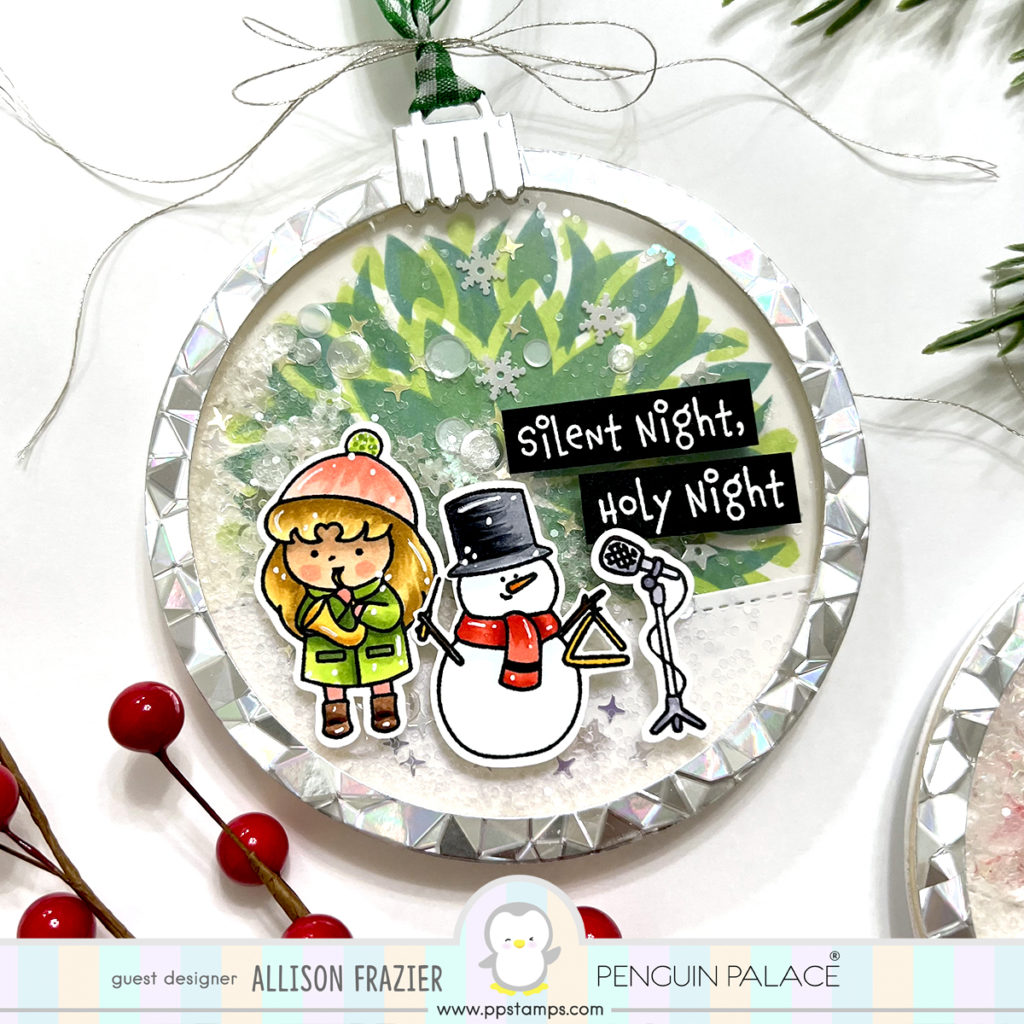 Once I decided to make ornaments, I took it a step further and made them into shaker ornaments. I first cut out the stenciled design with a large circle die from my stash. I cut another circle from plain white card stock and then used one of the dies from the Desert Landscape Scene Builder Die set to create snowy hills. I glued the snowy hills onto my stenciled circles. To create the frame for the ornaments, I used the same large circle die and another circle die a few sizes smaller. I made the frame out of this fun, new Mirror Ball card stock. I cut a piece of acetate with the circle die and glued that to the back of the frame. I then added a strip of foam tape around the frame to create a well for my shaker goodies. I used a combination of chunky glitter, snowflake confetti, clear confetti, etc. Once I had all my shaker elements inside the well, I attached my stenciled design to enclose the shaker.
I stamped several of the adorable images from the Sounding Joy stamp set and colored them with my new OLO markers. There is a matching die set for this stamp set, but I just fussy cut my images and adhered them to the outside of the ornaments. I also stamped a couple of the sentiments – I adore the font of the sentiments in this set! To finish the ornaments, I added a topper from a die set in my stash and tied some ribbon through it.
I love how these ornaments turned out, and I hope they put a smile on your face. Be sure to check out the entire Anniversary Release in the Penguin Palace store, as well as the rest of the design team's creations. Thanks so much for joining me today.
Wishing you all a crafty day!
Allison
Note: External links on my blog may contain affiliate links. This means that I have the opportunity to earn a small commission when you click on the links and purchase from companies that I am affiliated with. This comes at no additional cost to you. Thank you so much for your support, as this helps me bring you more content.