Hello, crafty friends! I have been preoccupied with reorganizing my craft room lately, but I have so many fun new products waiting to be used, one of which is the Mama Elephant and Simon Says Stamp STAMPtember® collaboration, called "Merry Greeters".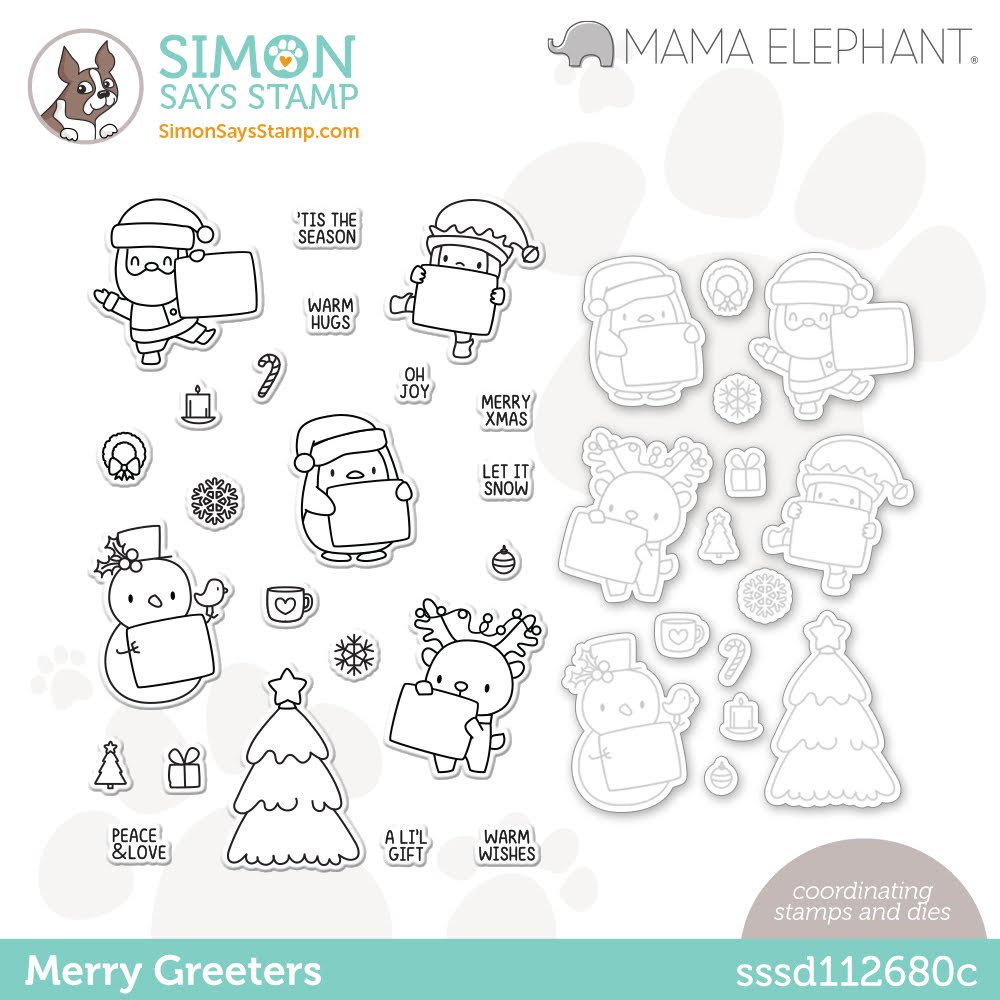 If you were able to grab this set while it was available, then you were lucky because it sold out fast! If you're not familiar with the STAMPtember® collaborations, they are a limited release and only available until they sell out – they do NOT get restocked. If you weren't able to get it or didn't know about it, there is a very similar set that Mama Elephant recently released called Little Merrysign Agenda. I have found that the Mama Elephant collaboration set usually plays in very well with the Mama Elephant release that also happens around September. I was inspired to pull out some older Mama Elephant products from my stash and create all sorts of shakers!
Card 1 Supplies
Simon Says Stamp / Mama Elephant Collaboration – Merry Greeters
Mama Elephant – Winter Forest Cover Die
Spellbinders – Fluted Classics Rectangle Die Set
Making the First Card
I stamped all of the images for the cards and colored them with Copic markers. I chose the Santa image for this card. I created my shaker using the Winter Forest cover die by adhering acetate to the back of it and then lining the outside edge with foam tape. This is the only card that I used foam tape to create my shaker. This foam tape is thick enough that I didn't have to double it up, especially because I used some fairly flat shaker material. I used my favorite winter-time shaker filler, Shaved Ice, along with some clear sequins and glitter, and then attached a light blue card base to the back to enclose the shaker bits. I created the red frame from the Fluted Classics Rectangle die set. A little bit of highlighting with white gel pen, and this card was done! Oh, and the little bird comes from the Mama Elephant Trim the Tree set.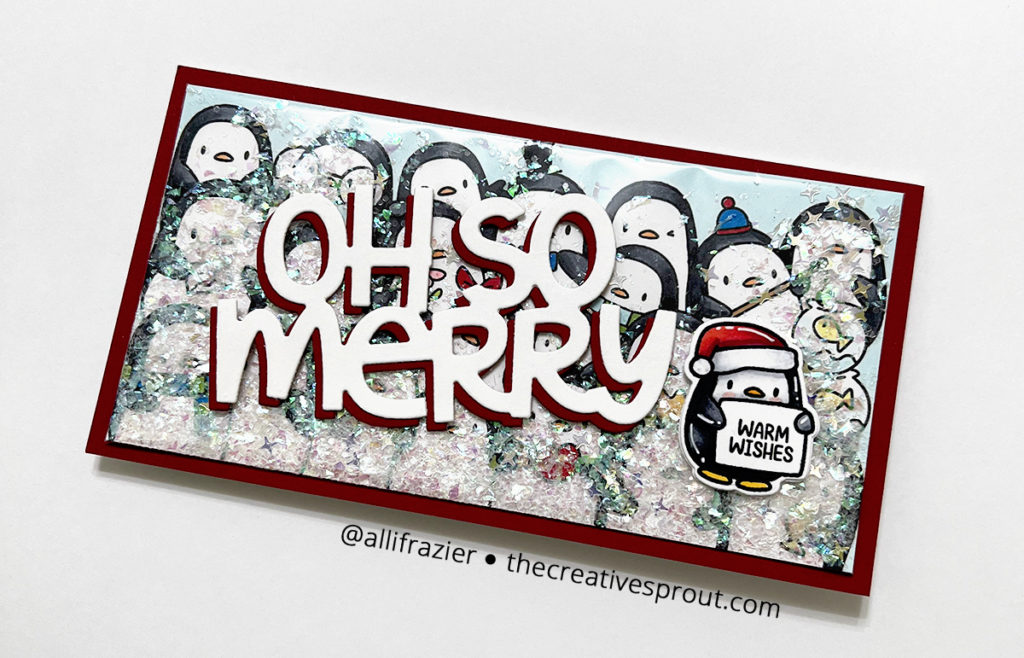 Card 2 Supplies
Simon Says Stamp / Mama Elephant Collaboration – Merry Greeters
Mama Elephant – The Penguin's Waddle Stamp Set
Mama Elephant – The Penguin's Waddle Die Set
Making the Second Card
For my second card, I wanted to pair the penguin from the new set with The Penguin's Waddle. Confession – I had colored this Penguin's Waddle image over a year ago, and I just hadn't done anything with it yet! Perfect time to use it. I decided to trim it in a way that I could make a mini slimline, and I think the image works perfectly for that. The shaker is probably the easiest way to make a shaker – it's called a full shaker, or sometimes an infinity shaker. Whatever you want to call it, it is easy! You just take plastic packaging from any of your stamp sets that you would normally throw away and wrap it around your panel with some double sided adhesive. You leave one side open so that you can toss in your shaker bits, and then you seal up that fourth side. And it's done! I chose to adhere it to a larger card base so that you could see a nice red margin/frame around it. Again, I used the Shaved Ice, along with clear sequins and glitter. The large word die comes from the Penguin's Waddle Die Set – I cut it from white and red card stock and offset the two so that it would stand out from the busy background.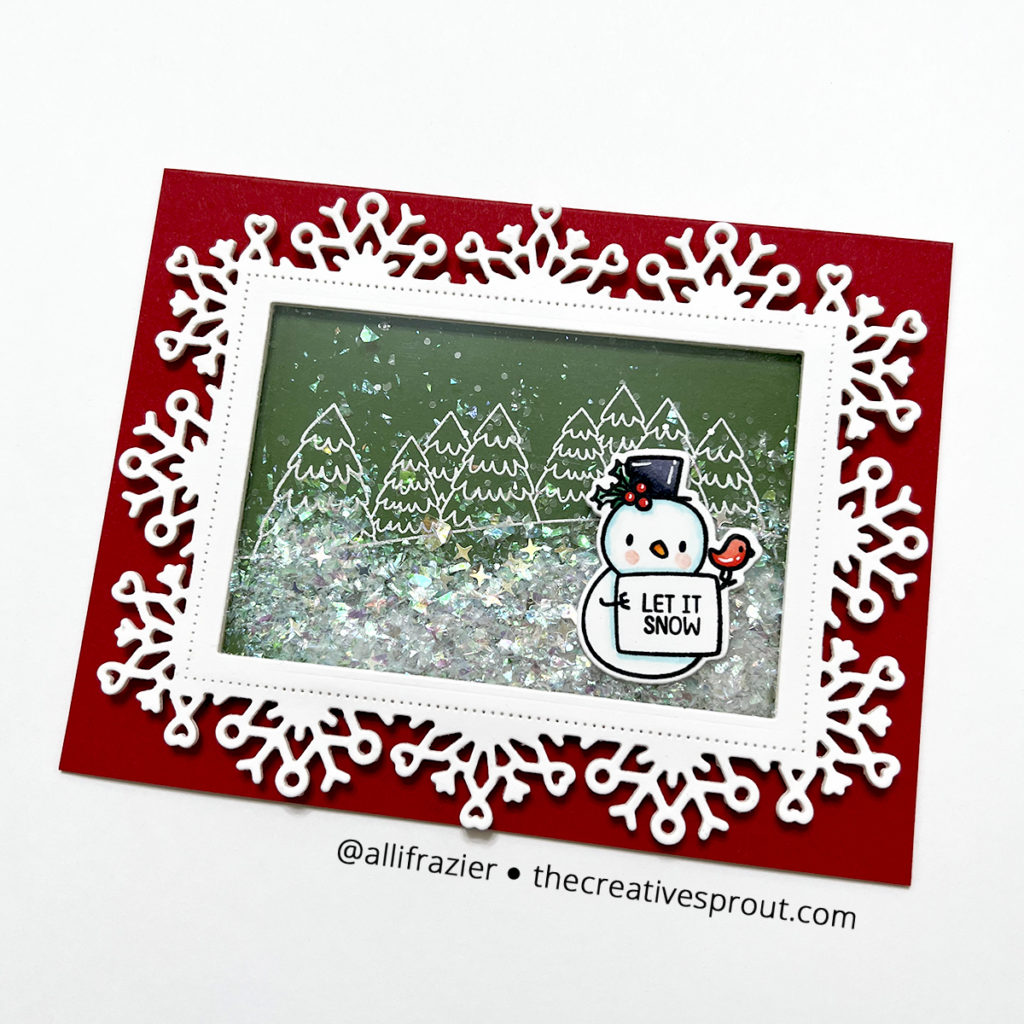 Card 3 Supplies
Simon Says Stamp / Mama Elephant Collaboration – Merry Greeters
Mama Elephant – Flurry Frames Die
Mama Elephant – Scene Builder Stamp Set
Making the Third Card
I had to pair the snowman with this Flurry Frames die, especially since I think this may be my first time using it?!! Eek. I'm terrible with using all of my stash, but again, I love it when new products inspire me to use old or unused products! I cut the flurry frame about four times from thick white card stock so that I could stack them and not have to use foam tape for my shaker. The thickness of the layers creates a natural well for you to add your shaker bits to. I just adhered my acetate behind the first layer. For the backing to my shaker, I stamped the trees from the Scene Builder set onto green card stock with VersaMark and then white heat embossed it. I added the shaker element to a red A2 card base.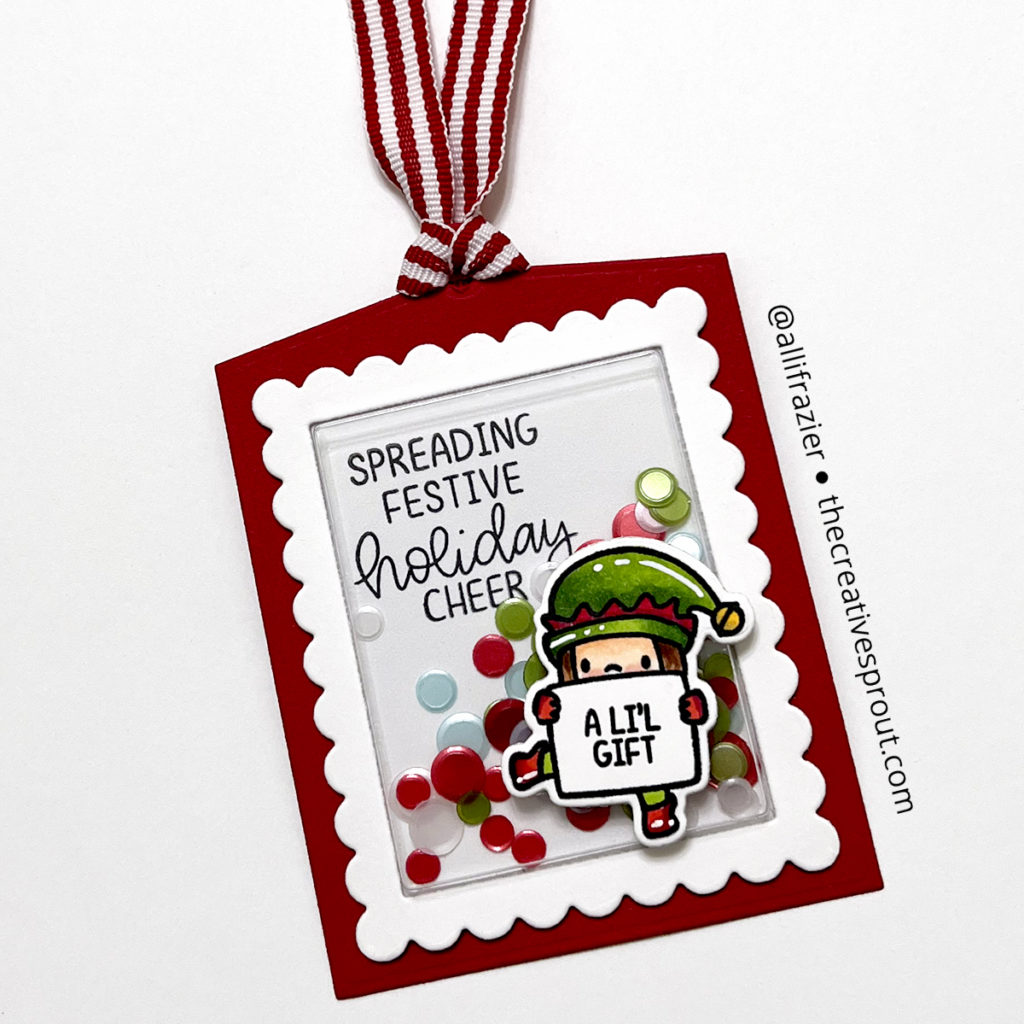 Card 4 Supplies
Simon Says Stamp / Mama Elephant Collaboration – Merry Greeters
Mama Elephant – Mixed Holiday Greetings Stamp Set
My Favorite Things – Trendy Tag Die-namics
My Favorite Things – Rectangle Shaker Pouches
Studio Katia – Holiday Cheer Confetti
Making the Fourth Card
I had to use this cute little elf on something, so I decided to make a little tag. My Favorite Things makes shakers super easy with their dimensional shaker pouches. They also make sure that their pouches coordinate with some of their die sets. I went with the Trendy Tag die with a rectangle shaker pouch. The die for the scallop frame cuts the rectangle that the pouch fits in. All you need is some thin double sided tape and some shaker bits. I used a greeting as my background since it's a pretty small area and I knew she would be covering most of it up. I cut the main tag from red card stock and attached a ribbon from my stash.
That's it for all my shakers today! I hope they put a smile on your face. Leave a comment and let me know which one is your favorite. Thank you so much for visiting my blog today.
Wishing you all a crafty day,
Allison
Note: External links on my blog may contain affiliate links. This gives me the opportunity to earn a small commission when you click on the links and place an order. This comes at no additional cost to you. Thank you so much for your support, as this helps me bring you more content.