Hello, Friends! Today I am sharing a brand new Spellbinders collection called Winter Tales. This may very well be my favorite collection yet. I love the Nordic inspired designs. The Enchanted Garden set, especially, has endless design possibilities that go far beyond the holidays. And the Ski Lodge Embossing Folder is just so fun – I don't have it yet, but you better believe it's in my cart for my next order.
Card 1 Supplies
Spellbinders – Nordic Ornaments Die Set
Spellbinders – Create a Christmas Sentiment Die Set
Making the First Card
The first thing you should know about this collection is that it is designed by the very talented Zsoka Marko. If you are not following her yet, you should definitely check out her YouTube channel. I am always fascinated with how she designs multiple cards using the same color palette. So, I did the same with this collection, and I have to say there's really something to it! And you may be seeing me do a lot of it going forward. Zsoka also uses a lot of patterned paper in her designs, so she is great inspiration if you (like me) struggle with how to use all of that patterned paper in your stash.
My first card features the beautiful Nordic Ornaments Die Set. This set has two main die shapes, with smaller dies to help you change up the design. I chose a chocolate brown card stock for the base of both ornaments, with honey and two shades of pink to round out my palette. This is not a traditional holiday color scheme by any means! But I have always enjoyed using non-traditional holiday colors. There are no rules! Just look in the stores at all of the different color ornaments there are.
This die set gives you the ability to do some inlay die techniques, which I did on the larger ornament. Or, you can stack some of the smaller elements for dimension, which I did on the smaller ornament. I added a simple die cut sentiment from the "Create a Christmas Sentiment" die set. For some reason, my link is not working for that set, but you can just use the search bar on the Spellbinders site and it will pop right up.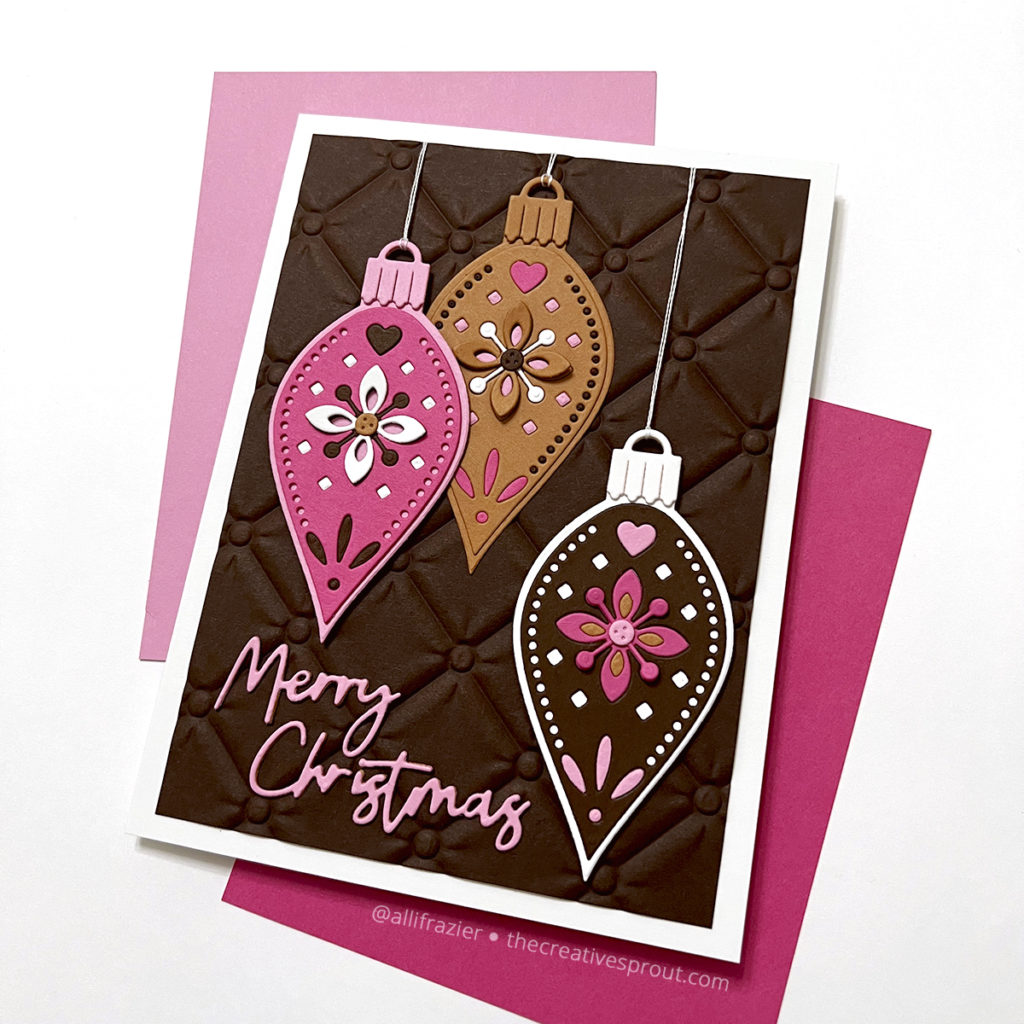 Card 2 Supplies
Spellbinders – Nordic Ornaments Die Set
Spellbinders – Create a Christmas Sentiment Die Set
Spellbinders – Tufted 3D Embossing Folder
Spellbinders – Universal Plate System
Making the Second Card
My second card features three of the smaller ornaments. It is fun to play around with the center part of the design. If you look closely, you can see that it's different on all of the ornaments that I made. The small circle element in the center of each ornament is something I pulled from one of my floral die sets.
Can we just talk about that Tufted 3D Embossing Folder, though? Isn't the dimension and texture in that background amazing?? When Spellbinders introduced their new 3D embossing folders a few months ago, they also introduced their new Universal Plate System. There are different plates to use or add to your sandwich depending on what you're doing. And it is especially beneficial for 3D embossing folders. I ordered this embossing folder before getting the new plate system. I figured I would try it out by adding my own card stock shims. And I got decent results. I mean, it's a beautiful design, right? But, I was finally convinced to order the new plate system, and I will tell you that there is a significant difference in the final result. What really convinced me to order the new plates is that they're also longer, so it makes it a lot easier to use my slimline dies, as well. Spellbinders also did a lot of research with other companies' 3D embossing folders and came up with suggested sandwiches for those. If you've ever used 3D embossing folders, you know that the thickness can vary widely between companies. This just takes the guess work and frustration out of the equation.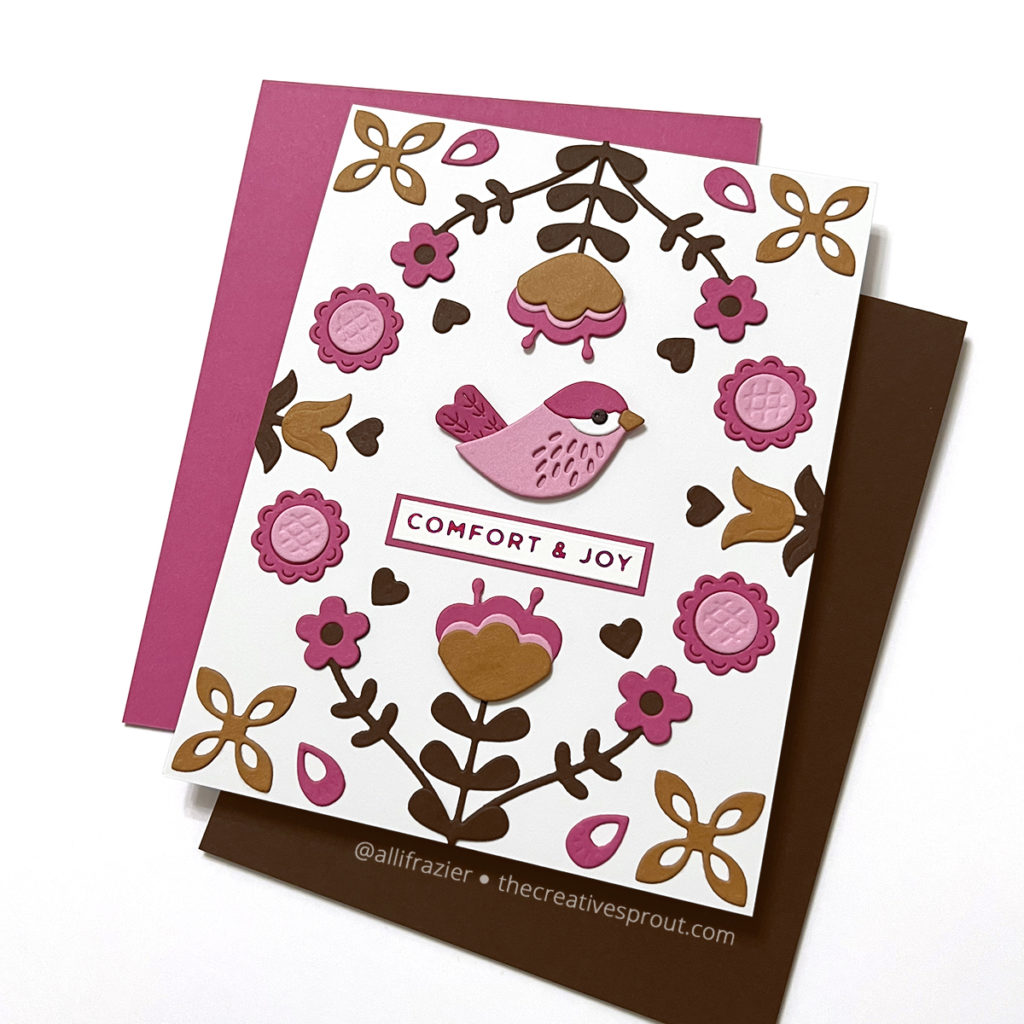 Card 3 Supplies
Spellbinders – Enchanted Garden
Spellbinders – Nordic Ornaments Die Set
Spellbinders – Little Chickadee Die Set
Spellbinders – Mini Christmas Sentiment Strips Glimmer Hot Foil & Die Set
Spellbinders – Magenta Hot Foil
Spellbinders – Glimmer Hot Foil System
Making the Third Card
Okay – here we are with my favorite die set, the Enchanted Garden. This set is good for any and every occasion. I was heavily inspired by Scandinavian folk art in designing these cards and can't tell you how much fun they were to make!
For this card, I added in a few elements from the Nordic Ornaments set – it was fun to mix up elements from the two sets to create the design that I wanted. I created the bird using the Little Chickadee set, and I hot foiled the sentiment with Magenta foil to match the darker shade of pink card stock in my palette.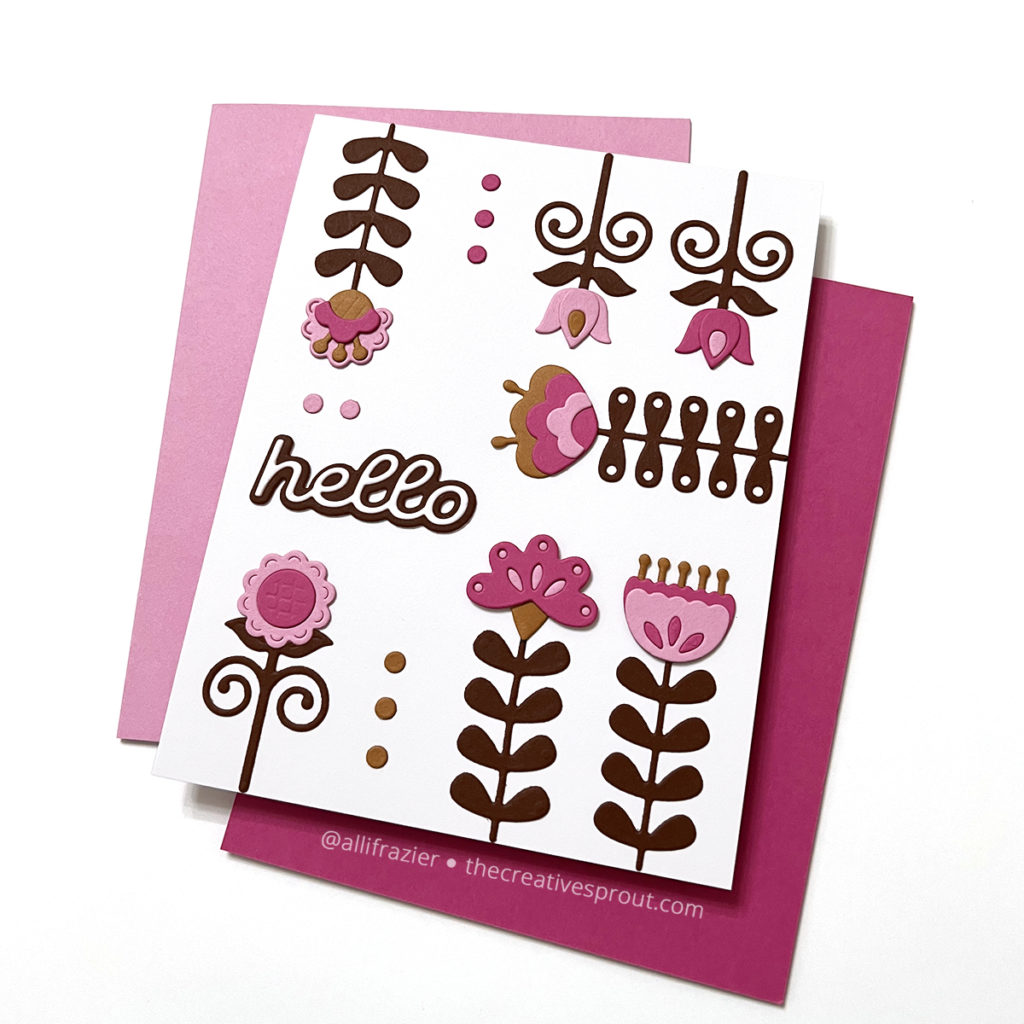 Card 4 Supplies
Spellbinders – Enchanted Garden
Spellbinders – Nordic Ornaments Die Set
Spellbinders – Layered Mix & Match Sentiments
Making the Fourth Card
My last card is a simple design that can easily be for any occasion. I think I used a couple elements from the Nordic Ornaments set on this card, too. The dots are the centers of the flowers from the large ornament that you would normally throw away! The "hello" is from the Layered Mix & Match Sentiments set.
I hope these cards put a smile on your face today! Be sure to check out all of the new collections from Spellbinders. Leave a comment and let me know what you think of this non-traditional color palette that I used. And thank you so much for visiting today – I always appreciate you stopping by.
Wishing you all a crafty day,
Allison
Note: External links on my blog may contain affiliate links. This gives me the opportunity to earn a small commission when you click on the links and place an order. This comes at no additional cost to you. Thank you so much for your support, as this helps me bring you more content.