Hello, crafty friends! I am honored to be guest designing again for i-crafter this month. Today I am highlighting their incredibly cute Animalopes Die set. The only limit to how you can use this set is your own imagination. I have to admit that I had to force myself to stop playing with it because I just wanted to make more and more! This is also the perfect die set for kids join in on the fun.
Christmas Gift Card Holders
i-crafter gives plenty of examples on the packaging and website of animals that you can make from this set. Since it's November, it was the perfect time to make a set of Christmas gift card holders. I had to limit myself to three, but I still have more ideas, including Santa, of course. Confession – I'm a bit of a gnome addict, so the gnome won out over Santa.

The great thing about this set is that it comes with a lot of little dies to customize your envelopes. From ears to noses to whiskers, there are a lot of possibilities. But what I had a lot of fun doing was stretching those possibilities by adding some of my own fussy-cut shapes. Rudolph was used with many of the included dies, but I made my own shapes for the other two. It is really easy to make any shape you want for the part of the envelope that lifts up, as long as it covers the opening. I used some fun patterned paper to make the gnome hat, and the beard lifts up to reveal the gift card inside.
Did you recognize the elf from the Rudolph television special? I used white felt to make the collar for his outfit, which I just adhered to white paper to make it sturdy. The rest could not have been more simple. See below for how cute it is when you lift the collar to find the gift card.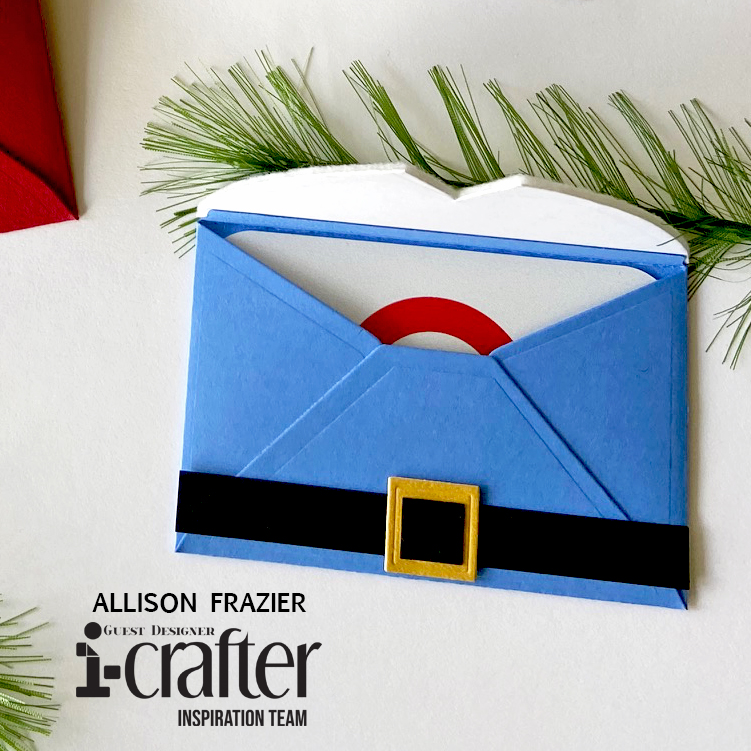 Birthday Card
I couldn't really stop with just making gift card holders. I had to make a card, too. I really wanted to make a Christmas one, but this was the perfect opportunity to make a sweet little card for a special girl I know. The mouse envelope on this card was made strictly from dies in the set, other than the enamel dots that I used for the eyes. I blended some pink and gray inks instead of using colored card stock.
The only difference in making a card versus making a separate envelope is that I adhered the ears directly to the card base, behind the envelope; otherwise, the flap wouldn't open properly. I finished the card with a background die and birthday die from Memory Box. I think it's adorable.
Thanks for joining me today. Leave a comment telling me which "animalope" you liked the best. Be sure to head over to i-crafter to check out all of their cool products.
Wishing you all a crafty day!
Allison
Note: External links on my blog may contain affiliate links. This gives me the opportunity to earn a small commission when you click on the links and place an order. This comes at no additional cost to you. Thank you so much for your support, as this helps me bring you more content.