Hello, Everyone! I am back with more inspiration using the Club La-La Land Crafts August 2021 Stamps and Dies Kit. This Alice in Wonderland themed kit has been so much fun to work with – the ideas are endless!
Club La-La Land is a monthly subscription featuring exclusive coordinating stamps and/or dies. Each month you'll receive a package with a kit based upon your choice: Stamps and Dies, Stamps only, or Dies only. You will also get step-by-step project tutorials from the Club La-La Land Crafts Design Team as part of your subscription.
Click here for more information on the Club Kit Subscription
Like I mentioned, the ideas for this kit are truly endless. But ever since I made that first card with all the different colored Cheshire cats, I have had the idea for this card in my head. I call it "Freaky Friday meets Alice in Wonderland." Who knows what was in that teacup, but poor Alice has now swapped looks with that cat.
Additional products used:
Zig Clean Color Real Brush Colors:
Alice
Skin: 074, 076
Lips: 202, 200
Cheeks: 069, 028
Dress: 803, 901, 202, 200
Socks: 080, 803, 202, 200
Cup: 031
Shoes: 010
Cat: 031, 036, 050, 051, 901
My next project was also something I've been thinking about since I received this kit. I really wanted to make a shaker card out of that hourglass die. I happen to have some teeny tiny shaker bits in my stash that I honestly never thought I'd find a use for. But, they turned out to be the perfect sand for this card!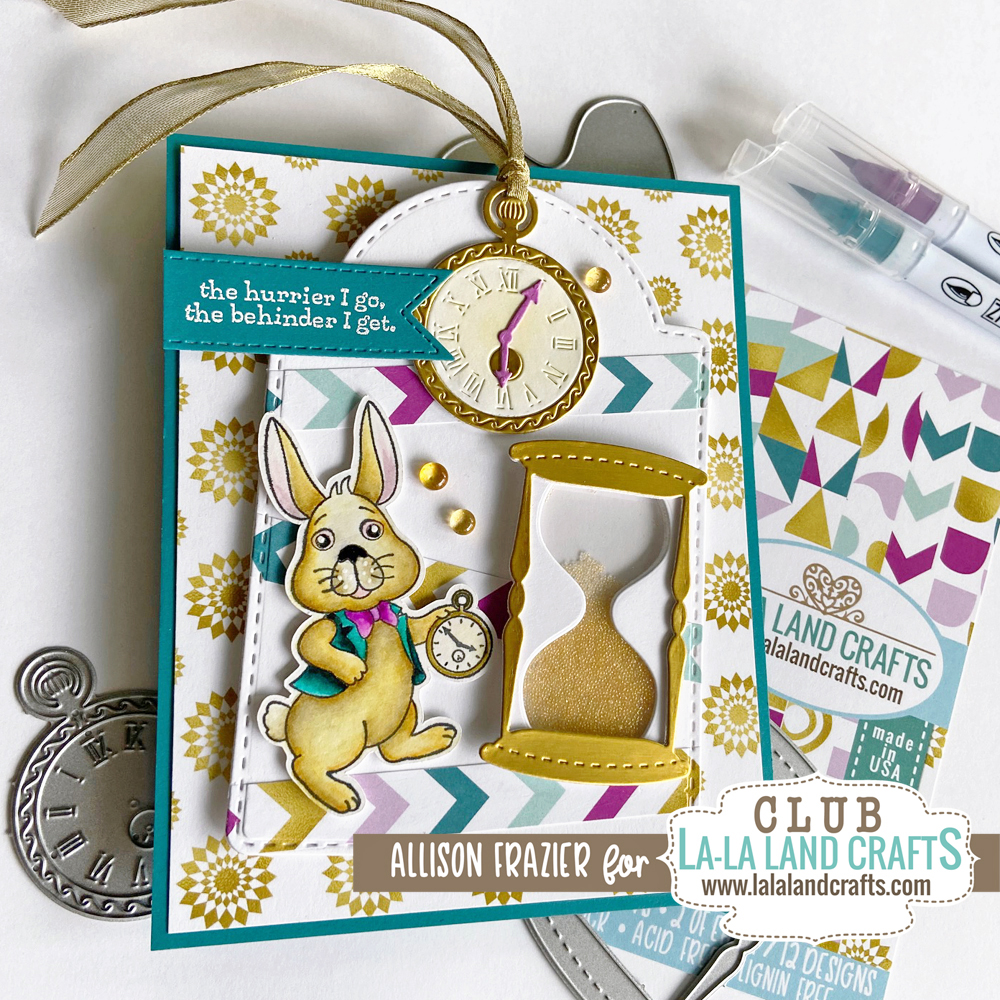 Additional products used:
Zig Clean Color Real Brush Colors:
Rabbit: 061, 901, 902, 200
Vest: 400, 033, 042
Bowtie: 081, 082
Watch: 063, 073
Thanks for joining me today. I hope these projects gave you some ideas. If you're not already subscribing to the kits, make sure to check it out! Wishing you all a crafty day!
Allison
Note: External links on my blog may contain affiliate links. This gives me the opportunity to earn a small commission when you click on the links and place an order. This comes at no additional cost to you. Thank you so much for your support, as this helps me bring you more content.