This is a bit overdue, but I wanted to post about the cards that I made during the virtual Crop on the Cape with Jenn Shurkus. This was my first crop ever, let alone a Crop on the Cape, let alone one that was virtual. Jenn did a great job translating it to an online event. I was inspired by the various guest artists, as well as the goodies that we got from the sponsors. One of my favorite parts was the challenges that Jenn gave us, since for whatever reason, I often do better with prompts. Also, the fact that the challenges were going to have randomly chosen winners meant that I actually had a chance to win – ha! And although my name wasn't picked for any of them, I came out of it with a bunch of cards that I love.
Three Things
The first challenge I made a card for was to use three items that we received from the sponsors. I chose the fun Monster Love stamp and die set from Concord & Ninth, the glue tube from Lawn Fawn, and the Sunburst stencil set from Honey Bee Stamps (which I believe may be retired). This was one of my first mini slimline cards, and I'm really enjoying this size right now. I used a rainbow of colors of Distress Inks to blend my rainbow with the stencil (masking off various sections as I went along so that the colors wouldn't mix). I then softly blended the same colors where the paper was still white in order to lessen the harshness of the white against the rainbow. I spritzed the panel with water to get those great water marks.
I cut a small piece of paper with Lawn Fawn's Grassy Border die, blended it with a couple of green inks and then spritzed it with water, as well. I kept my cute little monster pretty simple, since I wanted the contrast of the black and white against the rainbow. It is fun to play around with the different arms that come in this stamp set. I used the heart die to cut the balloon out of black card stock and then white heat embossed the sentiment. I hand cut a little piece to look like the bottom of a balloon and then used a die from my stash for the balloon string. I love how this card came out – that monster is too funny.
Hello Spring
The next challenge was to make a card using a spring theme. I happened to have recently stamped a bunch of these bunnies from Hello Bluebird, so I knew I had to use this little guy. I also had recently bought this great Springtime Sentiments set from Trinity Stamps – I love the 24 carrot friend sentiment. The card came together pretty easily. I used distress inks to color the sky, grass, and fence. The fence die and the grass die come from Honey Bee Stamps' Horizon Slimline Borders set. The white frame is from My Favorite Things.
Somewhere Over the Rainbow
How can you possibly pick what you want to make for a rainbow-themed challenge?! I mean, there are a million possibilities. Thankfully, I had several new products that were waiting to be used, including this adorable unicorn die from Waffle Flower. Besides, what is a rainbow without a unicorn? I cut a white panel using the Waffle Flower Stars Panel Die and adhered it to a piece of paper from JJ's Rainbow Paper Pad. It may be my favorite paper pad ever, and I keep buying more for fear that they will one day stop making them, and I will no longer have access to easy backgrounds for my cover dies! I blended the edges of the unicorn with some warm gray ink and blended the cheeks with pink ink. I cut the wings, the horn. and the cute little curl of hair out of white glitter card stock. When I originally submitted the card for the challenge, I had stamped a sentiment directly onto the panel. I didn't really love it, so I recently covered it up with a star from the Nesting Stars die set. The sentiment comes from the Concord & Ninth Monster Love set that I used for the first card.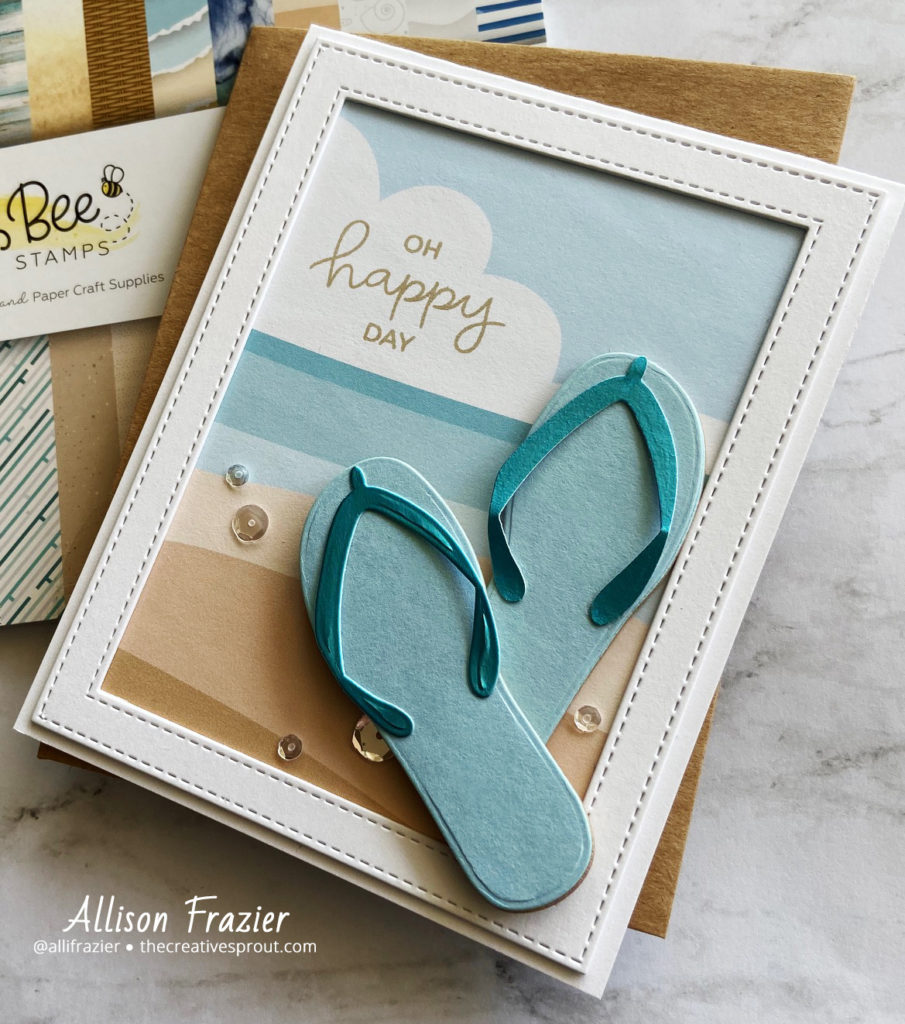 Cape Cod
I'm sure this was probably Jenn Shurkus's favorite challenge, and there were a lot of different card entries for this, which was fun. I chose to go with a beachy card, and I kept it pretty simple using flip flop dies and patterned paper from Honey Bee Stamps. I used the white frame from My Favorite Things again – this is one of my go-to dies. The sentiment is from Hello Bluebird.
I made a few other cards over the weekend to add to my stash, and I am definitely going to be using the products we received again in the near future. We also had a mini Lawn Fawn class with Jenn Shurkus, where I colored some cute jungle animals. I haven't had a chance to put any cards together for those, but stay tuned!
Wishing you all a crafty day!
Allison
Note: External links on my blog may contain affiliate links. This gives me the opportunity to earn a small commission when you click on the links and place an order. This comes at no additional cost to you. Thank you so much for your support, as this helps me bring you more content.