Hello, Everyone! Today, I am sharing a fun card centered around some products from Honey Bee Stamps.
Who doesn't love the beach?
It's a big birthday for one of my friends, and there is no one who loves or belongs at the beach more than her. I hadn't used my Flip Flop Builder dies from Honey Bee yet, and I figured there was no better card to start with. I also used the fun Beach Vibes paper pad. There are so many awesome, beachy backgrounds in this pack, but I'm going to admit something. I am a patterned paper hoarder. I don't use it a lot, but when I do, it freaks me out that I will no longer have it. Weird? Yes. Uncommon? Apparently not. In any event, I do plan on getting a second pack of this paper so that I can allow myself to use it more.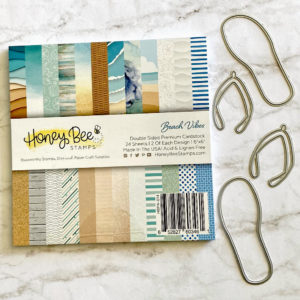 Making the Card
The first thing I did was spend about ten minutes flipping through this paper pack, wanting to use ALL of the paper. I finally decided on a piece that looked like sand to be the background of my card. I trimmed it down to 4″x5.25″ and adhered it to a standard A2 white card base, which left a nice white border.
I wanted the card to reference the beach without saying, "Look, I'm a beach," so I decided to add a frame that would have somewhat of an abstract scene in it. I love the Avery Elle Postage Stamp Dies because they make me think of a postcard, or vacation, or putting a stamp on a postcard while on vacation. It is also possible that I am in dire need of a vacation, and so pretty much anything makes me think of it. I know I didn't buy this set that long ago, but I think these dies must be retired? The good news is that there are many great nesting postage die sets that you could easily use to create a frame just like this. I used the smaller die from my set and cut it three times from white card stock, so that the frame would have dimension.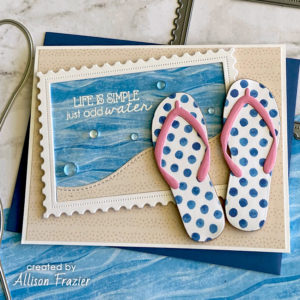 Because I am hoarding the Honey Bee paper, I decided to grab a piece of scrapbook paper from my stash that looks like water. I cut a piece that would perfectly fit behind my frame. I then used one of the dies from Lawn Fawn's Stitched Hillside Borders set to cut another piece of the sandy looking paper, and I glued that on top of the blue paper to give the illusion of a shoreline.
Before gluing the scene to the frame, I stamped my sentiment. This fun sentiment is from the Taylored Expressions Paddle Out set. I used VersaMark ink and then heat embossed with white embossing powder. I stamped and embossed it a second time to try to make it stand out more. I then glued the scene to the frame and then the frame to the card base.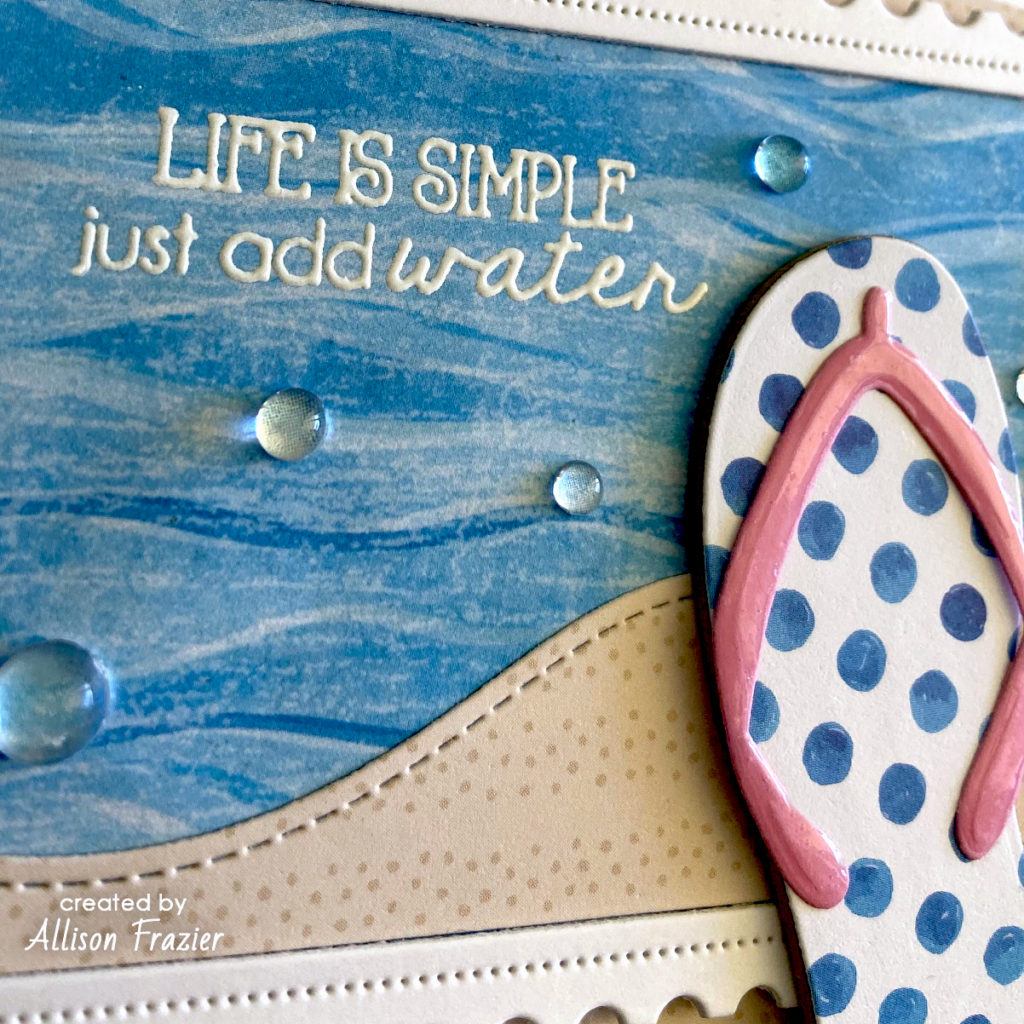 Now for the fun part!
Time to make these cute flip-flops. I picked some polka-dot paper from the Beach Vibes paper pad to use for the main part of the flip-flops. I then chose a pink piece of paper from my stash of scraps for the other part. What exactly do you call this part of the flip-flop? The thong? The strap? The toe-holder? The foot-keeper-inner? I don't know – comment below with your thoughts! I glued the very bottom and the very top of the pink "things" to the flip-flops, leaving the middle unattached, just in case someone wants to slide their miniature feet in there. I then used the main die again, this time cutting it out of beige craft foam. This not only provided some dimension, but it also looked more like the rubber bottom that you would have on a flip-flop. After assembling everything, I glued the flip-flops to the card, adding some foam tape where they didn't overlap the frame.
I decided to add some shine to the pink "things" with Nuvo Crystal Glaze. I suppose I could search the internet for proper flip-flop terminology, but where would the fun be in that?
To finish the card, I added some clear drops to the water scene. I love how this card elicits warm and sunny feelings, especially since it is cold and windy here in Colorado. I hope it brings a smile to your face, and of course, to the birthday girl's face.
Wishing you all a crafty day!
Allison