Hello there. I am very excited to welcome you to The Creative Sprout! I will be sharing my love of card making, which I discovered in late 2018.
How does one fall into card making, you may wonder?
Naturally it helps if you spent most of your adult life working in corporate tax. Wait, what? That's not a thing? Well, if you found passion in the career you chose in college, then you are very lucky. Me – not so much. Yes, I was lucky to work with some amazing people, and I worked for some incredible companies. I took a lot of pride in my work and earned a lot of respect over the life of my career (hopefully). But, I never felt like I was making a difference or bringing joy to anyone, including myself. On and off over the years, I would leave and dive into something creative. I taught myself Photoshop, Dreamweaver, and professional motion software, among other things. I even had a small side business creating custom montages for special events. I loved the fact that my creations were different than anything else out there. What excited me the most about that work, and what it has in common with card making, is that it put a smile on people's faces.
In 2018, I left my last tax position and knew that I wanted to dive into something creative again. For some insane reason, I went out and bought the biggest canvas I could find in hopes of making my first multimedia painting. Sure, I hadn't painted since high school, but how long ago could that have really been? (Don't ask) And really, what's the difference between oil paints (which I used in high school) and acrylic paints? Oh boy. It didn't take long to discover that I had no idea what I had gotten myself into, so I started watching YouTube videos for the first time…EVER. And, of course, my YouTube searches for acrylic paint mediums led me down a rabbit hole where I discovered things I had never heard of. I soon became less interested in the huge painting and more interested in art journaling. I spent a good 4-5 months being obsessed with art journaling and, of course, all of the fun craft supplies that go along with it. Then one day I clicked on a video by a card maker. Aaaand…I was hooked. Unlike a huge painting that takes weeks or months to finish, you can knock out a card in just hours! That satisfies certain aspects of my personality in a way that I cannot fully express. And yet, a card is just as much a work of art – it just comes in a smaller package. And even better, it's a package that you can send to others!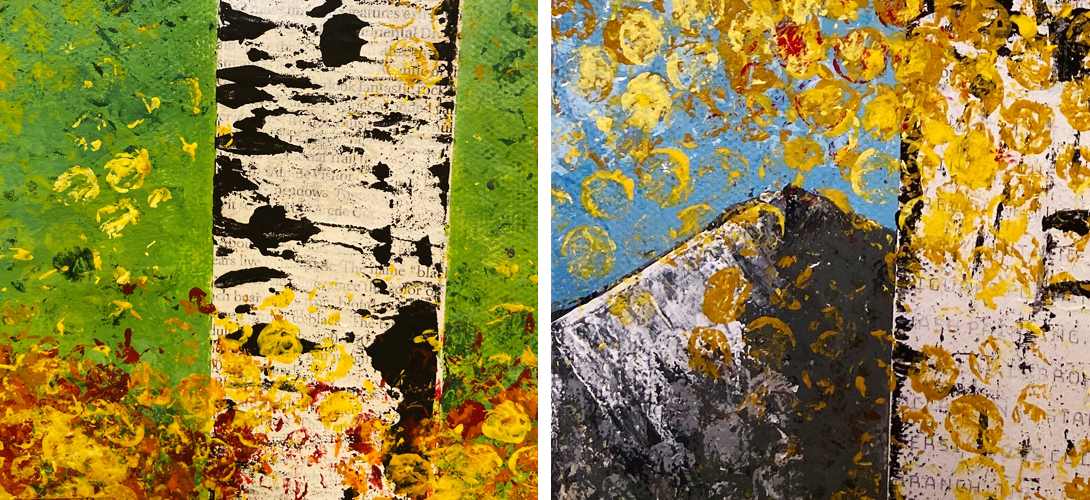 The meaning behind "The Creative Sprout"
I knew I wanted to name my blog in memory of our sweet dog Sprout, who we lost in 2020 after 12 wonderful years. The name also signifies the growth of my creative spirit over the past few years. I have always considered my art to be left-brained, and to some extent, I still do. I could never sit in front of a blank canvas and paint something. I think that's why I really liked digital art because it required both sides of my brain. What I have found, though, is that you can discover and embrace your creative side at any time in your life, and it really helps you grow. I personally feel like I would not have made it through the pandemic if I didn't have a craft room to escape to. You know what they say – art is cheaper than therapy! Of course, we all know that's not true – shhh.