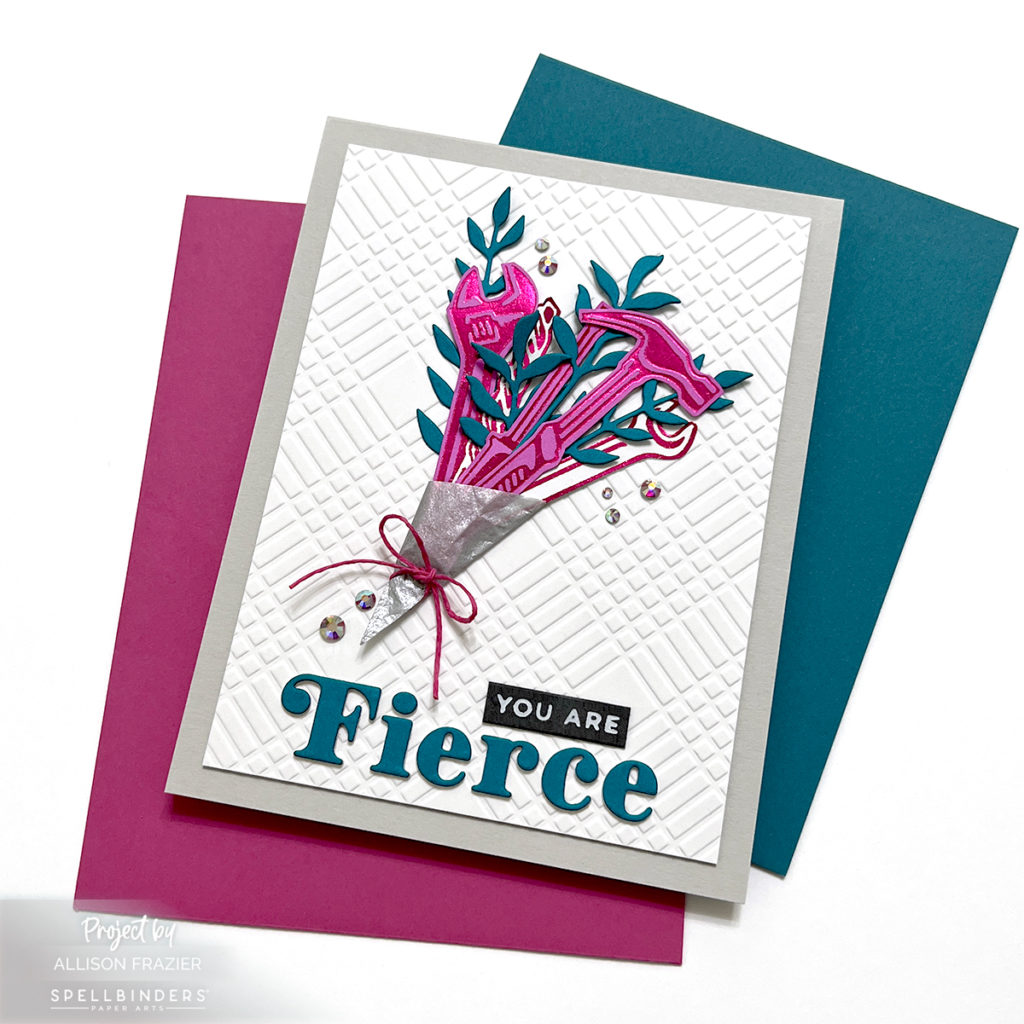 Hello, friends! Today, I am sharing a new product that was just released by Spellbinders. The Nailed It! Glimmer Hot Foil Plate is part of the new Toolbox Essentials Collection. The Collection also includes a fabulous die set, full of just about every tool you can imagine, as well as a few stamp sets and a background hot foil plate. When you see tool sets this time of year, you typically think of Father's Day cards or masculine birthday cards. Not me! When I see glimmery tools, I think of all the women I know who sometimes need reminders of just how fierce and strong they are. And that's how I came up with this card design, as strange as it may be – ha ha.
Note: all supplies are linked to multiple sources in the thumbnails at the end of this blog post.
Making the Card
I started my card by hot foiling the Nailed It! plate onto a piece of smooth hot pink card stock using magenta hot foil. I fussy cut a few of the tools out. I then took the leftover foil (the negative piece of foil) and foiled that onto smooth white card stock using the Solid Rectangle Hot Foil Plate. Any solid plate will allow you to foil your leftover pieces from your projects. You just heat up the solid plate, lay your foil onto the plate (shiny side down) and then lay your card stock on top of that. Run it through your die cutting machine, and voila! You'll end up with the reverse foiled image, just like the pink and white tools on my card. Before turning off my Glimmer Hot Foil Machine, I foiled the "You Are" sentiment onto black card stock using opaque white foil. That sentiment comes from the Stitched Alphabet Glimmer Descriptors Hot Foil Plate set.
Once I was finished with my hot foiling, I made my background by running a white piece of card stock through my Diamond Plaid Embossing Folder. I trimmed that down to 3.75″ x 5″ and adhered it to a light gray A2 card base. I cut my letters out of teal card stock – I used the Be Bold Uppercase Alpha dies for the "F" and the Lowercase Alpha set for the rest of the letters. I also cut two sets of the letters out of white card stock, so that I could stack them for dimension. I adhered those to the bottom of the card panel.
I cut some foliage for my bouquet using the Sealed Wildflowers die set. I then went about arranging my bouquet. It helped to use some tape at the back to hold everything together as I was coming up with the arrangement that I wanted. Once I had everything situated, I decided to add some tissue paper to hold the bouquet, just like you'd have in real life. I just cut a small piece of silver tissue paper, rolled it up into a cone shape, and put the bottom of the bouquet inside. I tied a pink string around it and adhered it to the card panel. I finished the card with some gems.
I hope this card puts a smile on your face today and reminds you to use your supplies in unexpected ways. Thank you so much for visiting my blog – I appreciate you stopping by!
Wishing you all a crafty day,
Allison
SUPPLY LIST
Note: External links on my blog may contain affiliate links. This gives me the opportunity to earn a small commission when you click on the links and place an order. This comes at no additional cost to you. Thank you so much for your support! You can see more information on my Affiliate Disclosure page.